Martha Stewart Is Obsessed With Grilling Seafood and You Should Be Too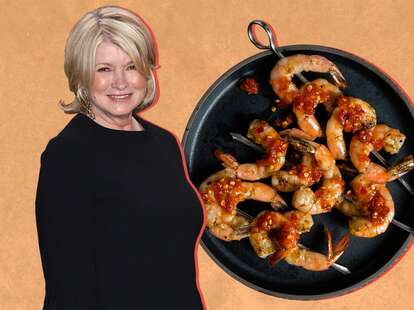 Welcome to Grillist, our annual celebration of all things smoke and fire. Join us all summer long as we get up in your grill with expert BBQ advice, insightful interviews, great recipes, and bad grilling puns -- but mostly those first three.
Martha Stewart has a long and complicated resume -- reigning domestic diva, meal-kit maker, cookbook writer -- but when it comes to grilling, her tastes are pretty simple. "I love grilled seafood," she tells me in a well-lit conference room at her New York City headquarters. "My favorite thing to make is a giant seafood paella. I do sneak some pork and chicken in it, though," Stewart adds with a laugh.
Stewart's love of grilled seafood germinated from time spent with her father, an avid fisherman. "I fished with him a lot growing up and we used to bring home 80 bluefish or 120 mackerel at a time," she says. "We would clean them, grill them, and share them with the neighbors. I became good at cooking fish on his grill."
It didn't hurt that Stewart's father had a pretty epic set-up. "My father built his own grill," she recalls. "It was an elaborate brick fireplace with a grill in the middle and two smaller grills on the side."
A young Stewart would stuff the blue fish with lemon and parsley, cover them with butter, and stick them right on the grill. She also cooked up a lot of lake fish, always with "bubbling butter," on a pan on the grill because she didn't want the skin to stick.
For those just getting into grilling, Stewart recommends starting with something simple and not immediately jumping into a seafood paella. "You could start with a spatchcocked chicken or a small steak -- simple things that aren't going to fall through the grill," she says. "It's depressing when you lose your hamburger in a grill."
Stewart then recommends moving to foods like ribs -- "these are delicious cooked outside, but you have to boil them first" -- grilled fruit, and of course an assortment of seafood.
While Stewart is obsessed with grilling food from the ocean, her bestie and cooking show co-host Snoop Dogg wants nothing to do with the stuff. "He's very fussy," says Stewart. "I like grilling lobsters -- lobsters are one of my favorite things -- but he won't eat it."
She adds, "He eats familiar things. He wouldn't eat a grilled clam, and I think grilled clams are to die for. Grilled oysters, I love; he wouldn't eat that, either."
So what would Snoop eat? "A piece of grilled chicken."
For the non-seafood-averse, here are five Stewart-approved seafood recipes to throw on the grill right now.
Grilled seafood salad
Despite Bart and Homer Simpson's insistence, you
do
make friends with salad, especially if your salad's loaded with grilled scallops and calamari. Fancy shell-shaped bowls optional.
Learn how to make it here.
Grilled lobster
Tossing out a grilled lobster is an easy way to one-up your neighbor who always brings a pack of hot dogs to the party, and it's just as easy as grilling wieners... though you don't have to kill a hot dog before tossing it on the coals. So there's that.
Here's how to do it right.
Grilled clams
How easy is this: Get some clams. Put them on the grill. Watch them pop open. And then throw them in a bucket and everyone thinks you've mastered some lost art of seafood cookery.
Follow this one-step recipe to the cookout hall of fame.
Grilled sea bass with okra kebabs
The perfect dish to pair with an
outdoor screening
of
Dumb & Dumber
, this pairing of grilled sea bass and okra skewers basically renders any store-bought kebab you're likely to encounter obsolete.
Learn to make them right here.
Paella
Now that you kind of know what you're doing, it's time to master paella, which you can do with or without a grill... though since this is an article about grilling seafood, you should probably fire up the coals. It's great for serving multiple guests, especially if one of them is Martha Stewart, who really seems to love her some paella.
Here's how to make it.
Khushbu Shah is a senior food features editor Thrillist and covets Martha's shoe collection. Follow her attempts to grill on Instagram @khushandoj.
Main image photos: Cole Saladino/Thrillist, C Flanigan/Getty Images
Design: Evan Lockhart/Thrillist