A 'MasterChef Junior' Champ on the Kitchen Skills Every Adult Should Have
At just 10 years old, Addison Osta Smith has already had more success in the kitchen than most of us Seamless-clicking drones can fathom. The culinary wunderkind stunned millions earlier this year when she became the youngest-ever -- and only female -- baby gourmand to win FOX's MasterChef Junior. These days, Smith is repping Kraft's Velveeta Mini Blocks, using her mini chef skills to whip up edible masterpieces at their pop-up events.  
"When I was little, I would eat something called cheesy rice balls, which was basically jasmine rice and cheese dipped in soy sauce," Smith told me recently, her voice full of wistful nostalgia. "So when I started making risotto, I got the inspiration from my childhood."
When I was a tween, I could barely unwrap a Twinkie, much less whip up bowls of toothy risotto like it's Lucky Charms. Hell, I'm 30 and still can't make a decent risotto. What else, I wondered, does this expert think a lame-o grown-up like me should have on lock by now? She let me know.
FOX/FOX Image Collection/Getty Images
Try to stay sharp
"The basic knife skills should be mastered. Chopping, dicing, mincing, julienne -- you have to know those."
Do better than bagged salad mix
"I think that you should be able to make a simple salad, like something nice and fresh with red bell peppers, a cheese, and olives."
Learn to mind your meats
"Learning how to cook a steak is really important. I'd say start with a skirt steak, medium-rare, because that's pretty easy. Well, I mean, it's easy for me, but…"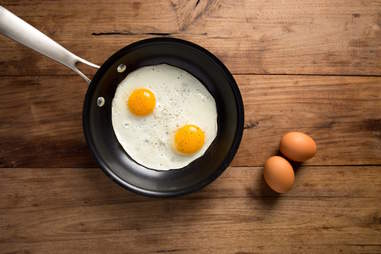 Cole Saladino/Thrillist
Give eggs the old college try
"I think you should be able to make a perfect omelet. Well, maybe not perfect, but it's definitely up there."
Make your own damn sandwich 
"You should be able to make your own real sandwich, not just a PB&J or a ham and cheese. I like roast beef, cheese -- any kind of cheese -- avocado, lettuce, and onions."
No more tongs
"You should know how to flip pancakes without having to use a bunch of tongs and stuff and having it take forever. I've seen a lot of people, even grown-ups, struggle with flipping things. I mean, it's OK, but you should be able to just do it."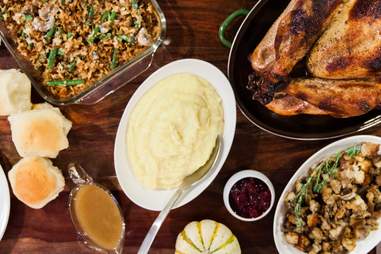 Perry Santanachote/Thrillist
Feed the family you 100% already have
"By the time you're 30, you should know how to cook a whole Thanksgiving dinner, every element, even if you need some help. You're going to have some family, so you're going to need to like, learn how to cook for them. Turkey, mashed potatoes, apple pie, and green beans, oh, and stuffing -- those are just the basics. You can go off from there, but like, you need to learn those. And also gravy -- do not forget the gravy."
Cook pasta lest you're a complete failure
"Pasta is definitely on there… even if it's store-bought."
Sign up here for our daily Thrillist email, and get your fix of the best in food/drink/fun.
Meredith Heil is a staff writer for Thrillist. More than a hustla, she's the definition of it; master chef, lord of the kitchen cupboard. Follow her @mereditto.