Matriark Foods Turns Wasted Vegetables Into Climate-Friendly Pantry Staples
Upcycled produce is used for hearty broths and spicy pasta sauces.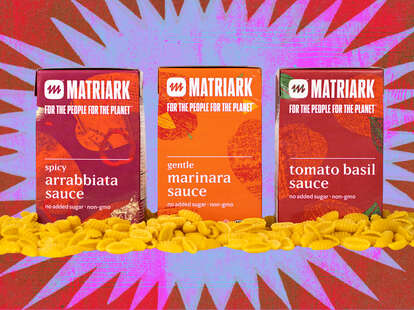 Design by Maitane Romagosa for Thrillist
Design by Maitane Romagosa for Thrillist
It's rare we get to see celery, wild and unruly, sporting a full head of wispy green leaves at the grocery store. Instead, there's the very manicured version, snipped of its hairs, chopped into equal-sized stalks, and lodged into plastic containers. If you've ever wondered where all that excess, nutrient-rich matter goes, it's usually a landfill.
Somehow, we got duped into thinking that such sanitization equates to better, more efficient meals. But Matriark Foods, a social impact business devoted to changing the food system, is proving that culinary convenience can still be achieved without all the waste. The brand upcycles farm surplus and fresh-cut remnants into flavor-packed pantry staples, like slow-cooked pasta sauces and low-sodium broth concentrates.
Founded by Anna Hammond in 2018, the certified women-owned business is now stocking the shelves of Whole Foods Market. "A good home cook saves all their good vegetable remnants and makes a broth," the CEO says. "And we're just doing that on an industrial scale." Hammond carries over 25 years of experience as a nonprofit leader and, prior to launching Matriark, she served as the executive director for the Sylvia Center, where she built a healthy eating program for youth and families living in public housing in New York City.
"We went from working with 300 kids to over 25,000 a year by the time I left," she says. The objective was to collaborate with farmers to get fresh, surplus vegetables to community centers, mostly through donation. And that's when Hammond realized that the donation model, while helpful, was not sustainable. Farmers needed to make money, too.
There are many reasons why 14 million tons of perfectly usable vegetables never leave the farm gate, from logistics to labor, but it's mostly due to market expectations. "If the vegetables are too big, or they're too small, or they're a little too soft, they're not going to make it," Hammond explains. "Once they're harvested, they obviously don't have much time before they rot." And that's just the beginning of the supply chain.
Take the Columbia County farm the Sylvia Center worked with as an example. Hammond witnessed bushels upon bushels of produce not making it to market. The team called upon food banks and churches in the area, but they could only stock up on one or two cartons due to lack of refrigerator space. "And that's an example of just one farm. Multiply that times the hundreds of farms in the Hudson Valley alone, and you can see the massive challenge," Hammond says.
And then there's the fresh cut facilities, which provide grocery stores across the country with pre-chopped options, but have little to do with all the off-cuts—19 million tons a year, to be exact. It's quicker to throw those remnants out, but it's also quite expensive to send them to a landfill. "So we've just created the compliance paperwork, as well as the logistics, for these facilities to extend the food safety requirements that they apply to the vegetable that goes to the grocery store to the remnants, creating a business model to make money back on money they've already spent," she explains.
The team at Matriark lightly enhances these vegetables with spices and fresh herbs, cooked and pureed into healthy, multi-use bases. Hammond praises each product for its versatility. The Vegetable Broth Concentrate, for example, can form the base of anything from ramen to sancocho. She likes to use the Spicy Arrabiata Sauce in an Indian rasam and says the Gentle Marinara, made without onions and only a hint of fire-roasted garlic, is popular among kids who prefer a milder taste.
In addition to retail, Matriark Foods also supplies products to food service companies, like fast casual food chain DIG, as well as colleges and hospital systems. Hammond is particularly proud to say that Matriark has created Upcycled Certified products. Basically, the brand goes through an audit and verifies that at least 10% of its product would have not been consumed by humans, or would have otherwise gone to landfill.
The pasta sauces, in particular, are the first on the market to be both Upcycled Certified and carbon neutral. "We submit every ingredient—where it originated, what its specs are, how long it's traveled, what its use will be, the manufacturing process— and Planet FWD gives us a number of the impact," Hammond explains. "We then pay credits against those carbon impacts to a third party that is growing forests and sequestering carbon."
"I think 'upcycling' is a funny word," she continues, noting its similarity to "recycling" and the kind of nuance that's necessary when entering climate-friendly conversations. The act of upcycling involves taking materials that would have otherwise gone to waste and giving them a new life.
But Hammond prefers to say "wasted food" instead of "food waste." "No one wants to waste food, but no one wants wasted food. You flip the word, and it takes on a completely different context," she explains. "But we're not dumpster diving here. We're doing what people have done for thousands of years, which is use everything."
This is the sentiment behind the company's name, an ode to the resourceful grandmothers that stretched ingredients as far as they could. Matriark is an intergenerational company, connected by the idea that every age group can learn a thing or two from one another. Speaking of her younger staff, Hammond jokes, "Sometimes there are a-ha moments like, 'You're buying sustainable clothes, but you spend a lot of money and energy in the universe getting your food delivered to your door.'"
She's increasingly optimistic, though, about the energy that younger generations are bringing to the future of upcycling. "We're certainly riding the first major wave in this space. But five years from now, I'd love to imagine that most products are carbon neutral," she says. "People are understanding that food is a place where everyone can participate in mitigating climate change."