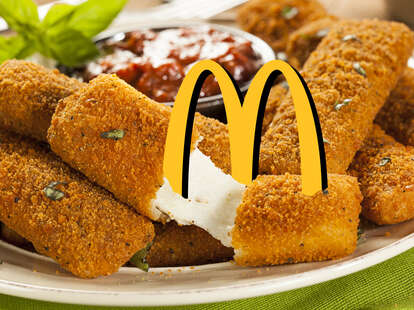 Shutterstock (edited)
Shutterstock (edited)
As if their guac trial run weren't exciting enough, McDonald's is making even more of your dreams come true with a new batch of mozzarella sticks. The app is currently being tested in select markets in New York, New Jersey, and Connecticut -- and if it does well, it could go nationwide.
The sticks come in orders of three, and come with marinara (though, if you're gross, you could probably score that Sweet & Sour McNugget sauce). It's pretty early in the testing stages, but we're already seeing some pretty passionate (and divisive!) responses.


Grab a buck and go decide for yourself at those special NY/NJ/CT McDonald's. And don't despair, out-of-staters: you can still order 15 plates of mozzarella sticks at TGI Fridays for $10.
Kristin Hunt is a food/drink staff writer for Thrillist, and will be hunting for one of the chosen NY McDonald's locations this weekend. Follow her at @kristin_hunt.