All 15 McDonald's Sandwiches, Ranked
Edited - Courtesy of McDonald's
Every once in a while, there's a void in life that only a visit to the house of the golden arches can fix. Whether it was putting together a broke college meal, visiting the McDonald's in Times Square just to eat a Stroopwafel McFlurry, or making a pitstop on a road trip, the chain has been a small source of comfort, joy, and fulfillment for me over the course of my life. And while I've basically hounded the entire menu throughout my 25 years, I've never done so in one sitting -- eating all 15 burgers and sandwiches -- to discover which one is the best. Until now.
Yes, on a recent visit to McDonald's, I -- in true Thrillist fashion -- ordered over $60 worth of sandwiches and burgers and one by one, meticulously ate each. I took notes. I burped. I opened sandwiches and inspected their guts for mustard and onions. I chewed thoughtfully on some sandwiches, and resisted the urge to spit out others. And, through the resulting heartburn and indigestion, I was able to compile a ranking of all of McDonald's sandwiches, from worst to best.
After some deliberation, here are my thoughts as a professional food writer: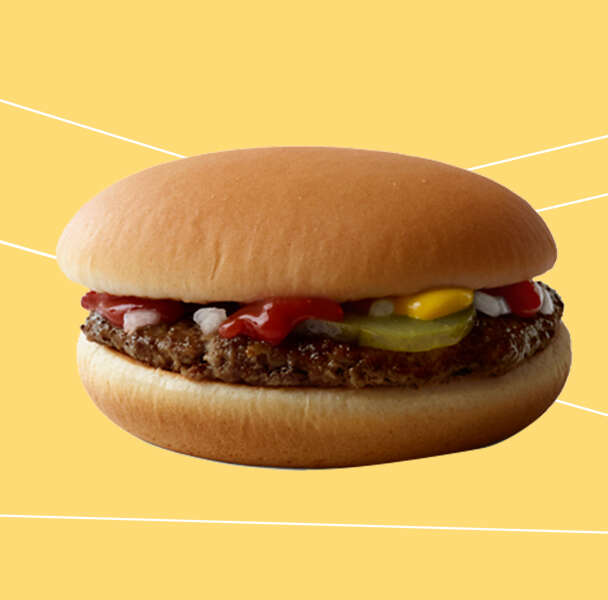 15. Hamburger
Price: $1.00
Sandwich Build: Very sad beef patty, ketchup, mustard, diced onions, two tiny pickles, regular bun
The McDonald's hamburger was specifically crafted for the picky child in your family. It is, without a doubt, the least exciting thing on the menu: a dry, nearly tasteless patty; pickles and onions; and not enough ketchup and mustard to bring moisture to your mouth. In the world of McDonald's flat patties, cheese is mandatory and this hamburger comes in dead last in our ranking. The good news is that this is one of the only remaining items that cost a mere dollar -- so if you can get over how depressing this burger is, at least you can save money.
14. McRib
Price: $4.49
Sandwich Build: Yoga mat-like pork patty, thin BBQ sauce, onion slivers, pickles, hoagie-style bun
It shocks me year in and year out how much hype the McRib gets. The patty is like a pork sponge with the consistency of a meatball. The sauce on the McRib is thin and the one I received was not well coated, although not bad flavor wise; sweet and subtly smoky. I can appreciate the slivers or raw onions and I like the hoagie-style bun, but because of the patty's texture I can't put the McRib any higher on this list in good conscience.
13. McChicken
Price: $1.50
Sandwich Build: Peppery chicken patty, shredded lettuce, mayonnaise, toasted bun
From a nostalgia perspective, I love the McChicken. It was there for me in high school, when I'd gorge on a McChicken and a McDouble and spend what used to be a total of $2 (RIP the Dollar Menu). The mayonnaise was always pleasing, and I enjoyed the peppery breading that encases the McChicken. The McChicken I ate on this trip to McDonald's, however, did not lead to a pleasant wave of nostalgia. The typically crunchy coating was soggy, the shredded lettuce lacked crunch, and the chicken patty itself was bone dry. The two other chicken sandwiches on the menu, which we'll get to later, are orders of magnitude better.
12. Cheeseburger
Price: $1.29
Sandwich Build: Sad beef patty made less sad with a slice of American cheese, ketchup, mustard, diced onions, pickles, regular bun
The cheeseburger on McDonald's menu is a tale of simplicity. It is fine. It's basically the hamburger with a magical slice of American cheese that improves the flavor tenfold. If you're in a bind and need a burger with cheese for $1.29, then you've found it. Just don't expect bliss.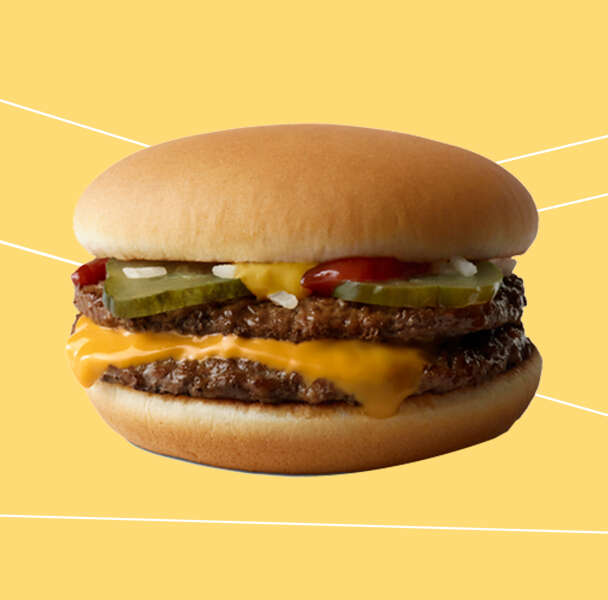 11. McDouble
Price: $1.50
Sandwich Build: Two beef patties sharing a single slice of American cheese, ketchup, mustard, diced onions, pickles, regular bun
Take the cheeseburger, add another patty, and boom: you've got a McDouble. The McDouble is more filling, more meaty, and saucier than the cheeseburger. There's just something comforting about biting into two patties sandwiching a slice of melty cheese. I'll always opt for a double over a single when I can get it.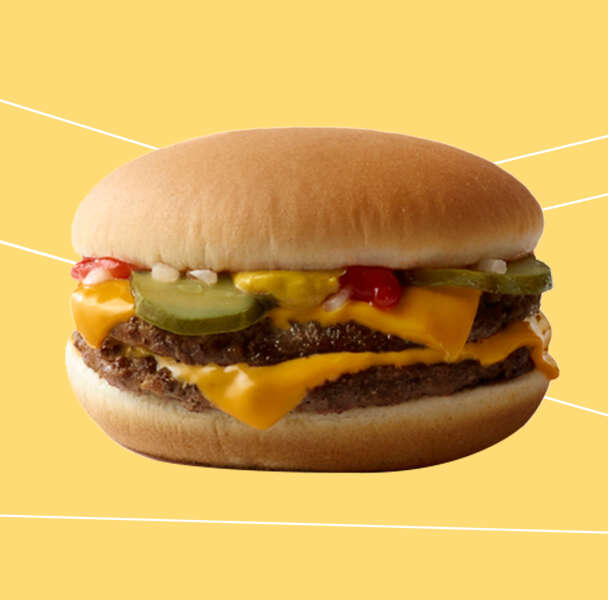 10. Double Cheeseburger
Price: $1.69
Sandwich Build: Two beef patties, two slices of American cheese, ketchup, mustard, diced onions, pickles, regular bun
Did you know that there's a difference between a McDouble and a Double Cheeseburger? This is something I just learned: a double cheeseburger has two slices of cheese, whereas the McDouble only has one. Both are virtually the same otherwise, but if I can get two slices of cheese versus one then I'm always going to go for more cheese.
9. Spicy BBQ Chicken Sandwich
Price: $4.89
Sandwich Build: Buttermilk-battered crispy chicken filet, BBQ sauce, onion slivers, pickles, sesame seed bun
I wrote about the Spicy BBQ Chicken Sandwich more in depth when it first came out, and my feelings remain the same.
It's a solid sandwich that gets a little bit too messy after a couple bites. The BBQ sauce does have pleasant, warming heat to it and the batter remains crispy despite being submerged in the smoky and sweet glaze. I also enjoy the addition of pickles and raw onions to cut through the sugary sensation of the sauce, though I'd prefer diced onions to raw so they wouldn't slide out as much. Overall, the Spicy BBQ Chicken Sandwich is tasty, but wouldn't be my first choice.
8. Quarter Pounder with Cheese and Bacon
Price: $6.29
Sandwich Build: 1/4lb fresh beef patty, three thin strips of bacon, two slices of American cheese, ketchup, mustard, onion slivers, pickles, sesame seed bun
I can't believe I'm saying this, but not every burger gets better with the addition of bacon. Such is the case of the Quarter Pounder with Cheese and Bacon. The strips of bacon are thin and devoid of moisture, making them like salty meat shards. The beef in the Quarter Pounder is already well-seasoned, so adding bacon just feels like a sodium overload. If it were a different type of bacon, seasoned with brown sugar and containing a bit more fat, then maybe this would have worked. But this is McDonald's and the bacon is lacking, therefore making this the least appealing Quarter Pounder. It's still good! Just too salty.
7. Artisan Grilled Chicken Sandwich
Price: $5.39
Sandwich Build: Juicy grilled chicken filet, roma tomatoes, lettuce, zesty herb vinaigrette, "artisan" roll
The Artisan Grilled Chicken Sandwich isn't the most exciting menu item of all time, but it's absolutely done well. The grilled chicken breast filet was juicy and well-seasoned. The tomatoes tasted fresh and bright. The herb vinaigrette tied the entire sandwich together. At 350 calories with only seven grams of fat, it's also one of the relatively healthier items on McDonald's menu. Again, it's not an innovative sandwich -- but all the components together work well and make for a reliable option.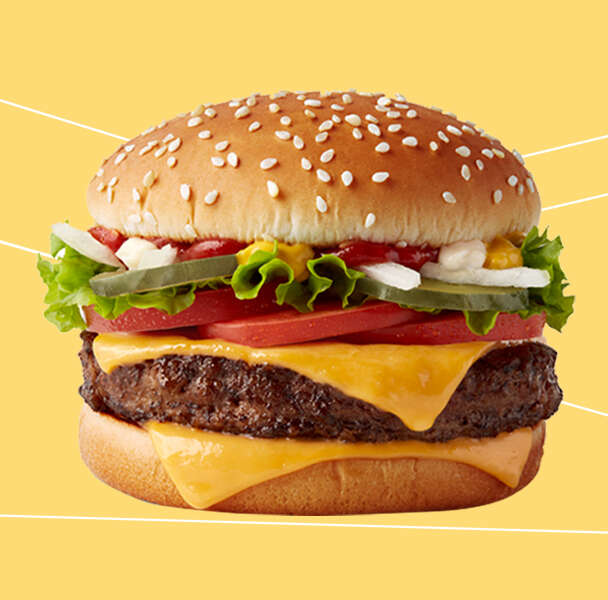 6. Quarter Pounder with Cheese Deluxe
Price: $5.79
Sandwich Build: 1/4lb fresh beef patty, two slices of American cheese, tomatoes, lettuce, slivers of onion, ketchup, mustard, a weird addition of mayo, pickles, sesame seed bun
I'm usually in the camp of adding more veggies to burgers. Give me crisp lettuce! Give me tomatoes! Drown me in pickles! But in the case of the Deluxe Quarter Pounder, I find the vegetables are a distraction to the juiciness of the burger and the meltiness of the cheese. The beef and cheese are glorious on their own: salty, oily, and exactly what a cheeseburger should be. So when there's wilted lettuce and tomatoes getting in the way of the best part of the burger, I've got to dock points. Additionally, the Quarter Pounder isn't in need of any mayo -- the burger is already full of cream and fat, thanks to all the cheese and beef, so the mayo is overkill.
5. Big Mac
Price: $4.99
Sandwich Build: Two beef patties that really should be replaced by Quarter Pounder patties, McDonald's best sauce ever, a single slice of American cheese, shredded lettuce, diced onions, pickles, sesame seed bun, extra central bun between patties
The glorious Big Mac has made it into the top five, and for good reason: the Big Mac is a classic. The Mac Sauce is delicious -- tangy, sweet, and creamy -- while the layers of beef, sesame buns, shredded lettuce, pickles, and raw onions marry together to create a burger that is well balanced and flavor forward.
I feel like every element does its part here. The sauce enriches the meat, the cheese is gooey, the pickles and onions cut through the fat, and the lettuce lightens the whole thing. The Big Mac, however, could infinitely be improved. If the current patties were swapped out for the Quarter Pounder patties, this sandwich would be a complete game changer (McDonald's execs, I hope you're reading this). I think an additional slice of cheese on the top patty would also be beneficial. Despite this, I love the Big Mac. Maybe not as much as that guy who has eaten it 30,000 times, but close.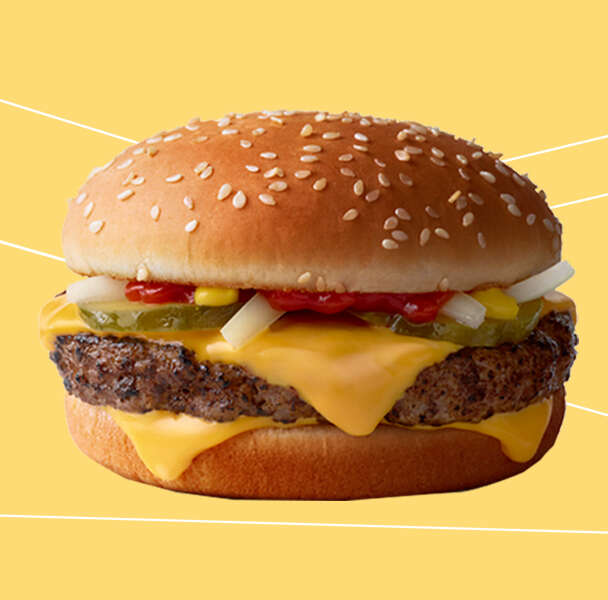 4. Quarter Pounder with Cheese
Price: $5.19
Sandwich Build: 1/4lb fresh beef patty, two slices of American cheese, onion slivers, pickles, ketchup, mustard, sesame seed bun
Ever since McDonald's changed its beef recipe for Quarter Pounders, opting for fresh beef over frozen, the chain has sold 30% more Quarter Pounders (according to USA Today). And I totally understand why: The fresh beef actually tastes like beef and glistens as beef burgers should. The patty is the star of the show, salty and meaty and juicy. I want to come back, bite after bite. The supporting players -- the sliced onions and pickles -- add some much needed tang, without overwhelming the flavors of the beef. The two slices of cheese are silky surrounding the beef. It is, overall, a very good and very classic burger.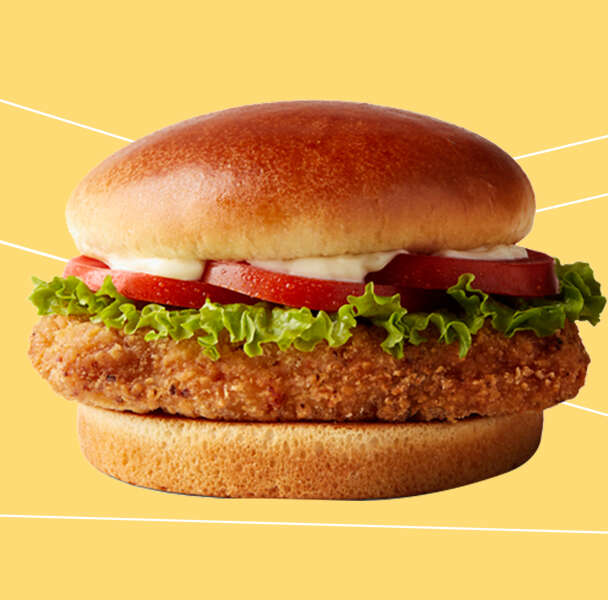 3. Buttermilk Crispy Chicken Sandwich
Price: $5.49
Sandwich Build: Buttermilk-battered crispy chicken filet, roma tomatoes, lettuce, lots of mayo, "artisan" roll
I wrote a piece ranking fast food chicken sandwiches and -- in it -- I waxed on about how good McDonald's Buttermilk Crispy Chicken Sandwich is. Honestly, it surprised me too. The chicken is perfectly fried without forfeiting any moisture, the batter is well-seasoned with the flavor of buttermilk prevalent throughout, and the tomatoes are gloriously refreshing. Additionally, McDonald's velvety mayo is generously spread, ensuring each bite is creamy and fulfilling. This is the best chicken sandwich in Ronald McDonald's kingdom and worth forking over the extra cash for instead of a McChicken.
2. Filet-O-Fish
Price: $4.79
Sandwich Build: Crispy fish filet patty, pickle-studded tartar sauce, half slice of American cheese, steamed bun
The Filet-O-Fish reminds me of my grandmother. For some reason, my Thai grandma would only order this -- on road trips, as an after school snack, or to satisfy a mere McDonald's craving. I can't tell if it's because the fish is the only thing she trusted on the menu, or because she genuinely thought it was the best item, but like all Thai grandmothers who know food, she was onto something.
Filet-O-Fishes (is that the correct use of plural? Filets-O-Fish?), in my book, are top notch. The tartar sauce is full of pickles, yet balanced in its creaminess. The square of fish has an appealing, crunchy outside, but flaky and almost delicate inside. The buns on Filet-O-Fishes are always the softest because they're steamed rather than toasted, resulting in a pillowy, cloud-like experience. And the American cheese brings the whole fish sandwich together. Through this reporting, however, I discovered that the American cheese slice that arrives on a Filet-O-Fish is a mere half slice. What gives, McDonald's? No wonder it's always off-centered.
GIVE US THE FULL SLICE OF CHEESE, YOU COWARDS!
1. Double Quarter Pounder with Cheese
Price: $6.29
Sandwich Build: Two 1/4lb fresh beef patty which makes the burger infinitely better, two slices of American cheese, onion slivers, pickles, ketchup, mustard, sesame seed bun
This is it. The best sandwich/burger at McDonald's is the Double Quarter Pounder with Cheese.
Take everything good I said about the Quarter Pounder with Cheese over in fourth place and double it. The result is a satisfyingly meaty, salty, and cheesy burger that is surprisingly filling. I love that you can really taste the char on the beef patties within the Quarter Pounder, so having two beef patties and two slices of cheese only heightens the experience.
Everything works in tandem within this burger. The beef and cheese are the highlights, but you can find reprieve from them in the tart pickle chips, the bite of onion slivers, the tang of mustard, and the gentle sweetness of ketchup. Switching to fresh beef shows, and arguably was one of McDonald's best decisions yet.
Now, like I mentioned, when can we get a Big Mac with Quarter Pounder patties?
Sign up here for our daily Thrillist email and subscribe here for our YouTube channel to get your fix of the best in food/drink/fun.
Kat Thompson is a staff writer at Thrillist and covers A LOT of fast food. Follow her on Twitter @katthompsonn.