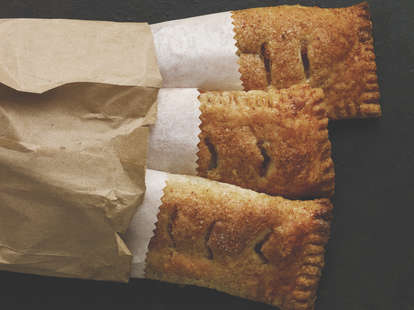 Stella Parks/W.W. Norton
Stella Parks/W.W. Norton
The Secret Reason McDonald's Apple Pies Are So Good
This is Cookbook Club, a place where we flip through the best new cookbooks to find the recipes and stories that you need in your life.
There is no one on the internet that gives better baking advice than Stella Parks. A former pastry chef, and current Serious Eats editor, Parks has an uncanny ability to distill the complex scientific mechanics of baking and the often tedious and lengthy histories of a dish into a sweet and digestible package. In other words, she makes baking fun and makes you smarter in the process. And after six years of researching, baking, researching, and baking some more, she has finally put out her first cookbook, BraveTart: Iconic American Desserts.
Parks was over people looking down upon iconic American desserts, which is why she dedicated her book to celebrating them instead. "If you're having a simple panna cotta in Italy, it's fine and respectable, but if you're eating Jell-O pudding here, you are trash," she says. "I really wanted to write a book that honors the traditions that we have, and the parts of childhood we all grew up with, no matter where in the country you're from."
Parks was adamant that she wanted to write a cookbook that combined "both sides of the coin" when it came to American desserts. There would be recipes for classic baked goods like strawberry shortcake, chocolate chip cookies, and Key lime pie. But it was also equally as important for Parks to include recipes for homemade version of America's favorite mass-produced sweets like Oreos, Pop-Tarts, and Rice Krispies Treats.
"McDonald's apple pies... are unbelievably American."
The one dish that she initially didn't want to include was a recipe for apple pie. "My reasoning at the time was that apples are not even indigenous to North America," she explains. "They were brought over by colonists!" Parks also points out that every country that has a history of growing apples has a traditional apple pie-like pastry. "It's a famous American dessert, but we don't have special claim on it," she says.
But then one day it hit her -- she had to include a recipe for a McDonald's apple pie in the book. "It's unbelievably American," notes Park. "It's a mass-produced pastry from a factory that you can buy from a drive-thru window in a paper sleeve for less than $1. If anything says 'America' -- it is that."
What Parks likes most about McDonald's apple pie is how innovative it actually is. Many pie recipes require a thickening agent to keep the filling together because of all the liquid that's released as apples are cooked. But instead of using a processed filler, McDonald's actually uses dehydrated apple powder, Parks discovered. Not only does it help soak up the liquid that cooks out of the apples during baking, but it also gives the pie a double punch of apple flavor. And who doesn't want a more apple-y apple pie? Get the recipe for McDonald's-Style Apple Turnovers below:
Homemade McDonald's®-Style Baked Apple Turnovers
Total Time: Active time: 1 hour | Downtime: 23/4-hour refrigeration
Yield: 10 5-inch turnovers
INGREDIENTS:
1 recipe No-Stress All-Butter Pastry Crust (page 150), divided
Apple Filling:
1 1/2 cups | 1 1/2 ounces freeze-
dried apples
1/2 cup | 3 1/2 ounces sugar
2 teaspoons ground cinnamon
1/8 teaspoon Diamond Crystal kosher salt (half as much if iodized)
3 medium apples (about 20 ounces), such as Braeburn, Granny Smith, and/or Honeycrisp
4 tablespoons | 2 ounces unsalted butter, melted
2 tablespoons | 1 1/2 ounces unsulfured molasses (not blackstrap) or sorghum
1 tablespoon | 1/2 ounce freshly squeezed lemon juice
Cinnamon Sugar:
1/4 cup | 2 ounces sugar
1 teaspoon ground cinnamon
DIRECTIONS:
Roll and cut the dough:
Roll each portion of dough into an 11-by-13-inch rectangle, using as much flour as needed to prevent sticking. Stack on a parchment-lined cutting board or baking sheet, with a sheet of parchment between them, cover with plastic and refrigerate at least 2 hours, or up to 24.

Cut each chilled sheet into four 5-by-6-inch rectangles. Gather scraps, knead briefly, roll into a 6-by-13-inch strip, and cut two additional pieces. Arrange on two parchment-lined baking sheets and refrigerate while you prepare the filling.

Fill the turnovers:
Combine freeze-dried apples, sugar, cinnamon, and salt in the bowl of a food processor. Cover with a sheet of plastic to contain the dust, and grind until powdery and fine, about 1 minute. (This mixture will keep for up to a month in an airtight container, at room temperature.)

Peel, core, and dice the apples into 1/4-inch cubes. Measure exactly 12 ounces (3 level cups) into a large bowl, and set scraps aside for snacking. Even if it's a very small amount, do not add any extra apples to the filling! Toss apples and apple-cinnamon powder together with a flexible spatula, then add melted butter, molasses, and lemon juice (this cannot be done in advance).

Imagine each portion of dough as an open book: Lightly brush the edges of the "right page" with water, then place 2 tablespoons filling inside that boundary. Close the "book" and crimp the short sides with a fork, leaving the long side open, like a pita pocket. Repeat with remaining dough. To finish, pick up each pastry and spoon in another tablespoon of filling, letting gravity help you work it into the corners. Return to the baking sheet and crimp with a fork to seal.

Refrigerate turnovers until firm, about 45 minutes, or up to 4 hours.

Bake the turnovers:
Adjust oven racks to the upper- and lower-middle positions and preheat to 400°F. Mix sugar and cinnamon together in a small bowl.

Lightly brush turnovers with water and sprinkle generously with cinnamon sugar. Snip a few decorative slits across each with a pair of scissors. Bake until the turnovers are puffed, crisp, and golden brown, about 30 minutes. Transfer to a wire rack and cool for 10 minutes before serving.

To keep the pastry crisp, store leftover turnovers at room temperature under a cake dome or upturned bowl, and rewarm in a hot oven before serving.

Troubleshooting
In an especially hot and humid summer kitchen, periodically refrigerate the dough to keep it cool and firm.
Sign up here for our daily Thrillist email and subscribe here for our YouTube channel to get your fix of the best in food/drink/fun.
Khushbu Shah is Thrillist's senior food features editor and chief hater of hot fruit -- except for in apple pies. Follow her on Twitter @khushandoj