The Big Mac. As important to McDonald's as the Golden Arches and that terrifying clown anchored to your local mall bench. But some people ain't got no respect for Mikey D's signature burger, and are totally bastardizing it with a single-patty, Angus beef variety. Those people would be the Aussies, who're rolling out the "Angus Mac" on August 28 for a limited time only. We'd like to put this abomination squarely on their shoulders, but unfortunately this isn't the only time the Big Mac has been tampered with. Just look at these other monstrosities from around the globe...
You might think this is an ordinary Big Mac, but don't let those sneaky Europeans pull a fast one on you. This is actually the "Bigger Big Mac", a menu item McDonald's tested out in Germany last year that promised "45% mehr Big Mac!" (or "45% more Big Mac" for you philistines).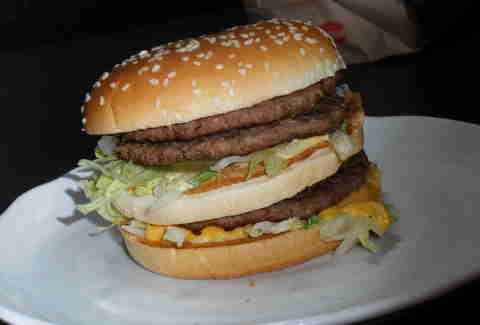 Japan's insane Mega Mac, which features four patties instead of the standard two, has been floating on and off their menu for six whole years. It's also apparently on the McDonald's Arabia line-up now, proving this godlessness knows no bounds.
Even America's dogsledding brethren are betraying the Big Mac. The so-called "McKinley Mac" is an Alaskan specialty (and supposed secret menu item) that uses quarter-pounders instead of regular patties. For when you need extra protein to build igloos, or whatever it is people actually do in Alaska.