13 Things You Definitely Don't Know About the Big Mac
Turns out, McDonald's Big Mac is much, much more than the "two all-beef patties, special sauce, lettuce, cheese, pickles, onions -- on a sesame seed bun" that we all know and love. Get your obscure burger trivia fill with this Big Mac fact-attack.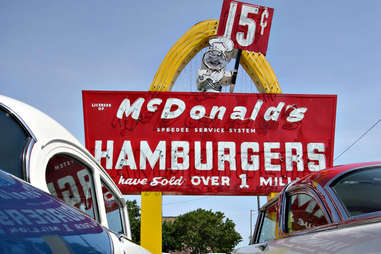 1. It was invented by a Pittsburgh-area franchise owner
In 1967, a small-time franchisee named Jim "MJ" Delligatti created a cheeseburger consisting of two 1.6oz beef patties, iceberg lettuce, pickles, American cheese, chopped onions, a special "Mac Sauce," and a double-cut sesame seed bun. At first, the burger was only available at three Pittsburgh McD's locations, but thanks to founder Ray Kroc's enthusiasm, it went nationwide in 1968.
2. The middle bun was purely functional
As per Delligatti's original design, the Big Mac's center bun is used primarily to soak up the special sauce, keeping the sandwich from becoming a Big Mess.
3. You can DIY your own half-price Big Mac
According to a bunch of Reddit users -- as well as one very talented Thrillist writer -- ordering a custom McDouble (no mustard or ketchup, add shredded lettuce and special sauce) transforms the less expensive burger into a Big Mac and saves you a whole $2. You'll have to do without the middle bun, though, so be sure to double up on napkins.
4. It's used to measure the world's economy
The Economist formulated something called the "Big Mac Index" in 1986 as an easily translatable way to monitor international currency exchange by comparing the average price of a Big Mac in each country. The prominent magazine calls the tool "arguably the world's most accurate financial indicator to be based on a fast-food item."
5. It wasn't always called the Big Mac
When the Biggie first hit the tray, it was known as the "Big Attraction" -- pretty much a blatant rip-off of its Northeastern competitor, the Big Boy burger. It also bore the moniker "Aristocrat" and the "Blue Ribbon Burger," until 21-year-old McDonald's corporate headquarters secretary Esther Glickstein Rose came up with the name that finally stuck.
6. Pennsylvania is also home to an official Big Mac Museum
It's true, ladies and gents. Since 2007, curious burger-heads have been able to visit an entire museum dedicated to America's beloved burger in North Huntingdon, Pennsylvania. The museum (which also serves as a McDonald's restaurant) was opened by Mike Delligatti, Big Mac inventor Jim Delligatti's son, and houses the world's Biggest Mac, which is a stunning 14 by 12ft.
7. McDonald's finally gave up the special sauce secret back in 2012
For some reason, it took the fast-food giant nearly 45 years to unveil the recipe that everyone who's ever had the pleasure of tasting a Big Mac absolutely knew -- mayo, sweet relish, yellow mustard, vinegar, garlic powder, onion powder, and paprika. Thanks, guys.
8. And the company uses a "specially" calibrated gun to spread said sauce
It gets weirder, though. Apparently, the special stuff is delivered to each McDonald's franchise in custom "sauce guns" stocked with sealed condiment canisters. With each trigger pull, the machine fires precisely measured dollops of the tangy condiment onto each lucky burger.
9. In 1992, Pittsburgh changed its name to Big Mac, USA
Ever the proud father, Steel City temporarily renamed itself after the iconic sandwich in honor of its 25th birthday.
10. There's a whole bunch of Big Mac variations out there
If you thought a Big Mac by any other name was still a Big Mac, get ready to be blown away by these wide-ranging Big Macs in disguise.
The Mega Mac: Four 1.6oz beef patties and an extra slice of cheese (Australia, Canada, China, Egypt, Ireland, Japan, Malaysia, Turkey, Singapore, Pakistan, South Korea, and Thailand)
The McKinley Mac: Two quarter-pound beef patties instead of the traditional 1.6oz ones (Alaska)
Maharaja Mac: Subs in a chicken patty instead of the beef (India)
The Chicken Big Mac: No beef, but loaded with two breaded chicken patties (Pakistan, Egypt, UAE, Kuwait, and Qatar)
The Giga Big Mac: A whopping three times the meat of a regular Mac (Japan)
Monster Mac: No fewer than eight 1.6oz beef patties plus extra cheese (Germany, but now discontinued)
Son of Mac/Mini Mac/Baby Mac/Mac Jr.: A single beef patty and no center bun (New Zealand and some US stores)
Kosher Big Mac: Served without cheese (Israel)
Grand Mac: Everything in the OG Big Mac, but with bigger 2.7oz patties and a super-sized bun (select locations in Texas and Ohio)
11. The year 2016 marked the first time McDonald's ever experimented with the Big Mac special sauce
Just this month, the gods shined upon America as 122 Ohio McDonald's franchises rolled out a Sriracha-spiked special sauce, marking the first time the company has ever messed with the almighty ingredient. Yes, please.
12. McDonald's used to pay rappers to name-drop the Big Mac in their songs
Rappers have been repping their favorite brands for ages, but this hip-hop-specific 2005 promotional campaign was truly a fresh product placement idea. In exchange for plugging the sandwich in their rhymes, artists received $5 each time their McD's shout-out hit the radio waves.
13. There's a world record holder for most Big Macs ever consumed, and he's damn proud of it
A self-described Big Mac enthusiast, Wisconsin-native Donald A. Gorske gobbled up over 29,000 double-decker burgers in his lifetime, claiming Big Macs account for 90% of his diet. Guinness World Records somehow verified this, and awarded Gorske his esteemed title in 2006. Dude also wrote a book called 22,477 Big Macs back in 2008, so you know it's real.
Sign up here for our daily Thrillist email, and get your fix of the best in food/drink/fun.
Meredith Heil is a former staff writer at Thrillist. You say you want beef, then she got ya, boy. She'll just let the Big Mac, Whoppa-boy. Follow her @mereditto.