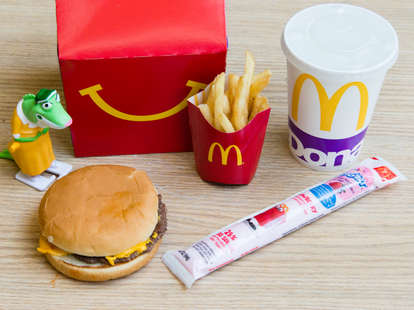 Cole Saladino/Thrillist
Cole Saladino/Thrillist
The Happy Meal is one of those amazing all-American food inventions. You know, like ketchup. Wait, that originated in China?! We're about to melt your mind again: The McDonald's Happy Meal is actually the creation of a Guatemalan woman, according to a report by Consequence of Sound.
The first actual Happy Meal was served in Guatemala in the mid-'70s, when Yolanda Fernández de Cofiño came up with an item called a "Menu Ronald." Consequence of Sound writes that it was designed to "help parents feed their children with less fuss." The meal came with a hamburger, a small fries, and a small sundae in a bag.
Now, keep in mind that the American Dick Brams is considered the "father of the Happy Meal." He came up with the key Happy Meal innovations like a toy, putting handles on that cute little box, and offering up extra entree options for kids to debate for far too long.
So next time you're in McDonald's enjoying a cheap kids meal (if you want other filling, delicious kids meal options elsewhere, we've got 'em here), make sure to tip your cap to Guatemala.
Sign up here for our daily Thrillist email, and get your fix of the best in food/drink/fun.