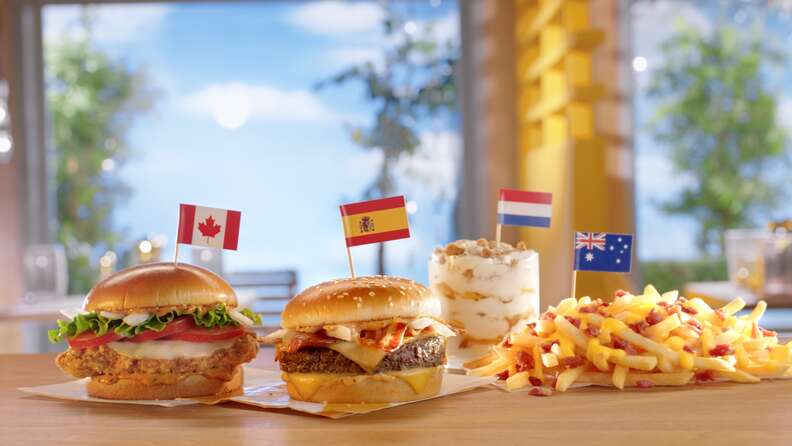 Courtesy of McDonald's
Courtesy of McDonald's
We Ate Everything on McDonald's New International Menu

For many, eating at McDonald's while abroad -- where taro pies and cheesy bacon fries reign supreme -- offers up a fascinating McWindow into global fast-food culture. But now you don't need to fly all the way to Barcelona just to see what a Quarter Pounder tastes like when you order it in Spanish: the restaurant monolith is launching its own international exchange program of sorts in the form of the new "Worldwide Favorites" menu. The global sampler -- which has been in place at McDonald's Chicago headquarters since last year -- is expanding nationwide on June 5th and will feature limited-time offers of McDonald's treats from Spain, the Netherlands, Australia, and Canada.
In advance of the nationwide launch, we hit up a preview dinner at the highly futuristic new McDonald's smack in the middle of Times Square. It was essentially a model UN exercise in international fast food synergy. Here's how the Worldwide Favorites stacked up.
Cheesy Bacon Fries (Australia)
Although these fries hail from Australia, they're about as American as apple pie, or comparing national identity to fruit-packed pastry. This isn't the first time cheesy bacon fries have made their way stateside; they've been a popular side that has come in and out of availability since earlier this year and are taking what McDonald's calls a "victory lap" this summer. And indeed, the fries are victorious -- it's a serving of McDonald's classic, piping hot fries smothered in a cheddar cheese sauce and salty, crunchy bacon bits. Though the fries do get a little bit soggy under all the cheese sauce, the bacon bits provide all the texture you need. All in all, it's hard to go wrong with McDonald's fries, cheese, and bacon; you're getting exactly what you're expecting (and it's good). Does it scream "Australia?" No. But until Americans are ready for items like the Tomato & Cheese Toastie, it'll do.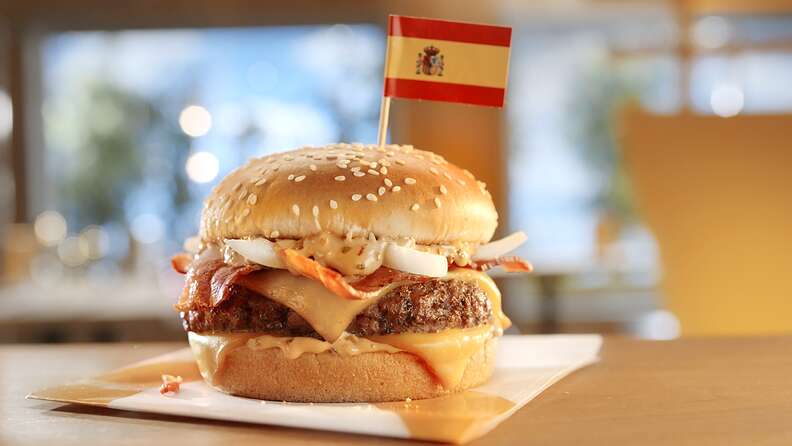 Grand McExtreme Bacon Burger (Spain)
Though this fancy quarter pounder is devoid of veggies, save for a few slender slivers of onions (if you even count that), it's an undeniably delicious burger thanks to the hefty, juicy patty; three strips of crispy bacon; and two slices of buttery gouda cheese. The Grand McExtreme Bacon Burger (jeez, what a name) is also topped with a smoky "McBacon" sauce to complement the burger with a cool creaminess, and is sandwiched by McDonald's signature sesame seed bun. It's the type of burger you order if you're just craving something meaty and juicy and aren't intimidated by how heavy it will sit in your stomach 20 minutes later.
Tomato Mozzarella Chicken Sandwich (Canada)
You can either opt for a crispy or grilled chicken for this Canadian entree, but regardless of which type of poultry you get, it will arrive with lettuce; slices of fresh, juicy roma tomatoes; chopped onions; a thin sliver of mozzarella cheese; and a very nice attitude that may or may not be the result of excellent healthcare. This sandwich is entirely fine. The tomato and herb sauce that is brushed on the buns is pleasant and garlicky, but I didn't feel too enthusiastic about the package as a whole. Everything just tasted a bit one note; it was like a muted caprese salad in sandwich form without the punch of balsamic vinegar. I enjoyed how fresh the tomatoes tasted, but I wouldn't ever go out of my way to get a second chance at this chicken sandwich. Now if they finally exported the legendary McDonald's poutine…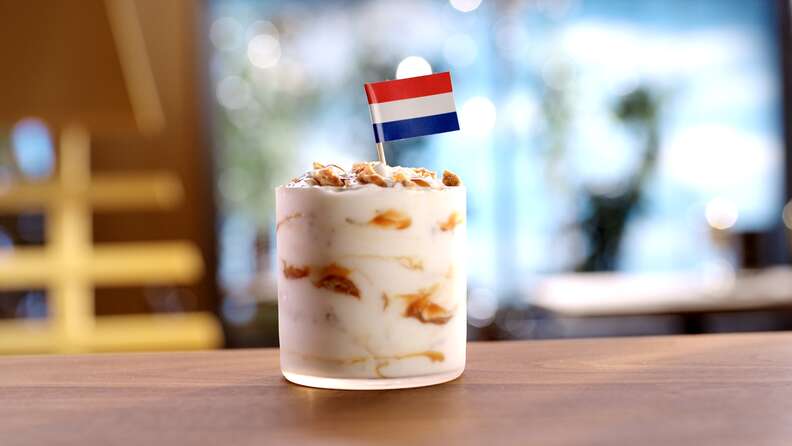 Stroopwafel McFlurry (The Netherlands)
This is the crowning glory of McDonald's current quartet of global menu items. It's a simplified reflection of the country it's from, which I feel is what eating McDonald's abroad is all about. Plus, it's just hard to screw up vanilla soft serve loaded with caramel and chewy stroopwafel bits. Anyone who has ever had a stroopwafel will immediately be able to identify the aromatic, caramel-filled waffle cookie, which sticks to your teeth in the most satisfying way. For those worried that this McFlurry lacks caramel, do not fret: the ice cream is also swirled with a thick caramel sauce. The result is a creamy, smooth, and gooey dessert that hits all the right notes and is over-the-top sweet in the best way possible.
What's next for the international menu?
Overall, I do think the global entrees this time around played it very safe. I mean, two of the offerings have bacon in them! It's hard to go wrong with bacon when it comes to American consumers -- and though everything tasted great, I didn't feel like I strayed very far from home.
"The great thing about our international menu is they're always coming up with new things," said McDonald's president Chris Kempczinski. And that is great -- if we actually get to taste some of the more innovative dishes.
If the global menu excels as much as McDonald's anticipates, Kempczinksi hopes that "this is something we can do year in and year out and really showcase the global profile and sort of the global taste that exists out there that we serve through McDonald's."
My hope is that future global menu items will be a little bit more adventurous and exciting. I'm talking potato croquette burgers and shrimp patties from Japan, red bean pies from Hong Kong, durian McFlurries vis-à-vis Malaysia, and German bratwurst sandwiches. Like, what's the point of traveling across the world if you're only going to eat what's familiar? Bacon fries are a good start. Now bring the poutine.
Sign up here for our daily Thrillist email, get Eatmail for more food coverage, and subscribe here for our YouTube channel to get your fix of the best in food/drink/fun.
Kat Thompson is a staff food writer at Thrillist who dreams of McDonald's shrimp burger from Japan. Find her on Twitter @katthompsonn.