The McChurro is coming to... Japan?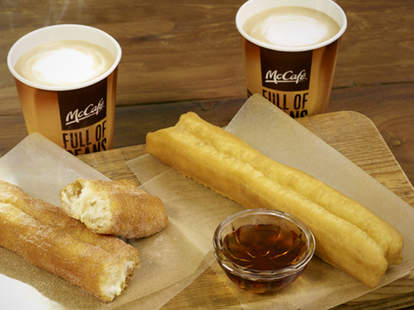 McDonald's and churros seem like a logical combination, considering the Spanish donuts are fried, fast, and look like mutant versions of Ronald's signature fries. Now, the McChurro is a reality, but weirdly you're not going to score one at your favorite Barcelona McDonald's. You can only get them in Japan, which is about as Spanish as the Spanish Fly.
Starting tomorrow, McDonald's Japan will offer McChurros for 159¥, or $1.56. You can order them either covered with cinnamon sugar or with pancake syrup on the side, but these treats might not resemble the churros you're used to. As Brand Eating points out, this particular deep-fried dough looks more like youtiao, the Chinese fried breadsticks that skew more savory than sweet. While the future of McGazpacho is still in the air, there remains hope that someday these Spanish donuts will cross over to other markets.
Kristin Hunt is a food/drink staff writer for Thrillist, and would probably order her McChurro with double cinnamon sugar. Follow her at @kristin_hunt.