McDonald's Has 3 Huge New Breakfast Sandwiches. We Ate Them All.
As much as Taco Bell, Starbucks, and Dunkin' tries to steal its crown, everyone knows the king of fast food breakfastremains McDonald's. And after trying the three new breakfast sandwiches at Mickey D's, I have good news to report: the king stays the king. (If you didn't get that reference and you have your parents HBO GO password, watch The Wire! Not for me, for you.) All these sandwiches are meatier, cheesier, bulked-up versions of their standard breakfast sammies, and they're the first big changes to the morning menu in 5 years.
But which new sandwich is worth your hard-earned McBucks? I tried all three of 'em -- the Triple Breakfast Stack McMuffin, the Triple Breakfast Stack Biscuit, and the Triple Breakfast Stack McGriddles -- and ranked 'em in order of how delicious they were.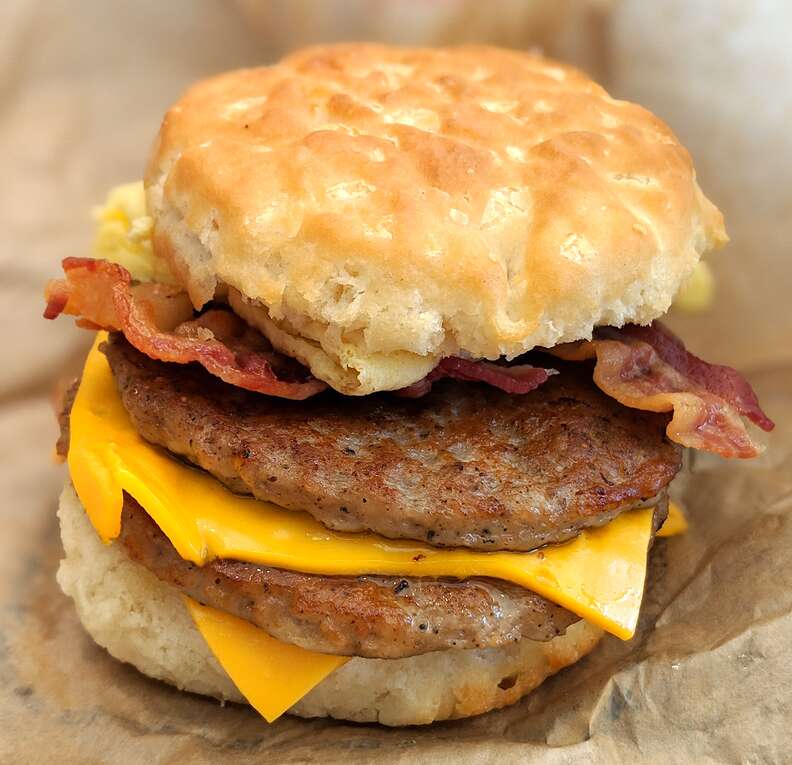 3. Triple Breakfast Stack Biscuit
Ingredients: two sausage patties, two American cheese slices, bacon, folded egg, biscuit
This sandwich had no chance from the start because it's structured around this biscuit, and we live in a world where Chick-fil-A and Popeyes serve some damn good fast-food ones. All I could think about was the other biscuits I could be eating. The McDonald's biscuit is a bit too dry and not buttery enough for my taste, but my main gripe is the egg. The folded egg gets lost among the two sausage patties to the point where you wonder if the sandwich has egg in it.
All I could taste is sausage and cheese here. If sausage and cheese are your favorite breakfast foods, you're gonna love this. Instead, I'd recommend just getting the scaled-down version of this: a sausage, egg, and cheese biscuit meal for about the same price.
2. Triple Breakfast Stack McGriddles
Ingredients: two sausage patties, two American cheese slices, bacon, folded egg, griddle cakes
I'm surprised to be slotting this sandwich in second place, mostly because I'll admit that I never thought making a griddle cake the backbone of a sandwich was a good idea. I like pancakes, eggs, and bacon on the same plate, but not on top of each other. It's a little like that food orgy scene in Sausage Party, and it's not one I wanted to participate in. And yet… this McGriddle sandwich works.
The maple syrup tastes great with the pancake (obviously!), but I also didn't mind its interplay with eggs, cheese, bacon, and sausage. It's a welcome twist on the usual breakfast foods, and it tasted so unique, I was diving back in for more bites. Even better, the griddle cakes turn out to be a perfect delivery mechanism for all that breakfast. It also made me think: would eating a Big Mac with griddle cakes instead of a sesame seed bun be any good? That feels like an idea more suited for a 3am drive-thru run and less for breakfast on a Thursday morning. Moving on!
1. Triple Breakfast Stack McMuffin
Ingredients: two sausage patties, two American cheese slices, bacon, egg, English muffin
The first thing I wrote down was, "Yes yes yes" and I think that about sums up this breakfast sandwich. It's hard to improve on a classic like the Egg McMuffin, but this sandwich actually does. It's everything you love about the McMuffin (with actual bacon subbed for the Canadian bacon version in the original), but there's even McMore of it!
The English muffin stands up to all that additional meat and cheese, and it remains as pillowy as it's always been. The other sandwiches feel like they maybe only need a slice of cheese, but the two slices of cheese work here perfectly, perhaps because this is the only sandwich with the Egg McMuffin-style circular egg. It's the best tasting egg Mickey D's has to offer, and it improves the sandwich greatly.
This is the cream of the crop when it comes to the new breakfast sandwiches, and after eating one, there's no way you go back to a regular Egg McMuffin.
Sign up here for our daily Thrillist email and subscribe here for our YouTube channel to get your fix of the best in food/drink/fun.
Lee Breslouer is a writer and editor based in Colorado who strangely could go for an Egg McMuffin about now. Follow him to perfectly round egg discs @LeeBreslouer.