When McDonald's announced it would be serving breakfast all day long last fall, senior editor Andy Kryza had an inspired thought: we should combine a McDonald's Big Mac with a sausage, egg, and cheese McGriddle, and a bacon, egg, and cheese McGriddle to make the ultimate Big MacGriddle. Because dinner and breakfast sold concurrently really just opens the doors up to this kind of thing. So we did it! Then we ate it. And you can too. Here's how:
First, realize McGriddles aren't on the All Day Breakfast menu
Getting something off the McDonald's breakfast menu at the same time as the regular menu was way more difficult than initially imagined because All Day Breakfast is actually pretty limited, and the lunch menu isn't available before 11am.
So while I went to one McDonald's at 10:30am for the McGriddles, our photographer Cole Saladino staked out a different location for the Big Macs at 11am on the nose. If you can't tag team, though, you probably could just go to one McDonald's at 10:55 and get the breakfast, and then wait 10 minutes until 11:05 to get the lunch. We weren't worried about the half-hour the griddle cakes would be sitting before they were photographed because Jeremy Glass would be eating it, and he's fine with putting most things into his body, and vice versa. 
 
Then, secure enough sandwiches
Once you get over the huge blow that All Day Breakfast doesn't include McGriddles, get more of everything than you think you'll need because it's important to have space to troubleshoot should something in the build process go awry.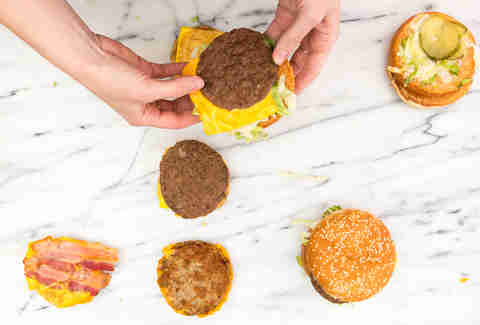 Debate asset placement
Though the Big Mac's middle bun is what makes a Big Mac a Big Mac, it is also objectively the worst part of the sandwich. I thought about replacing the middle bun with the superior griddle cake, but this proved to be structurally unsound. This one time I engineered a house out of pizza, so I know what I'm talking about here. 
Use the Big Mac bun for the base
It has more surface area than the griddle cakes, which is crucial to a freestanding sandwich.
Then gear up to disregard calories entirely!!
Make sure you use proper pinky placement so the layers don't flop out all over the place.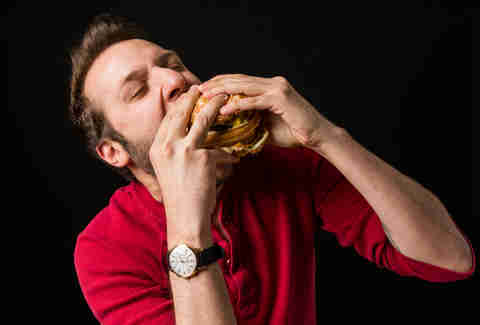 Here are Jeremy's words about the Big MacGriddle, straight from his own gaping maw:
"Like anything you order from McDonald's, the Big MacGriddle just tasted very McDonald's-y. Of course, there was more of an overwhelming taste and texture than your typical sandwich, as just about every ingredient from McD's arsenal was thrown into my mouth at once. It was an orgy of flavors, both new and old, that marinated my tongue and married together my two favorite meals at once."
He continues...
"It was a party in my mouth where everyone was invited, everyone was naked, and the only condition for attendance was getting into a huge fuck-pile. I didn't know if I was eating a heavy breakfast, a light dinner, or every meal at once. After everything, I didn't feel wonderful, but that's probably because I had a full McGriddle right after sampling the Big MacGriddle. God, I'm a monster."
 
Would he do it again if given the opportunity?
"Yeah, but I'm kinda known for making bad decisions."
NOW, LOOK ONE LAST TIME WITH YOUR SPECIAL EYES
Fin.
Sign up here for our daily Thrillist email, and get your fix of the best in food/drink/fun.
Carrie Dennis is a Food and Drink editor for Thrillist, and she'd like to thank Cole, Andy, and Jeremy for being them. Follow her on Twitter: @CarrrieDennnis.