I attended an exclusive McDonald's tasting menu dinner & ate Kung Pao McNuggets
The simple joy of McDonald's... slow-cooked beef with blueberry-pomegranate sauce and thinly ribboned carrots
About a week ago McDonald's threw a startlingly fancy party in New York City, and challenged renowned chefs to create legitimately gourmand-ish dishes by raiding their McMuffin-filled shelves and going to work
Dale Talde of Talde and Pork Slope in Brooklyn, James Tahhan from Telemundo's cooking show Un Nuevo Dia, Aaron McCargo Jr., winner of the The Next Food Network Star, and Mickey D's in-house chef and total babe Jessica Foust worked some minor miracles and turned everything from Chicken McNuggets to hash browns into, well, something else.
The sad part: there's about a negative-zero percent chance that any of these will ever be on a real menu at the Arches. The happy part: looking at the below photos will still fill you with processed wonder.
The very first thing we were handed upon arrival was a Bacon Old Fashioned, and yes, that's the actual bacon you would otherwise find on your Bacon Habanero Ranch Quarter Pounder. The other cocktail everyone ignored was a mango pineapple mojito with a "mango smoothie base".
The setting for the evening gave me entrance-dance flashbacks to every wedding I've ever been to...
...though the passed apps like these tiny little containers of fries were pretty serious -- where you at, J-Lo?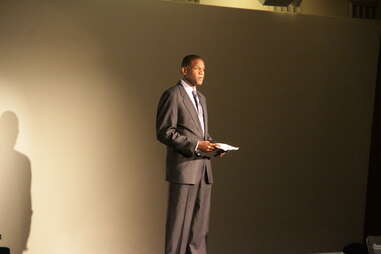 After a quick talk from the guy with maybe the best job in the world ("Senior Vice President, Menu Innovation"), at which we assume he eats, like, 30 Snack Wraps a day, and it's time to get down to business.
This is also not available at McDonald's, unless you're in a story about drinking in European fast food places being told by Sam Jackson.
The first dish came from Chef Talde. The appetizer-sized three-piece "Kung Pao" Chicken McNuggets were topped with sweet & sour sauce, rice wine vinegar, and peanuts, then artfully arranged amidst oranges and iceberg lettuce. This was definitely the most recognizably-made-from-McDonald's-food item served all night.
"Entree One" was the Tortilla Espanola with garlic & saffron aioli from James Tahhan. It's made with McDonald's eggs & hash browns, a mix of chipotle BBQ & honey mustard sauces, and was actually the most transformative dish of the night -- you could tell it was McDonald's ingredients, but it didn't taste like anything on the actual menu.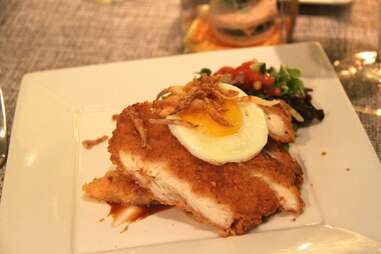 This is the dish that I would expect to actually exist if McDonald's ventured into the sit-down, waiter-service realm just to freak everyone out. Chef McCargo stacked crispy chicken, hash browns, chipotle BBQ sauce, espresso, cheddar Jack cheese, and applewood-smoked bacon (same as the drink!), then threw an egg on top. I would order this. Maybe not at the drive-through.
The slow-cooked beef with blueberry pomegranate sauce and Mac Fry gnocchi comes from McD's chef Jessica Foust, and was, without a doubt, the best of the night. It's their burger beef before it gets ground, plus blueberries and pomegranates from the smoothies, thinly ribboned carrots, and French fries magically turned into gnocchi.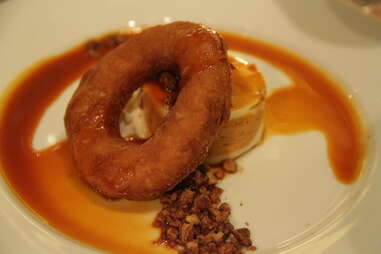 Also from Foust was this cronut-inspired dessert -- the Biznut: a donut made from McDonald's biscuit mix and topped with pumpkin spice latte syrup. There's zero reason this shouldn't be a thing.
And as a parting gift: a Big Mac macaron. Big Macaron? Either way, I took two.