The new McDonald's Jalapeno Kicker burger you might never get to eat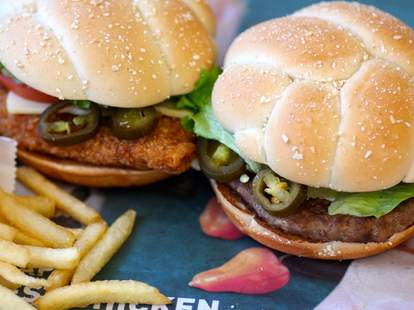 While the Dollar Menu is a serious source of deliciousness at McDonald's, according to BrandEating.com, their limited edition jalapeño-lover's sandwiches can only currently be ordered at locations in two states: Maryland and Colorado. People in all other states will still have to drink an entire bottle of hot sauce with their burgers to replicate the experience. If people like 'em, however, they could be in many more McDonald's come 2014, so get your tastebuds ready. But what's on these spicy beauties, anyways?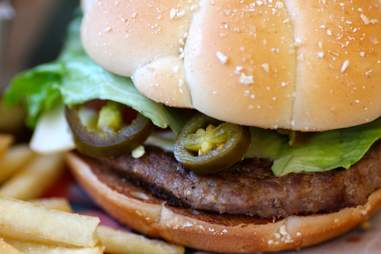 Three different Jalapeño Kicker sandwiches are currently available: for a cool $3.99, a Quarter Pounder patty is dressed up in cream cheese sauce, jalapeño pepper jack cheese, a smattering of pickled jalapeño slices, and larger portions of deep fried jalapeños called "crisps", in addition to tomato and lettuce. How else are you gonna get your fruits and veggies for the day?!
Quarter Pounders aren't the only ones joining the jalapeño party, as both grilled or crispy chicken (pictured) can be given the same spicy kick. And all this can be yours for just $4.49, provided you live in Colorado or Maryland. If not, consider moving! Seriously, CO is great if you like burgers.