As one of the biggest restaurant chains in the world, McDonald's feeds 68 million people each day across 118 countries. But the fast food giant didn't scale to this size by serving the same thing to everyone. So while Scotland may still be the only country serving up the renowned, 32-flavor soft drink Irn-Bru, McDonald's has decided to bring other global treats here to the US. Let's break down the limited-time-only Worldwide Favorites menu -- four of some of the most popular dishes from around the world, available at McDonald's locations right around the corner -- plus more from McDonald's menus around the globe.
From Spain comes the Grand McExtreme Bacon burger: fresh beef (available at most restaurants in contiguous US. Not available in Alaska, Hawaii, and US Territories.), thick-cut applewood smoked bacon, real gouda cheese, and smoky McBacon sauce. It's been getting rave reviews online for years in Spain, and was a huge hit when it did a small trial run in Miami-area McDonald's last fall.
In Canada, it's all about the Tomato Mozzarella Chicken Sandwich, made with all white-meat (grilled or crispy) chicken, sliced Roma tomatoes, and real mozzarella cheese. This sandwich is fairly new to McDonald's menus up north, debuting on the "Seriously Chicken" menu in 2017. It's made a pretty big impression on fans though, with some saying they simply can't stop thinking about it.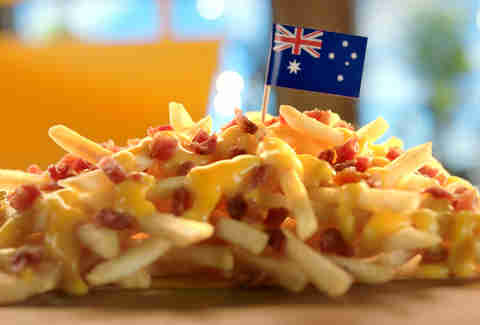 Don't think McDonald's would forget a spin on its beloved fries. Get ready to try Cheesy Bacon Fries when they make a reappearance in the States. These loaded fries (made with real cheddar cheese sauce and applewood smoked bacon bits) attract a die-hard fan base each time they reemerge. They originated on Australian menus, but you don't need a 20-hour flight to get them. 
Lastly, you'll be singing the Netherlands' praise once you taste the Stroopwafel McFlurry. If you've never heard of it, stroopwafel (pronounced strope-wafel) is a Dutch cookie-like treat made from waffles and a caramel center -- and they're unbelievably good. In Amsterdam, McDonald's has adapted the traditional dessert into its classic McFlurry form. Picture this: creamy vanilla soft serve, rich caramel swirl, and chopped caramel waffle cookie pieces. Or, you know, just go try all of the deliciousness for yourself.
Of course, Spain, Canada, Australia, and the Netherlands aren't the only countries with exclusive McDonald's menus. Beneath every set of international Golden Arches, you'll find a menu tailored to specific cultures and diets. Here's just a little peek at even more McDonald's menus around the world.
India's no-beef menu
India's population is almost 80% Hindu, a religion that regards cows as sacred. That's why McDonald's locations in India feature a no-beef menu. Instead, you'll find next-level chicken sandwich options like the Chicken Maharaja Mac: a double-stacked grilled chicken sandwich with tomatoes, jalapeños, onion, cheddar cheese, lettuce, and habanero sauce. Or the McSpicy Paneer, covered in a spicy sauce made from traditional Indian cheese. Previous options have included even traditional dishes, like the McCurry Pan, a vegetable curry served in baked bread bowl.
Germany's cheese game is on point
Germans take their cheese pretty seriously, and McDonald's typical cheddar or American options just won't cut it. They prefer varieties like Camembert, a cheese native to France, with a consistency similar to Brie, and even sweet cream cheese. In Germany, cheese is often baked and paired with a fruit sauce. In honor of this tradition, McDonald's created strawberry and cheese pies. The fried treat is more sweet than savory, and can be eaten with just one hand.
Finland loves a good rye
Rye bread has always been number one in Finland. Its popularity dates back centuries, based on the fact that rye itself grows well in the cold and temperate Nordic climate, it has four times more soluble fiber than wheat, and the bread resists mold. Not having it on the menu at McDonald's would be unthinkable, so in Finland, you can order just about any sandwich on rye. Just ask for ruisleipä.

In the meantime, the Worldwide Favorites menu is available now for a limited time only at select McDonald's -- and you get to try it all. No passport necessary.