13 Meat Cooking Tips That Will Seriously Up Your Chef Game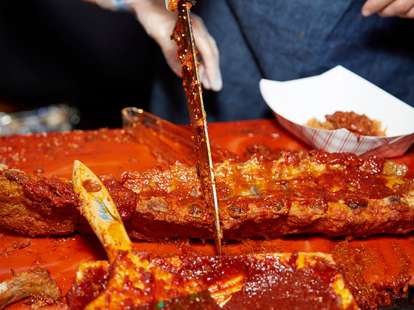 In honor of our BBQ & the Blues facestuff in NYC, we stacked up a baker's dozen of totally crazy tips to bring your cooking prowess to protein perfection. And who better to tap into than the self-proclaimed meat masters who whipped up the slamming dishes at the event? Read on and get ready for lime juice to become your best friend.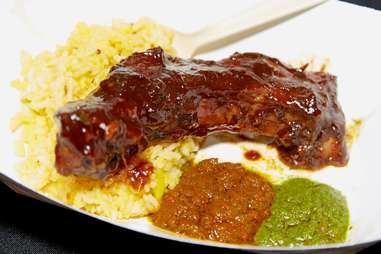 1. Use seaweed in your marinades
A key component of any marinade (or demeanor) is salt. But Chef Shawn Hewitt of BarBacon throws you a briney curveball by telling you to toss seaweed in there. It gives the dish saltiness from the seawater, along with its added earthiness. It's a way to sneak that seaweediness into a dish and give yourself the air of an old sea captain.
"Leave slab bacon uncut. We call it a bacon steak"
-Shawn Hewitt, BarBacon
2. Cook bacon as a steak
Think bacon doesn't need any tips? Ironically, that's just about literally what this is. Slab bacon is pretty much the "steak tips" of your favorite salty, cured breakfast staple. Hewitt takes things to a whole other level by leaving the thick-cut slab bacon as a whole damn steak. "Toss it right on the grill, maybe charcoal, and give it a nice crust. Nothing fancier than that."

3. Don't settle for the wrong woodchips
According Chef Rob Cho at Kimchi Smoke, choosing the right wood for smoking can yield you seriously tasty results, even if it's not available in your area. "I import post oak from Texas," said Cho. "It's a lot milder than, say, mesquite and it's perfect for something like brisket." Plus, it'll give you an excuse to outsource yet another thing to the Internet, i.e. one step closer to never leaving your apartment.
"Soda isn't technically good for you, but I believe something magical happens when you marinade with it"
-Rob Cho, Kimchi Smoke
4. Get real liberal with soda
Chef Cho underscored most adamantly that marinating meet in soda wakes it up, albeit in much different ways than the 2am "I'm going all night!" cola chug. The acidity and the sugar tenderize and flavor the meat, while the carbonation opens it up to accept the rest of the flavors of the marinade. It's leaps and bounds above soda can chicken. The chef's go-to? Lemon-Lime soda.

5. Replace the onions/garlic with kimchi
At BBQ & the Blues, there was a commanding presence of Korean chefs. And for good reason: these people know a thing or two about cooking with meat. According to Esther Choi at Korilla, the best thing you can do to wake up the flavor in your meat is to use fermented products. "There's nothing better than that indescribable 'umami' in your dishes," said Chef Choi. Plus, you'll get to tell your guests that your dish has "umami," which is a nice mysterious way to answer "what is in this?" One way to achieve it is to start off a sauce or a pan-fried cut of meat by sautéing kimchi instead of garlic/onions. It'll give you those same aromatics while simultaneously scoring that deep, fermented richness.
"Add a few drops of fish sauce to any sauce. It'll hit your whole tongue."
-Esther Choi, Korilla
6. Add fish sauce to… well, anything
We asked Chef Choi to give us her favorite fermented addition to any meat dish. Without any hesitation, her top tip was to add a couple drops of fish sauce to pretty much anything. It works particularly well for tomato-based barbecue sauces -- kicking the usual, bottled brown sugar goo into something way, way outside the bottle.
7. Make your brisket into hot dogs
A slow-roasted or smoked brisket is just about as good as a cut of beef gets. But Noah Bernamoff of legendary deli Mile End encourages grinding it up for hot dogs. "It's got the perfect ratio of fat to meat," says Bernamoff, about the meat, not your physique after eating it. "Just grind it up with paprika, mustard seed, fennel seed, and dill and throw it in a casing."
"If you mix salt into the meat of a burger, it will definitely dry out."
-Noah Bernamoff, Mile End
8. Do not put salt inside your burgers
Bernamoff's strictest tip deals with the seasoning of burgers. Whether you're using ground brisket meat or poultry, when making a burger make sure to leave salt out of the ground meat mixture. It'll dry the burger out from the inside. Instead, mix all your other spices in and wait until the end to salt it on the surface. Patience is a virtue, if virtue = juiciness, that is.

9. Embrace the deep fryer
But not literally... that's dangerous. When we caught up with Joe Lonigro of Otto's Tacos, though, his cooking tip went straight for the deep fryer. Most people reserve the fryer for wings, if they even break it out at all, but frying something like spare ribs or even lollipop-prepped lamb will leave you with a nice crust and a juicy meat, and it takes roughly half the time of the grill. And then there's fried pork belly…
"Chicharrones con carne -- they're so rich, I'd only eat them once a year."
-Joe Lonigro, Otto's Tacos
10. Think outside the pork belly with Chicharrones
Getting a little more specific, Chef Lonigro went on to discuss one of the cornerstones of BBQ: pork belly. This already delicious cut of fat-laced pork turns into a ridiculously sinful street food if you leave the skin, fat, and a thin layer of meat on and fry it up in chunks. While chicharrones are technically just fried pieces of the belly skin, chicharrones con carne bring more meat to the party, and make for an absurdly tasty treat. Lonigro sums it up best: "It sticks to your teeth… it's so delicious." Fun fact: you can prepare chicken or mutton this way, too.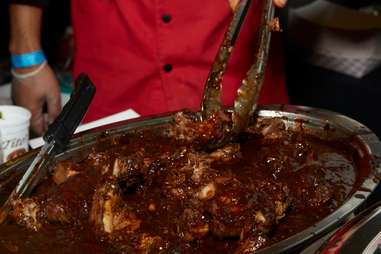 11. Let lime juice do the work
Similar to the soda trick, Vermilion chef Anup Patwal's favorite technique is to slather trickier meats (like lamb) with a ton of lime juice. The harsh acidity breaks down the meat and opens its pores, while doubling down with bright, citrus-y flavor in the finished product. Feeling a little adventurous? Toss the full leg over heated coals right in a hole in the ground, propping the walls of the holes with cinder blocks. That's how his folks did it back in India.
"Overcooked lamb is basically like jerky."
-Jonathan Renert, Union Bar and Kitchen
12. Braise it and forget it
When in doubt over the way to cook something like a full leg of lamb (and you don't want to toss it in the ground) chef Chef Jonanthan Renert of Union Bar and Kitchen thinks you should go for braising. Not only does it work like a slow cooker, letting you leave it on for a long time without overcooking or drying out (something that's super important with the delicate lamb cuts), but it also lets you pretty much flavor it in any liquid at all. Pro-tip: use stout beer, then drink it.

13. Reconstitute dried chipotle for instant smokiness
Perhaps the most inventive tip came from Chef Thomas Kelly of Mexicue. He turned his attention to the common problem of simply not having time to smoke meat (takes, like, hours). So how do you get your meat smoky? Well, when making sauces and marinades, pick up some dried chipotle peppers, and reconstitute them with vinegar and spices in a blender. Not only will the peppers' spicy acidity break the meat down into tender deliciousness, but it'll impart its smokiness to trick your tongue into thinking the cut was kicking it in a smoke rack for hours. Sneaky, chipotle peppers. Very sneaky.