Meatless Week: Exploring the Thriving, Misunderstood World of Animal-Free Eating
Over the years, we've been as guilty as any food-and-drink outlet of dispatching overzealous praise to the orthodoxy of meat. Burgers, chicken wings, bacon-wrapped chicken wings, and even more burgers -- we've been there, repeatedly and excitedly. Publishers have a house style; if we had a house protein, you can be sure it wouldn't be tofu.
But all this week we're officially taking a break from extolling the decadent pleasures of eating fauna. Through a series of articles exploring the technological, cultural, and culinary impact of going meat-free, we'll dissect what beef substitutes will look like in the future, ponder the curious lack of mainstream vegetarian cooking shows, and visit a California town where the entire population is vegetarian. We also ask philosophical questions about the ethics of lab-grown meat, and dive even deeper into that topic on the Seeker Plus podcast. And because we're still list-ivores, we'll also taste-test and rank vegan- and vegetarian-friendly snacks, fake meats, and fast-food options.
The result is Meatless Week, and we hope you enjoy it. There's a lot to get to, so grab a plate and pass the seitan, would you?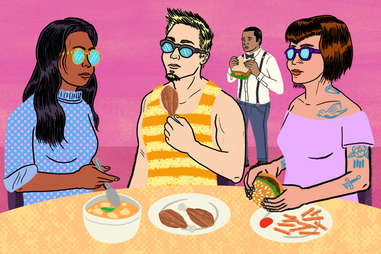 How meat-eaters and vegans are drowning out vegetarianism
by Jaya Saxena
Omnivores and vegans may get more attention, but vegetarians are very much still here. They just need a stronger message.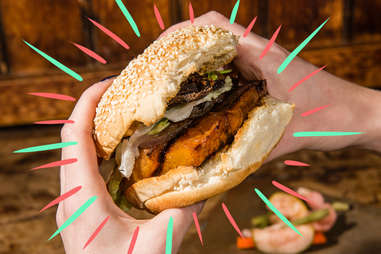 How cantaloupe may help fight the impending meat apocalypse
by Max Falkowitz
It's not sci-fi: New York chef Will Horowitz's cantaloupe burgers taste like the real deal. They're also proof of concept for a diet from the future.
The big business of manipulating your produce
by Kelsey McKinney
Technology has sped up the evolution of fruits and vegetables. If only consumers could keep pace.
Everyone has an opinion. Here are nine of them.
by Khushbu Shah and Leanne Butkovic
We posed the burning philosophical question to a vegetarian (duh), a scientist, an ethicist, a PETA honcho, and more.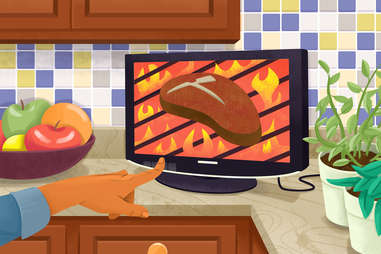 The fruitless search for a meatless superstar
by Leanne Butkovic
America's growing interest in meat-free eating has yet to be reflected on mainstream television. But vegans and vegetarians shouldn't abandon all hope... yet.
How the mainstream ignores vegans of color
by Khushbu Shah
Veganism has existed in many communities for millennia. So why do white vegans get all the credit?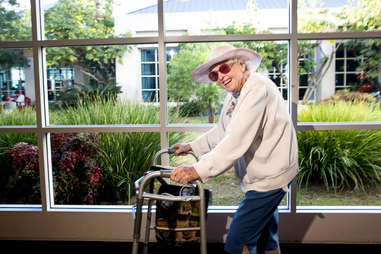 In the meatless town of Loma Linda, longevity is no big deal
by Liana Aghajanian
The California enclave is America's only Blue Zone, boasting more centenarians per capita than anywhere else in the country. The possible secret: They're all vegetarians.
Editors: Leanne Butkovic, John Sellers, and Khushbu Shah
Illustrators: Daniel Fishel and Jason Hoffman
Animator: Evan Lockhart
Photographer: Cole Saladino
Contributors: Liana Aghajanian, Leanne Butkovic, Carrie Dennis, Max Falkowitz, Rachel Freeman, Andy Kryza, Kelsey McKinney, Joe Philipson, Jaya Saxena, and Khushbu Shah
Sign up here for our daily Thrillist email and subscribe here for our YouTube channel to get your fix of the best in food/drink/fun.