Welcome to meat heaven: 30 ridiculously delicious photos from Meatopia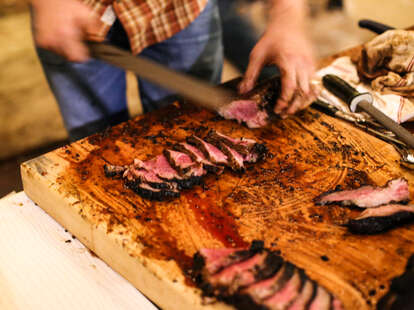 Everyone needs to slip into a deep meat sleep every once in a while, but for the carnivore craving a new level of sinewy stupor, there are few places on Earth as intense as Meatopia.
The day-long festival of flesh-eating was founded nine years ago by Esquire food writer Josh Ozersky as an excuse to eat meat with people who love meat (i.e. everyone cool).

This year's event took place last weekend in San Antonio, where 35 chefs grilled up enough protein to make some really good Garnier shampoo. Scroll down to see the gloriously hunger-inducing photos of everything we ate.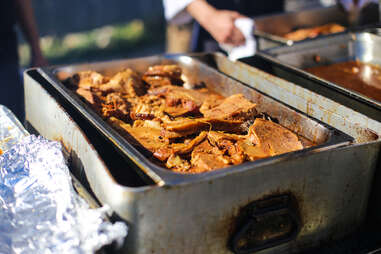 Braised stuffed breast of veal with potatoes mousseline sauce madere
Andrew Weissman, Il Sogno Osteria (San Antonio)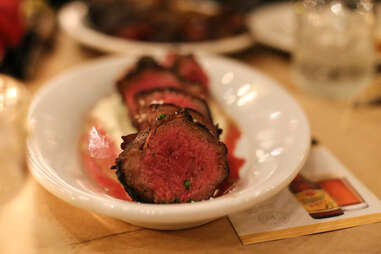 Steak with barbecue butter
Tim Rattray, The Granary (San Antonio)
Orange-lambic brulee'd chicken with thyme and arugula
Jeff Balfour (San Antonio)
Fire-roasted whole lamb in the Riojan style
Jordan Mackey, Las Ramblas (San Antonio)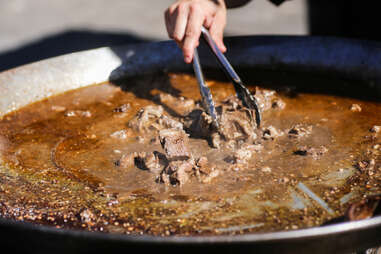 Fire-roasted whole lamb in the Riojan style
Jordan Mackey, Las Ramblas (San Antonio)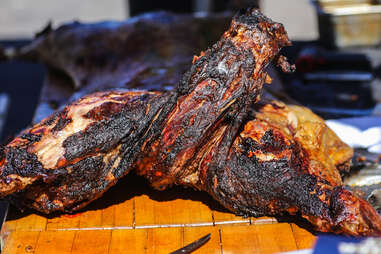 Fire-roasted whole lamb in the Riojan style
Jordan Mackey, Las Ramblas (San Antonio)
Whole, boned roasted Duroc hog cooked in La Caja China double-decker grill boxes, accompanied with mojo pickled onions
Nelson Millan, San Antonio Country Club
Grilled doves
Jesse Griffiths, Dai Due (Austin)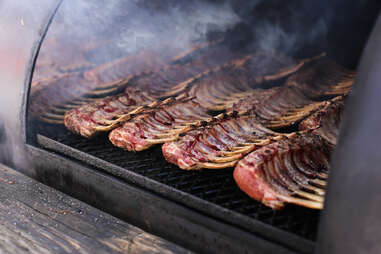 All-natural lamb racks with lemon-mint pesto
H-E-B (San Antonio)
All-natural lamb racks with lemon-mint pesto
H-E-B (San Antonio)
Thai baby back ribs with sticky rice & 'Naam Jim Jaew' hot sauce
Jennifer Dobbertin, Hot Mess Food (San Antonio)
Flannery Beef's ultra-prime rib eye with chimichurri
Tim Byres, Smoke (Dallas)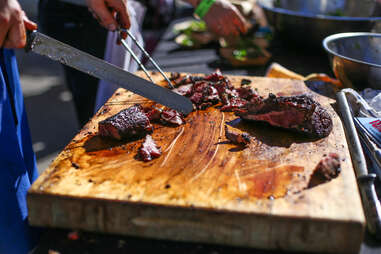 Flannery Beef's ultra-prime rib eye with chimichurri
Tim Byres, Smoke (Dallas)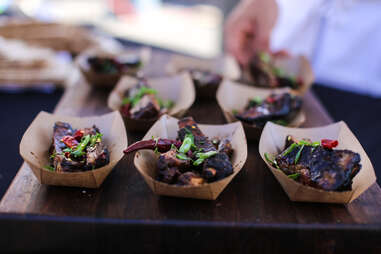 Crispy grilled lamb ribs
Ned Elliott, Foreign & Domestic (Austin)
Wood-roasted whole leg of veal with Argentinian grilled sweetbreads topped with spicy chimichurri chorizo and grilled peppers
Geronimo Lopez, Nao (San Antonio)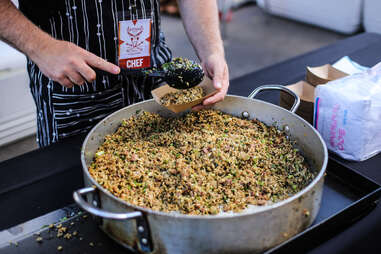 Pork belly paella with farm eggs
Chef Anthony Goncalves, 42 (White Plains, NY)
Charcoal-grilled chicken with pixie chili paste, palm sugar, black vinegar, and cumin
Rene Ortiz, CochiSuperstar (Austin)
Charcoal-grilled chicken with pixie chili paste, palm sugar, black vinegar, and cumin
Rene Ortiz, CochiSuperstar (Austin)
Calabrian chile-rubbed steak alla Toscano
Michael Toscano, Perla (NYC)
BBQ coffee cure steak with pickled mustard seed and celery relish
Tim Byres, Smoke (Dallas)
Steak with barbecue butter
Tim Rattray, The Granary (San Antonio)
Cabritos asados de lena
Johnny Hernandez, La Gloria (San Antonio)
Pork-centric Filipino sizzling sisig
Paul Qui, Qui (Austin)
Whole hog gumbo
Steven McHugh, Cured (San Antonio)
Porchetta and fire-roasted clams with charred sourdough
Jason Dady (San Antonio)
Porchetta and fire-roasted clams with charred sourdough
Jason Daddy (San Antonio)
Grass roots farm pastured breast, shoulders, knees and toes of chicken
Ford Fry, No. 246 (Decatur, GA)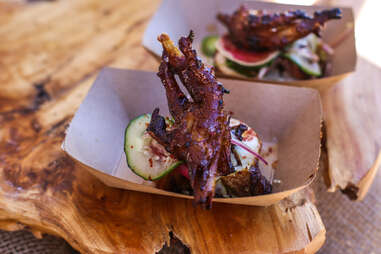 Grass roots farm pastured breast, shoulders, knees and toes of chicken
Ford Fry, No. 246 (Decatur, GA)