Here's everything on Mellow Mushroom's new employees-only menu
When you work at a restaurant, you tend to get creative with your shift meals. And when you're at the hippie-based Mellow Mushroom, those creations can get pretty inventive. Now, the Atlanta, GA-based chain has unleashed a menu designed by its workers at all 160 of its nationwide stores. The "employees-only" menu, available through March 31st, isn't exactly a secret, but with cordon bleu calzones and a turkey pizza on offer, it's a damn good reason to pop into the pizzeria. And maybe ask for an application.
On the appetizers-that-are-the-size-of-entrees front, there's the Slow Ridin' Chicken Salad, which ditches kale and other crap for a plate of crostinis loaded with enough chopped chicken, mayo, jalapeños, pecans, and apples to fill a (fog) hat.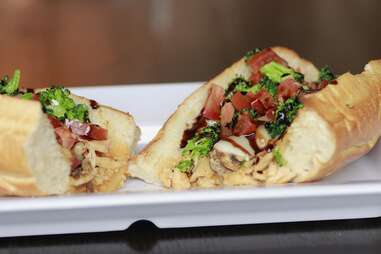 Mellow Mushroom's also known for its hoagies, and the Thaidal Wave Hoagie packs a fresh-baked bun with grilled onions and mushrooms, melted provolone, broccoli, tomatoes, and sweet Thai chili chicken, which is actually organic and not some bootleg poultry bought in a Bangkok alleyway.
A way better utilization of French and Italian influences than when Pauly D played "Get Lucky" at some party last week, the Chicken Cordon Bleu Calzone is a crescent-shaped monster consisting of pizza dough packed with melted swiss and cheddar, ham, chicken, and a Dijon sauce.
It might sound like some stupid Thanksgiving-themed group started by Zooey Deschanel, but the Quirky Turkey Club's actually a signature wheat crust pizza loaded with Applewood smoked bacon, caramelized onions, spinach, honey mustard, and mozz with an olive oil/garlic base that you shouldn't eat on a first date, since your new girl will have terrible breath.
If there's one thing employees will never mess up, it's their shift drink, and the menu's got a trio of boozy cocktails that includes the Blueberry Vodka Mojito, the vodka/St. Germaine/elderflower/pomegranate Pom Pom, and the Cucumber Melon Cooler loaded with honey, agave sour, and vodka.
Andy Kryza is Thrillist's national eat/drink senior editor, and has proudly lived vegetable-free since 2001. Follow his adventures/slow decline via Twitter at @apkryza.