Mellow Mushroom drops mole pizza, shrimp calzone, spicy margs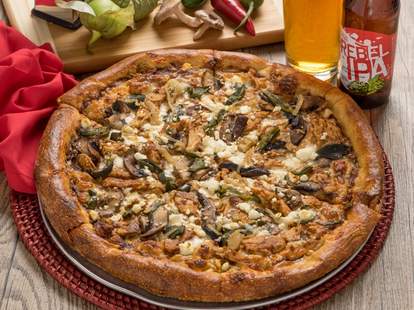 Between the Chicken Cordon Bleu Calzones and tie-dye cheesecakes, Mellow Mushroom has established itself as a gateway pizza place to more experimental eating. And they're only continuing to innovate with a new crop of offerings that would make Cheech and Chong proud: the Up in Smoke Summer menu.
Surprisingly, the menu is more Mexican- than Mary Jane-inspired. We're talking shrimp & chorizo calzones, tortilla soup, and, most impressively, pizza with mole instead of red sauce. The "Fully Blazed Chicken Mole Pie" starts with a spicy/chocolaty base, and loads it up with grilled chicken, caramelized onions, feta and mozzarella cheese, and mushrooms. For a little extra heat, you can take it even further by pairing the pie with the jalapeño-infused El Diablo margarita or blood orange Hot Mama margarita with orange cayenne salt along the rim, offering a chance to experience flaming lips without going to Bonnaroo. Serious spiceheads better line up now, as the menu goes up in smoke disappears July 27th.
Kristin Hunt is a food/drink staff writer for Thrillist. She's never been to a Mellow Mushroom, but she likes their style. Follow her at @kristin_hunt.