Michael Symon Tells the Story of His First Kitchen Job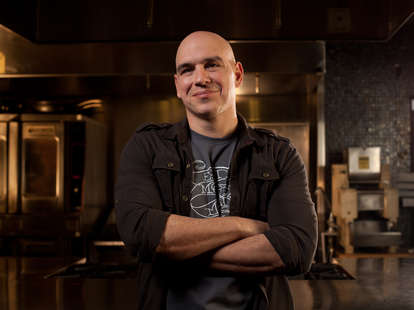 Courtesy of Michael Symon Restaurants
In this new series, we're asking celebrity chefs to tell us about their first kitchen jobs. Our first subject is Michael Symon, the James Beard Award-winning cook behind Lola, Lolita, Roast, and B Spot. You've probably seen him on Food Network, judging The Next Iron Chef or competing himself on Iron Chef America.Below, he recounts his time as a teenage rib cook in Cleveland. We'll be publishing more first-job installments in the coming weeks, so keep an eye out for interviews with your favorite TV chefs about their humble beginnings.
I was a rib cook at Geppetto's when I was 14. It's a chain out in Ohio, but when I was there, they only had one. My friend's Dad owned the place. He was just a complete character. When I was a teen he was the coolest person I'd ever met and I just wanted to be him.
I would get there after school and kinda prep and set up the station. Most of the ribs had already been smoked and we were just finishing them on the grill. It was ribs, and smoked half-chickens. The basic barbecue stuff. Back then, the restaurant was really busy so we would get 300-400 people a night.
What I remember most is every year in Cleveland at that time, there was the rib burn-off. It was a giant rib cook-off. During that four-day stretch, we would go through insane amounts of ribs. Me and two of my best friends would pull all-nighters cooking ribs in the smoker to make sure they had enough. When I look back on it, I think, "Wow my parents probably trusted me more than they should have." You know, we weren't actually getting into any trouble, we were just cooking, but we would start at 10 after the restaurant closed for business and go until 8am.
For me, there was nothing frustrating about it. I was so instantly, spontaneously in love with the business that every day was fun for me. The all-nighters and stuff like that taught me at a very young age that the harder you work, the luckier you get. If you're willing to work harder than the next guy, you'll probably advance faster.
I remained friends with the owners throughout the whole time. They even wrote my recommendation to culinary school. I've been back many times, and it's been fun to watch them grow.
Kristin Hunt is a Food/Drink staff writer for Thrillist, and thinks a rib all-nighter sounds a little magical. Follow her at @kristin_hunt.