These Tamales From the Mississippi Delta Are Worth Selling Your Soul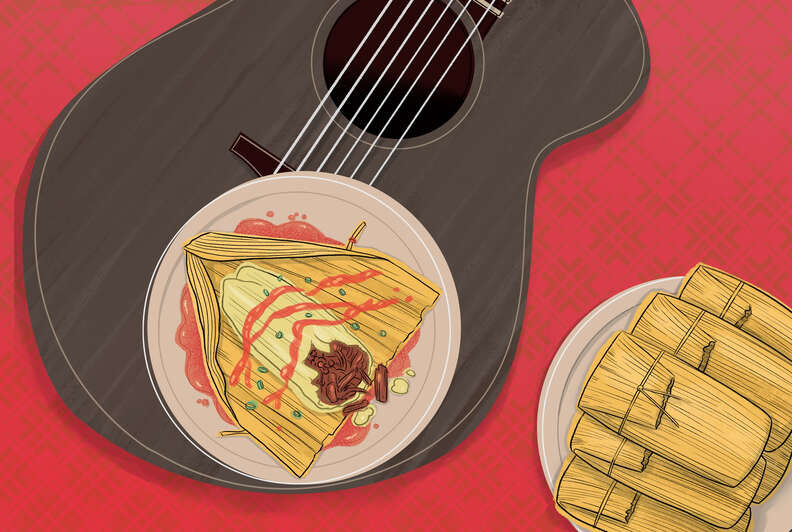 Jason Hoffman/Thrillist
Jason Hoffman/Thrillist
Legend has it blues player Robert Johnson sold his soul to the devil at a crossroads in Clarksdale, Mississippi. In exchange, he was blessed (or cursed?) with wild musical talent. He wrote blues numbers like his tamale ode, "They're Red Hot." Today in that same town, half a mile down State Street you'll find Hicks' World Famous Hot Tamales, where proprietor Eugene Hicks, now 75, learned how to make tamales when he was about 12 years old. He's been making them ever since.
"A black fellow, Acy Ware, taught me how to do it. I used to go to the store to pick up his spices, so he allowed me to come into his kitchen," Hicks said over the phone from behind the counter at Hicks' World Famous. "He was probably in his 70s then. I still used the basis of what he showed me. But, I changed it up. I made it a lot I made it better," he chuckled.
When most people think of tamales, they picture the Mexican tamale, popular in Texas, California, and most any city with a sizeable Latin American community. But, in the Mississippi Delta – the diamond-shaped, largely agrarian floodplain that stretches from Memphis, Tennsessee at its northern tip 200 miles south to Vicksburg, Mississippi – tamales are a different thing altogether. The Delta hot tamale is smaller than its Mexican relation, snack-sized, simmered instead of steamed, filled with spiced cornmeal instead of lime-soaked masa.
Wrapped in corn husk or parchment paper, and tied in bundles with bits of string, the Delta tamale is not so different from the Mexican version either. Despite a great deal of tamale anthropology, to this day, no one's quite sure how the tamale became a staple in the Delta. Some say it sprung from the region's mound-building Native American cultures. Others are all but certain it was brought to the region from Latin America at some point, by workers, or soldiers, or otherwise. The most widely accepted theory is that tamales came with Mexican migrant workers to the region's cotton plantations in the early 1900s. In the fields, they were introduced to African-American sharecroppers, who went on to develop their own recipes, which they handed down through generations.
"Tamale recipes were gifted in confidence, or earned through trial and error."
Sicilian immigrants, Lebanese immigrants, and all manner of other Deltans have had a hand in shepherding the tamale into modern-day cuisine, but it's most closely tied to African-American heritage in the Delta. In Clarksdale, Hicks, who sells 124 dozen tamales in an average week, has never put his recipe to paper. "It ain't no big secret. When you done it 63 years, you just know what you need to do. I just try to make it taste better every time I do it."
But there's more to it than memory — tamale recipes were gifted in confidence, or earned through trial and error, and they're ever-coveted and rarely shared. At grease-coated, homespun, James Beard Award-winning steak and tamale joint Doe's Eat Place in Greenville, it's said that while "Little Doe" Signa and his wife Barbara "Shug" Signa have been married for over 40 years, he still won't disclose the treasured tamale recipe to her.
Given that recipes are kept close to the chest, the barrier to entry for new tamale makers – especially in a commercial capacity – is high.
"Maybe it's a Southern thing but if you're cooking you should feel good."
When James Jones passed away in 2003, his wife Shirley Jones and her three daughters, Sharon, Sheila, and Jennifer found they needed a change of scenery. In 2005, they left Greenville, Mississippi, heart of the Delta and the hot tamale capital of the world, and landed in a Mississippi town on the Tennessee border: Olive Branch. For years, the Joneses would drive the two and a half hours back to Greenville for their ultimate comfort food, the hot tamale. "The trip back and forth would be every other weekend," Sheila Jones-Ford said over the phone from Olive Branch. "We thought, we gotta figure out how to do hot tamales ourselves."
With no family legacy of tamale-making or generations-old heirloom instructions, the Joneses turned to research. They divided and conquered a number of recipes, and taste-tested the results. From this process sprung the family tamale recipe, and it was such a hit, they started getting requests from friends. Today, that recipe is the backbone of Southern Gals Hot Tamales, which sells tamales by phone order. The cooking is a three-generation family affair (sometimes four when Jones-Ford's granddaughter chips in): "We got our gloves out, our hair all pinned up, we turn on our jams on low," Jones-Ford said. "Maybe it's a Southern thing but if you're cooking you should feel good, the mood should be really good, love and hospitality and all that good stuff."
This fall Southern Gals placed third in Greenville's annual Delta Hot Tamale Festival. "Our first year, competing against people who've done it for years," Jones-Ford said. "We were so proud. Even if we won 10th place we would've been proud. We're so proud that we can do it as a family."
Want to try them?
The tamale process takes not just hours but days, and sometimes a table of five helpers, but luckily, some makers ship. Hicks and Southern Gals take orders by phone and ship depending on bandwidth. Greenville go-tos, like Scott's Hot Tamales ($10/dozen + shipping) and CC's Hot Tamales ($12/dozen plus shipping) take orders online.
In the Chicago area, the Delta tamale-curious can head to Wicker Park, where two years ago, chef and restaurateur Eldridge Williams opened a Delta-inspired eatery and cocktail spot with tamales at the heart, aptly named The Delta. "Mind you, coming from Memphis, I grew up eating hot tamales," Williams said, "but it was just something that was always around. I had no idea of the deep history pertaining to the South. When I came across the story of tamales in the Delta, I got goosebumps."
"Of course they're not gonna tell us their recipes, so we just ate our way through the Delta, and ate enough tamales until we figured out what we were going to do."
And for those who want to go straight to the source, check out Southern Foodways Alliance's Mississippi Delta Hot Tamale Trail which, thanks food historian and tamale enthusiast Amy Evans Streeter, is mapped from Tunica to Vicksburg.
Sign up here for our daily Thrillist email, get Eatmail for more food coverage, and subscribe here for our YouTube channel to get your fix of the best in food/drink/fun.