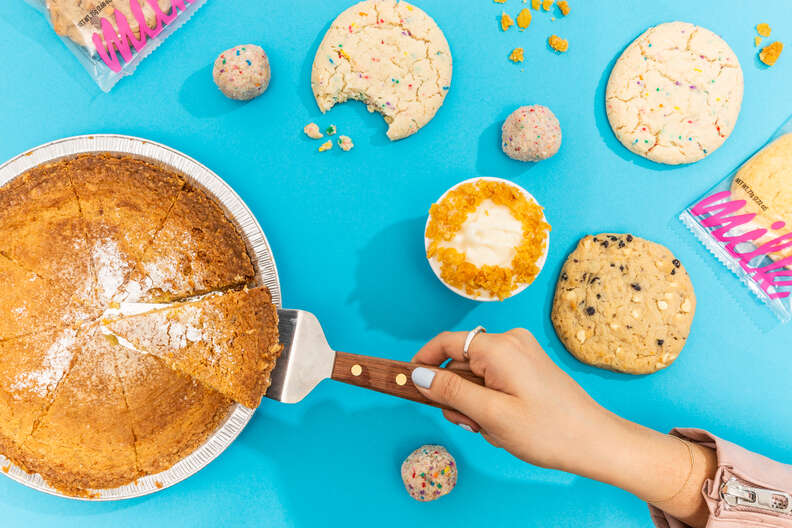 Rachel Kuzma | Thrillist
Rachel Kuzma | Thrillist
If Everyone Can Get Milk Bar Pie, Is It Still Cool?
Editor's Note: Welcome to Too Fast Too Casual, a new review series where our National Writer-at-Large Kevin Alexander takes a close look at both classic and up-and-coming fast-casual chains. The rising fast-casual trend is defining how Americans eat today, and in this series we'll look at the food, history, decor, and branding of fast-casual chains to see what these restaurants are really trying to do, and where this is all going. Read Kevin's previous reviews of Dickey's Barbecue Pit, Five Guys, Panda Express, Jersey Mike's, Panera Bread, Lemonade, Blaze Pizza, Chipotle, and Noodles & Company and check back in every other week for a fresh takes on more chains.
As one does when they visit the Nation's Capital, I spent a recent Saturday alone in a Milk Bar in Logan Circle. The space, which used to house an auto-repair shop, is gigantic. At nearly 2,400 square-feet, it's got everything: a cafe and bakery where you can get executive chef and owner Christina Tosi's famous cakes, pies, cookies, milkshakes, and fruity pebble-dotted soft serve ice cream, a giant outdoor patio with pastel colored chairs, a huge private event space and classroom, and shelves stocked with all sorts of Milk Bar merch.
I sat outside for awhile, stuffing my face with various baked goods and ice cream products, and absentmindedly scrolling through Milk Bar's website to see how long it might take to get a box of Milk Bar cookies to my home in Northern California (two days!). And as I stared out at the equally impressive Milk Bar-only parking lot, I thought back to the days when friends in NY would tell me about this cool, tiny bakery where the pastry chef from Momofuku was doing mind-melting things with cereal milk. And I settled on an almost existential question:
Now that Milk Bar is nearly ubiquitous, is the magic still there?
What is Milk Bar trying to do?
To understand Milk Bar, you need to understand its owner Christina Tosi, who spun off the first independent Milk Bar bakery in the East Village in NYC in 2009, after four years as the James Beard award-winning pastry chef for David Chang's Momofuku restaurants. Tosi's style was basically taking all the beloved things you ate as a child (like the sugary, breakfast cereal-infused milk in your bowl) and repurposing them in a slightly fancified, delicious manner. She was arguably the first person in the late aughts to gain notice in the dessert space for marrying the high with the low. It didn't hurt that in 2009 Anderson Cooper announced his love for her (since renamed) Crack Pie on morning television.
Milk Bar now has 16 locations in eight cities with plans to continue expanding (there is talk that their next two targets will be Chicago and Miami). They also have a healthy e-commerce business, shipping their cookies and cakes and merchandise all over the country. There is a cool democratic vibe to the Milk Bar operation, especially in that they provide many of their dessert recipes on their website. In a New York Times profile earlier this year, Tosi said that her ultimate goal was to place her desserts in grocery stores all over the country, a nod to her Midwestern suburban roots, and just a few days ago, Fortune announced that she'd raised funding with Sonoma Brands food specifically to reach that goal.
Milk Bar Food Review
How I did it: I went to the flagship location in Washington DC twice and ate lots and lots of desserts (Milk Bar is testing savory menu items in both its LA R&D lab and the DC flagship, but I chose to focus on items available everywhere). I also had a box of assorted cookies shipped to my home and fed them to my children after they ate their definitely-not-microwaved vegetables.
The Best Milk Bar desserts:
Many of the Milk Bar desserts are really f*&%ing on point. The signature, of course, is the aforementioned formerly Crack, now Milk Bar pie. With its similarities to chess pie and its roots in African American foodways, the name, which made light of the drug epidemic, had long been criticized as tone-deaf, and was changed last April.
The pie tastes like loads of butter, eggs, and sugar baked into the top of a giant oatmeal cookie, because I'm pretty sure that's exactly how it's made (Tosi created it by accident, when she left a chess pie in the oven too long). In the same way that steak in restaurants is even more delicious than at home due to the absurd amounts of butter they melt over it before serving it to you, Milk Bar pie tastes like the dessert version of a decadent AF steak.
The second most famous creation, the Cereal Milk soft serve (originally a Momofuku joint) is just as lovely as advertised, thanks to the cornflakes and sugar and whatever else they add to make it taste scarily like the milk at the bottom of my childhood cereal bowl. Pushing my nostalgia button is a surefire way to get me on your side, and this triggered memories that usually only float into my brain when I hear Naughty By Nature songs.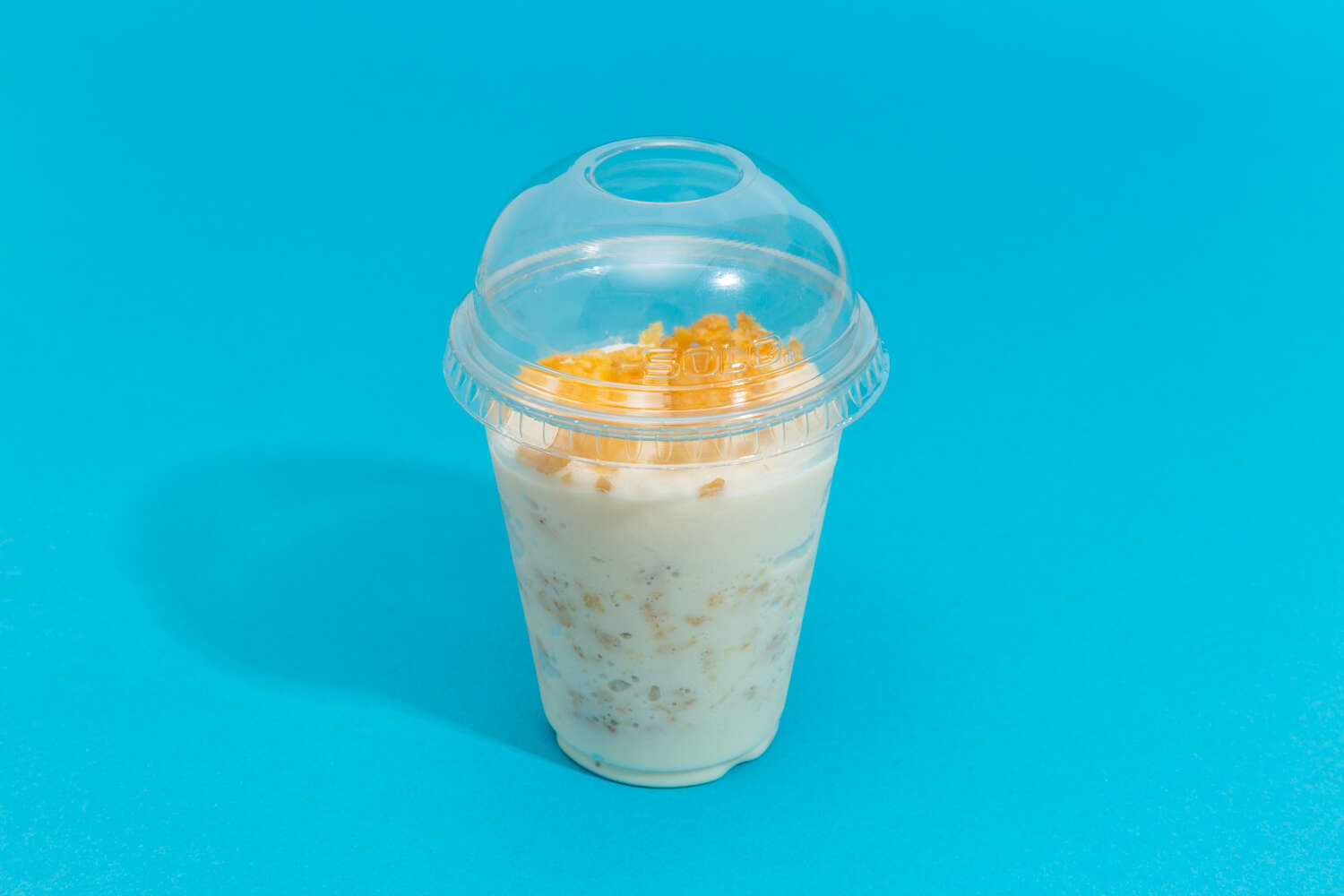 While we're still awarding winners, I'd also like to shout out two of the Cereal Milk shakes here, the Fruity Cereal Shake, and the Strawberry & Corn Milkquake, as top choices. The latter tastes like a strawberry shortcake fever dream, and the former tastes like it was invented in the McAllister kitchen by Macauley Culkin during the solo part of Home Alone.
A Quick Ranking of the Milk Bar Cookies:
1. Compost Cookie: Proof that putting salty things (pretzels, potato chips) with sweet things (chocolate chips, graham crackers) never fails. EVER.
2. Confetti Cookie: Honestly, I am a sucker for the flavor of confetti cake, which might make me basic, but I'm too old to care.
3. Blueberry & Cream Cookie: Though it doesn't taste like "the top of a blueberry muffin" as they claim it does in its description, this cookie's intense blueberry flavor and milky flavor is inherently satisfying.
4. Cornflake-Marshmallow-Chocolate-Chip Cookie: This tastes like someone forgot to pack graham crackers for S'mores and just made do, in a good way.
5. Best Freaking Cookie: Objectively not the Best Freaking Cookie.
6. Corn Cookie: Another winner in the "oh wow, this tastes a lot like another thing I like (in this case, cornbread)" category.
7. Chocolate Chocolate Cookie: Just not a big double chocolate guy, sorry.
8. Perfect 10 Cookie: Maybe "Perfect 8th Cookie" is more accurate (not a fan of the gluten-free texture and the agave flavoring gave it a slightly almost metallic taste).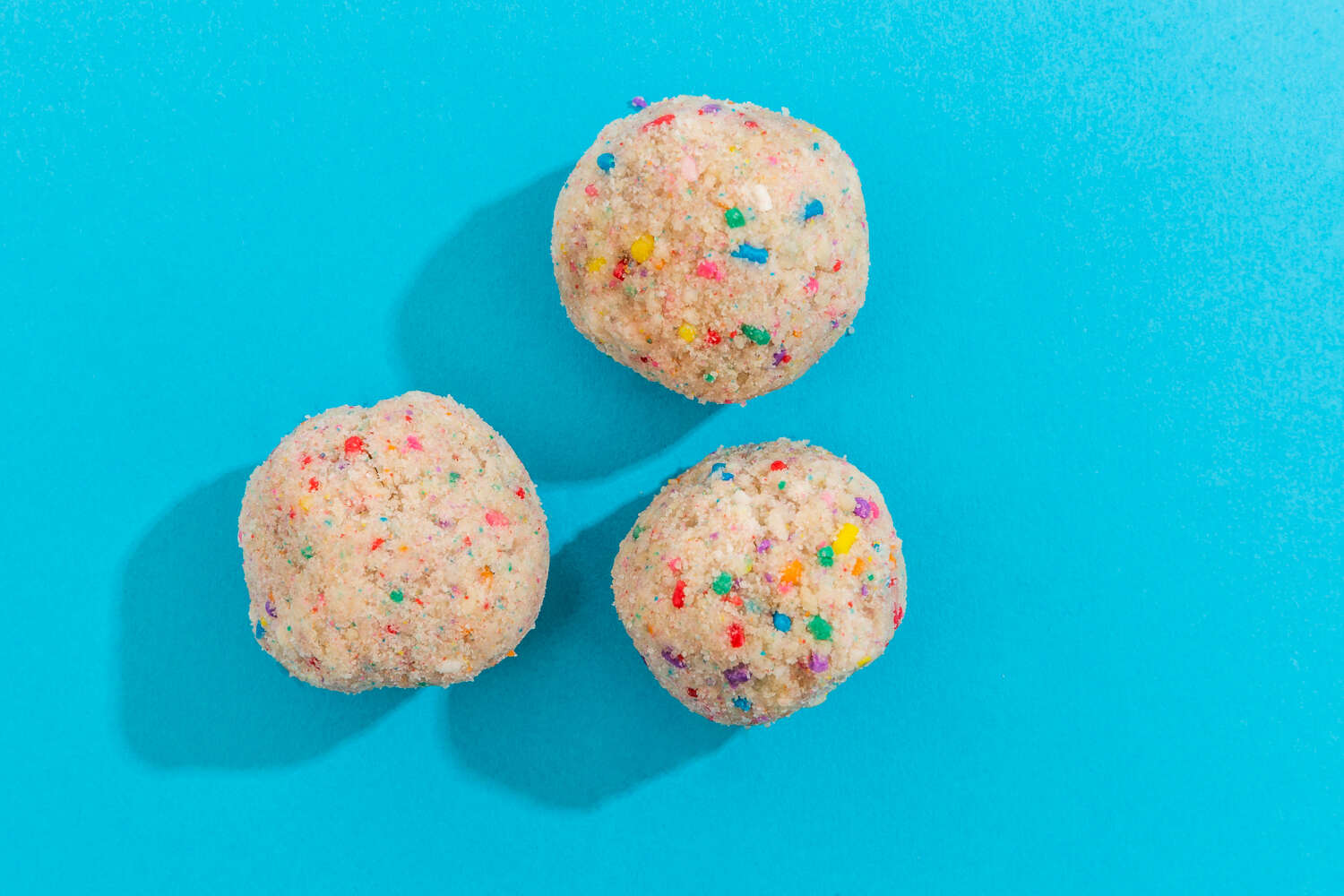 Not As Great Desserts, aka What To Avoid:
The B'Day Truffles, which are essentially little bite-sized cake bites, were too damn sweet for me, mostly because I think the addition of white chocolate was overkill. And all of the lattes I tried, which basically just riff off of the various hit desserts (Milk Bar, Cereal Milk, B'Day Cake, etc.) seemed like they, too, veered into Stunt Tween Order at Starbucks territory. Now, if this was the intention, well done. But they had little of the payoff of the actual desserts they mimicked.
Final Verdict:
Milk Bar is fascinating. As they continue to expand, and offer baking classes, and grow into more cities, and find space in the grocery aisle, I'm just not sure how you realistically maintain the extremely high and demanding level of quality they have now. Wouldn't something have to give? If quirky becomes ubiquitous, is it even quirky anymore? And would anyone get it if I made a Daria from MTV reference here?
As of now, Milk Bar is still bottling and selling a little bit of its original indie magic. As to what happens to that magic when they start selling that bottle for $12 in every grocery store, we'll find out soon enough.
Sign up here for our daily Thrillist email, get Eatmail for more food coverage, and subscribe here for our YouTube channel to get your fix of the best in food/drink/fun.