It's no coincidence that "clams" are fishmonger-speak for what the rest of us call "cash money," but that doesn't mean fresh seafood always needs to be crazy expensive. To learn how to shop for great fish while sticking to a cheapskate budget (boom!), we consulted Shane Stark, owner of Mongers Market and Kitchen in Austin, TX. It turns out, a lot of the seafood hitting the menus at upscale restaurants isn't as pricey as you thought... you just have to know where to cast your net.
Recommended Video
Feast Your Eyes On Cuban-Style Sushi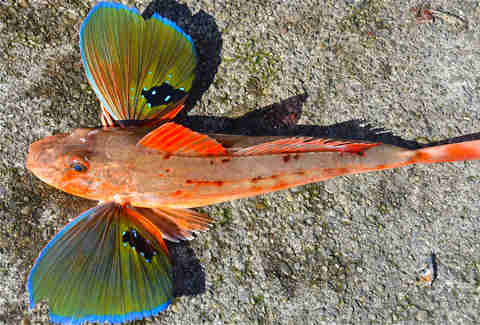 Sea robin (gurnard)
Some sea robins have beautiful, fluorescent, winged fins. Others have terrifyingly oversized heads and bug eyes. Regardless of their oft-horrific appearances, they all make for good eating. Yet their history as bycatch means a cheap price tag, even though they're starting to show up on fine-dining menus. "Honestly, when we were growing up we called these trash fish," says Stark. "We'd catch them all day long off the coast of New Jersey, now they're on the menu of Le Bernardin."
 
The cheapest count of shrimp
"Shrimp is a supply-and-demand market," says Shane. Every day the prices change, so unless you have a good reason to buy a specific size, the most economical option is the cheapest size per pound.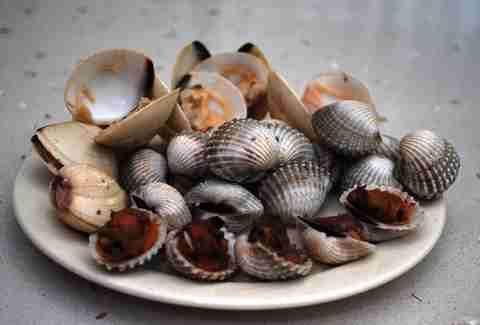 Blood clams
Despite their morose coloring, this cheap alternative to other hard-shell clams is starting to become popular steamed or in ceviche. "They're really popular in China, and they got a bad rep because they come out of water that's a little dirty, but we're starting to see them come out of cleaner waters that make them safe for raw applications," says Stark.
 
Sockeye or coho salmon
"Usually the cheaper salmon is going to be farm raised, and some companies have such a big production that it gets to be like commodity pork -- really low quality," says Shane. So depending on the producer, a farm-raised king salmon isn't going to beat the taste of smaller types like sockeye or coho. "They're leaner, but have a richer flavor than most things that are farm raised. I like to buy them whole because it keeps the belly on them and you can do a salmon steak."
Lionfish
Along the Caribbean and the Florida Keys, lionfish are tearing up local ecosystems, so you'd be doing Floridians a real kindness by frying or roasting them whole... and it doesn't hurt that they're so cheap. "These could be as cheap as $.50 a pound," says Shane. "I've actually had them as nigiri, and it's delicious. You just need somebody like Nobu or Morimoto to put them in a cookbook and they'd be everywhere."
 
Tripletail
"Tripletail is a big goofy fish that flops around anything that's floating," says Shane. It's cheap because it's such a plentiful bycatch, but the taste far eclipses the price. "The meat is like butter because all they do is chew on little shrimp all day," says Shane.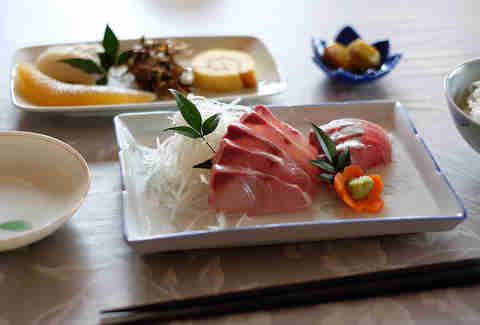 Amberjack
From the same family as yellowtail, amberjack is a seasonal fish that's similar to swordfish in texture, but has a stronger flavor because of a higher fat content. Even though it's becoming more popular in restaurants, you can still find it for great prices. Be warned, though: Shane suggests cooking it within a day or two, because oilier fish tend to spoil faster.
 
Black drum racks
Sometimes the glistening fillets in the fish case aren't the real treasures. If you're at a seafood market, ask if they have any black drum racks, which are the rib areas of the fish after the fillets have been removed. Shane suggests frying them until they're crispy: just watch out for bones.
Mackerel
"Mackerel is a delicious fish -- Japanese people actually eat it for breakfast," says Shane. The oil content is up there with sardines and anchovies, so the strong fishy taste often takes down the price, especially on the East Coast, where they're so ubiquitous you can find them washed up in the surf.
 
Red snapper or yellowtail collars
Similar to drum racks, collars are an economical cut that most shoppers don't know to ask for. They can be hard to find since you're only getting two per fish, but things like yellowtail collar are ending up on menus at places like lauded NYC Thai restaurant Uncle Boons.
Sign up here for our daily Thrillist email, and get your fix of the best in food/drink/fun.
Dan Gentile is a staff writer at Thrillist. Ever since he can remember, he's been poppin' his collars, pop-poppin' his collars. Follow him to the keys to the bakery at @Dannosphere.