Tales of the Absolute Worst Food-Service Workers Ever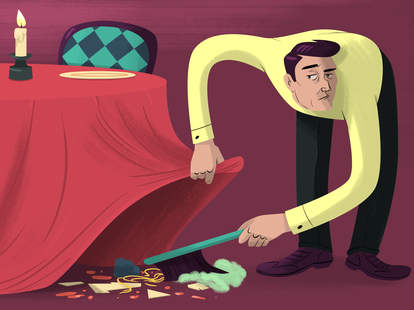 Welcome back to Off the Menu, where we bring you the best and strangest food stories from my email inbox. This week, we have our old standby: horrible, horrible employees. As always, these are real emails from real readers, though names have been changed.
Warmed-up Bordeaux
"While traveling and studying in Japan, I lived with a relatively wealthy (and very lovely) family in Osaka. Since I'm from Australia they wanted me to feel more comfortable and at home, so they took me to an Outback Steakhouse place… we don't actually have them at home, although I understand they're popular in the USA. [Editor's Note: Taken in context, this is one of the funniest sentences I have ever read.]
"Anyway, while we were eating a British couple sat next to us. I was excited to hear English for the first time in a few weeks, so I basically shamelessly eavesdropped on them. They ordered their meals and the man asked for a glass of red wine. It was eventually brought out to them, and after a minute I heard the woman asking the man if he could do something about the fact that the wine was frozen cold.
"He called over the waiter and told the man that the wine was chilled. The waiter cheerfully agreed that yes, the wine was cold, and wasn't that so great?
"The man, slightly exasperated, went through an explanation of how this kind of red wine should not be chilled -- it was a Bordeaux or something, I can't remember, but definitely not something that should be served chilled.
"Anyway, after a lot of back-and-forth to break through the language barrier, the waiter finally understood the problem and exclaimed, 'I'll warm it up for you!' The man spluttered and asked what he meant, to which the waiter cheerfully told the man he'd stick it in the microwave.
"I had to explain to my host family why I was choking on my steak because I was laughing so hard." -- Ken Smith
Do you Benedict?
"My then-boyfriend and I used to frequent the only diner in our area. It wasn't particularly good or fancy, but it was 24 hours and always dependable.
"We stop in for lunch/brunch one afternoon and the place is nearly empty. The waitress is young and clearly new to serving, but pleasant enough and takes our drink orders no problem.
"When she comes back to take food orders, my BF asks for a BLT. She asks for his bread preference, and everything is fine. I order eggs Benedict.
"'How would you like your eggs?' she asks. No biggie, this question is probably habit and she's just not paying attention. I tell her poached.
"'Scrambled?' No, I explain, I would like my eggs poached. Benedict. This explanation doesn't help at all. She seems skeptical.
"'Do you want any cheese on your eggs?'
"'No,' I tell her, "I would like my eggs Benedict. Poached, on top of an English muffin, with hollandaise sauce. She's clearly baffled and also apparently the only person working the dining room.
"The hollandaise sauce is the big problem. She thinks she may have to charge me extra for that. She needs to talk to the cook to make sure they have it. I try to point out the item on the menu, but she's insistent that she needs to speak with the cook.
"At this point, the cook has wandered out from the kitchen to run some food because the waitress is completely tied up at our table. She walks up to him, clearly flustered, and half-yells, 'This bitch wants her eggs BENEDICT! Do you do that?'
"In the end, I also ordered a BLT." -- Alissa Levenson
Jason Hoffman/Thrillist
Are we sure this woman was an employee?
"I went to Hy-Vee (grocery store mecca of the Midwest) to do my weekend shopping, got my stuff, and went to check out. The cashier, a bubbly teenager, started scanning my purchases and stopped to hold up a bottle of juice that I had selected and said, 'Ooo! Is this, like, juices made of fruits and vegetables?!'
"I couldn't tell if she was serious because it said what's in it right on the damn label, but I played along with her enthusiasm and said, 'Yes! It's very delicious!'
"She picked up a different bottle as though it was her first day out of the womb and asked, 'Oh wow! This has strawberries in it! Is this juice delicious?' I told her that it was. We went through this with four different flavors of juice until she got to my chicken.
"She took one look at the raw chicken thighs I had selected and said, 'OH NO, THIS MEAT HAS GONE BAD!' Not exactly something I would declare at a high volume in the store that employed me, but I wasn't dealing with the brightest cashier in the store. I told her it was fine.
"She said, 'No, I can go get you another one right away, I can't sell you this, it doesn't look good. See? Look at it, it just doesn't look right.'
"I insisted that it was fine, assuming that my cashier probably wouldn't be able to find the meat department, and she said again, 'This meat is definitely not good.'
"I finally said, 'No, really, it's fine, I'm just going to eat it on the way home.'
"She thought that over for a second and replied, 'Yeah that should be fine then. I don't actually go grocery shopping, so I wouldn't know!'" -- Diane Jeffries
What's the name?
"One night I decided to order from Firehouse Subs instead of choking down the horribly disgusting Pinterest fail I had concocted. I placed the order online and got the confirmation email before I left the house. At the designated pickup time:
"Me: 'I had an online order for Hannah.'
"Her: 'Jeff?'
"Me: 'No, Hannah.'
"Her: ''It's not in here, what do you want?'
"Me: *tells her*
"Her: OK, what's the name for the order?" -- Hannah Gordon
Racism is always self-defeating
"I was an assistant restaurant manager at age 20. Being the same age or younger than many of the staff, it was sometimes hard to not get too friendly. There was lots of downtime and talking to do during side work, so I would chat and gossip with them.
"One day our best server stomps up to me, 'Those guys just JEWED me!'
"Being Jewish, but never having heard the word used as a verb before, I asked her to explain.
"'NO TIP!'
"I gently explained that I'M Jewish, and while I understood she didn't mean to offend me -- and in fact wasn't offended -- she really couldn't use that language at work. She apologized and we moved on.
"The next week she did it again, and I got a bit more stern. 'Really, you can't keep saying that. It's offensive to Jews because it plays on a stereotype.' Except this time she tried to defend herself.
"'I'm sorry. It doesn't mean anything bad. It's just a term we use around here. Like n****r-ing.'
"'That is MUCH worse! Let's just go back to Jewed.'
"The next week it was a discussion of race mixing. How she didn't have a problem with other races, but that whites shouldn't marry them. Do you fire someone for that? I never saw her do anything wrong with customers. No complaints from them or other staff. Just a waitress who felt comfortable enough with me to let on how racist she was.
"I never fired her, but soon after the race-mixing comments, she casually mentioned how hot Lenny Kravitz was. Explaining to her how a black man comes to be named Lenny Kravitz was one of my happiest moments there." -- Emily Litman
Do you have a restaurant, home-cooking, or any other food-adjacent story you'd like to see appear in Off the Menu (on ANY subject, not just this one)? Please email WilyUbertrout@gmail.com with "Off the Menu" in the subject line (or you can find me on Twitter @EyePatchGuy). Submissions are always welcome! Also, we are now requesting submissions for holiday-themed stories, so if you have any stories pertaining to Thanksgiving and Christmas, please send them in!
Sign up here for our daily Thrillist email, and get your fix of the best in food/drink/fun.