The Most Essential Restaurants in Savannah
<a href="https://www.facebook.com/media/set/?set=a.618588681589942.1073741830.567320616716749" rel="nofollow" target="_blank">The Florence/Facebook</a>
<a href="https://www.facebook.com/media/set/?set=a.618588681589942.1073741830.567320616716749" rel="nofollow" target="_blank">The Florence/Facebook</a>
For a city with a well-beaten tourist path, Savannah is a relative newcomer to the foodie universe. Sure, there are institutions, like the James Beard-winning Elizabeth on 37th, the un-missable Olde Pink House, and the steadily superb Sapphire Grille, which are all very much on the map. But until recently, it seemed that great eats accessible to everyone everyday were out of reach.
All that's changing now. With the exception of one inimitable Savannah staple, this list of essential eateries leans toward the new. For the past few years, emerging talents are setting stuffiness aside, and cooking up a feast of fresh comfort foods inspired by heirloom recipes and international infusions. Get ready to dig in.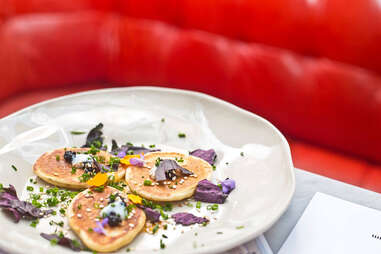 Historic Downtown, near Wright Square
Aussie Anthony Debreceny's brick Bull Street landmark hosts some of the tastiest gatherings in town. Order a fine flat white -- a stronger, smoother alternative to the standard latte -- at the walkup window, dig into the red velvet pancakes for "brekkie," or dine on the duck breast with apple wasabi gelee, bok choy and pickled blueberries.

Historic Downtown, Broughton Street
With scrumptious $6 lunch specials and stiff $3 happy hours, this brick-lined Broughton Street basement is anything but ordinary. Even Chef Zach Starr's mac 'n' cheese is a gourmet meal unto itself, adding Andouille sausage and juicy shrimp to the creamy Southern staple. And then there's the bottomless mimosa brunch with bananas Foster French toast.
Ardsley Park/Midtown
Both levels of Top Chef Hugh Acheson's bustling Savannah flagship boast locally sourced, seasonal Italian dishes and crisp, creative cocktails -- spearheaded by 20-something executive chef Kyle Jacovino. Go ahead, slurp the black bucatini pasta with shellfish in garlic sausage ragu. Nobody's judging.

Thomas Square District
Inside this renovated midcentury bank building, house-made sausages, pates, relishes and breads reign supreme. Sit on the sheltered patio and have your way with the succulent pork chops, followed by a rich, fluffy slice of hummingbird cake (not made with actual hummingbird).
Historic Downtown, MLK Corridor
After indulging in a crafty libation or two at the Diner Bar, make your way deeper into to Chef Mashama Bailey's luxurious lair: an Art Deco masterpiece serving scrumptious seafood and Southern-inspired fine dining. The oysters alone are worth the trip.

Tybee Island
Every good beach day begins with fragrant pecan waffles or a fiery chorizo omelet at this Tybee Island mainstay. Get there right at 7 a.m. to beat the lines. Sit at the counter with a cup of Joe and watch the circus as Chef Jodee Sadowsky rallies his energetic culinary troupe to the amazement of the hungry crowds.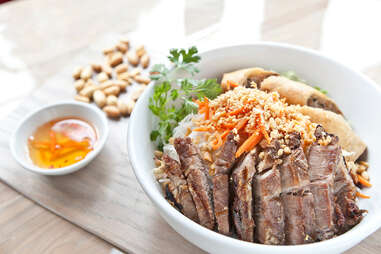 Historic Downtown, Broughton Street
It's hard to choose from among Ele Tran and Sean Thongsiri's five fusion restaurants, but the Flying Monk's central Broughton Street location and wallet-friendly menu make it a firm local favorite. Follow the green papaya salad with the Na Na noodles, and wash it all down with a bottle of Perfect Snow sake.

Wilmington Island
Chef Mir Ali isn't playing favorites. His curried crab cakes and Tandoori spiced chicken 'n' waffles give ample credit to his South Asian heritage -- and his Southern American journey. That's why you're going to drive east to Wilmington Island, pull up between two banks in a strip mall parking lot, and sit down to one of the most memorable meals of your life. You're welcome.
Historic Downtown, near Chippewa Square
With six homemade sauces on tap -- and a library of favorite flavors from around the world -- this labor of love makes the most of its smart, simple menu. A yellow flag announcing "BBQ" will help you find Andrew and Aileen Trice's hip little hideout on sleepy Oglethorpe Lane, just off Bull Street's beaten path. This meat-optional mom 'n' pop is an instant escape from the hustle and bustle -- and the Voodoo Juice sauce will put some hair on your chest.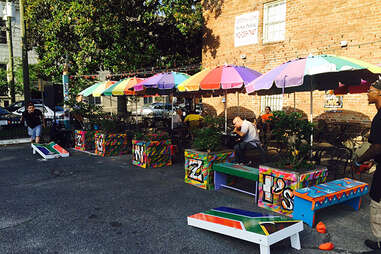 Historic Downtown, Drayton Street, near Oglethorpe Square
This local lunch spot now has a sit-down dinner location, but we're still partial to the express version, a walkup counter where Gabriela and Johnny DeBeer serve up hearty home-cooking with a South African twist. Hint: For a better bratwurst, try a boerewor.

Tybee Island
With four distinct island eateries just footsteps from the sand, Tybee Island's Sarah and Kurtis Schumm are the queen and king of surf-chic cuisine. Kick off your Sunday with the bluegrass brunch at their breezy Butler Avenue flagship. Fried chicken biscuits with spicy collards and bacon bloody Marys are the perfect accompaniment to Pavin' Gravy's sweet string music.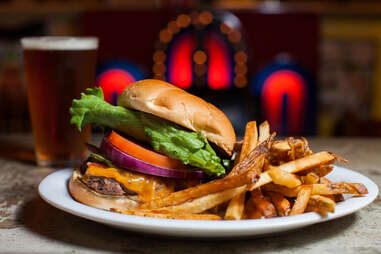 Thomas Square District
Owners Josh and Whitney Yates are always at the Forsyth Farmer's Market, so it's no wonder their grass-fed burgers and robust salads are so damned fresh and flavorful. A sweet beer list, friendly bar, and chill staff complete the picture at this Victorian District hub.

Thomas Square District
This hole in the wall stays packed with young and hungry locals, thanks to an irresistible array of mini-burgers, gourmet franks and hand-cut fries with (and without) savory sauces. For vegetarians, the Pawful of Falafel is a welcome treat in a city that's mad about meat.
Historic Downtown, Jones Street
Southern comfort food just tastes best when served family-style -- preferably at this fifth-generation former boarding house. Their fried chicken, cornbread dressing and sweet potato soufflé is a must-add to your dining bucket list. You'll share a table with strangers, and you'll walk out with new friends -- or, at least, some funny stories.

Victorian District
Mouthwatering meats and chef-made Southern sides, served in an antique railway car. What more do you really need to know? For a different way to 'cue, try a delicately smoked chicken salad sandwich or a heaping bowl of tangy Brunswick stew.