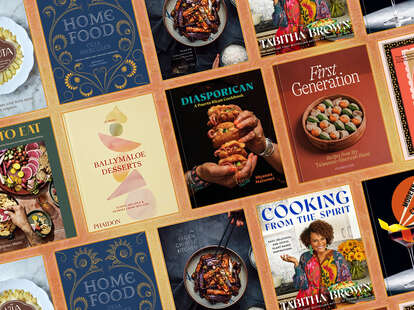 Image by Maitane Romagosa for Thrillist
Image by Maitane Romagosa for Thrillist
In the same way that fashion comes alive with the September issue, food starts to get exciting again with the start of the fall cookbook season. It's a time for reinvention—the leaves change colors, the air gets nippy, and turning on the oven doesn't mean enduring a mini heat wave. For many of us, getting cozy means spending more time in the kitchen.
And for that, we have a roster of titles that will give you fresh ideas, from culinary voices both new and recognizable. For the chef who cannot wait to get back to Saturdays spent holed up indoors, Zuza Zak's Pierogi, filled with traditional and modern approaches to Polish dumplings, will inspire just the kind of meditative project you need.
Or, if you're feeling inventive, check out Frankie Gaw's First Generation, featuring intricate, Taiwanese-American creations, like Cincinnati Chili with Hand-Pulled Noodles. But maybe you're the kind of chef who craves all things simple. Tabitha Brown's Cooking from the Spirit offers up no-fuss, nutritious vegan meals, while Nicole Keshishian Modic's Love to Eat is an approachable guide to intuitive eating.
Here's a full list of the food and drink guides we cannot wait to get acquainted with this fall:
Release date: September 13
While Mezcla is Belfrage's first solo cookbook, the talented chef is no stranger to recipe development. She worked with Yotam Ottolenghi for five years, contributing to his columns in The Guardian and The New York Times, before co-authoring his cookbook, Flavor, in 2020. "Mezcla," which means "mix, blend, or fusion," characterizes the author's culinary upbringing, split between Brazil (where her mother is from), Italy (where she lived as a child), and Mexico (where her grandfather lived). Expect bold recipes with unexpected flavor combinations, like Giant Cheese on Toast with Honey and Urfa Butter and Chicken with Pineapple and 'Nduja.
Release date: September 13
The Vegan Chinese Kitchen explores the tradition of zhai cai, the plant-based Chinese cuisine that emphasizes umami-rich ingredients, tracing back over centuries to Buddhist temple kitchens. Hannah Che, creator of blog "The Plant-Based Wok", replicates traditional Chinese dishes in a meatless way, like Sweet and Sour Tofu, but also calls attention to naturally plant-based dishes, like pea shoots braised in a velvety mushroom broth made with sesame oil roux.
Release date: September 27
In addition to writing three critically acclaimed cookbooks—Mamushka, Kaukasis, and Summer Kitchens—Hercules is also credited with the launch of the #CookForUkraine movement. In this deeply personal cookbook, she pulls inspiration from her childhood in Ukraine, as well her years spent in Cyprus, Italy, and England. The theme of this book is comfort and connection, featuring over 100 well-worn recipes that have been shared among family and friends. "They are nostalgic like the potatoes of my childhood, they share trade secrets like Bisque-style red mullet pasta, they interweave every day like Joe's beet, feta, and potatoes, and they make everything ok like Life-giving rhubarb cake," she writes.
Release date: October 4
Everyone's favorite TikTok mom, Tabitha Brown, is dishing out more than 80 family-friendly, vegan recipes with her debut cookbook, Cooking from the Spirit. After over a year and a half of dealing with a terrible, undiagnosed illness, Brown has found healing in plant-based eating. Carrying the same, warm spirit of her TikToks, this cookbook is dedicated to helping others make changes to improve their own lives. Brown has never been one to follow recipes to a T, and her cookbook encourages readers to do the same, with freedom-friendly recipes like Jackfruit Pot Roast and Yam Halves Topped with Maple-Cinnamon Pecan Glaze.
Release date: October 4
This guide is predicated on the idea that more cocktails have been invented in the last 30 years than during any period since the first golden age of cocktails, which lasted from the 1870s until the arrival of Prohibition in 1920 (the time of Martinis, Daiquiris, and Manhattans). The focus here is not trendy cocktails, but rather, those invented in the last few decades that have been ordered time and time again. Think: Espresso Martinis, White Negronis, Death Flips, Old Cubans, Paper Planes, Siestas, and more. Simonson presents an interesting criteria for what makes a new cocktail a modern classic.
Via Carota by Jody Williams and Rita Sodi with Anna Kovel
Release date: October 11
Despite opening nearly a decade ago, Via Carota continues to be one of the hardest reservations to snag in New York City, celebrated for its uncomplicated approach to Italian cooking. So true is the homey, neighborhood feel that patrons often ask owners Jody Williams and Rita Sodi for their recipes. This cookbook contains all the vegetable-forward signatures, sectioned off by the seasons, and even leaves room for a negroni or two.
Release date: October 12
Ballymaloe House in County Cork, Ireland is heralded as the birthplace of modern Irish cuisine. At the hotel restaurant, pastry chef JR Ryall serves up a daily array of seasonally-inspired treats, which get wheeled around on a legendary dessert trolley. This book features 130 of those eye-catching confections, like Irish Coffee Meringue Gâteau and Compote of Green Gooseberry and Elderflower. And while those might sound daunting, Ryall fills the pages with clear, detailed instructions and insider tips, like the best method for whisking egg whites.
Release date: October 18
The first Puerto Rican food columnist in the country is releasing a debut cookbook featuring over 90 recipes and striking visuals that highlight the gastronomy of the Puerto Rican diaspora. The classically trained cook spent years documenting her family's Puerto Rican recipes, preserving the island's disappearing foodways. In Diasporican, she shares the foods that were passed down from her grandmother and mother, like Tostones, Pernil, and Arroz con Gandules, as well as Pinchos with BBQ Guava Sauce, Rabbit Fricassee with Chayote, and Flan de Queso.
Release date: October 25
In First Generation, Frankie Gaw, the blogger behind Little Fat Boy, presents 80 recipes that defined his childhood as a first-generation Taiwanese American growing up in the Midwest. Through step-by-step photography and hand-drawn illustrations, Gaw will teach you how to master Taiwanese classics like bao, dumplings, and scallion pancakes. But you'll also find dishes that reflect his multicultural experience, like Lap Cheong Corn Dogs and Honey-Mustard Glazed Taiwanese Popcorn Chicken.
Release date: October 25
Another founding member of the #CookForUkraine movement, Polish writer Zuza Zak dedicated an entire book to her country's famous dumpling. She dives deep into regional recipes from all over Poland, from the Baltic Sea with its abundance of fish to the unique smoky and sour flavors of the mountainous south. You'll also find recipes for sweet pierogies, as well as vegan and gluten-free options.
Release date: October 25
Nicole Keshishian Modic is a content creator with a passion for wellness. She's the force behind popular Instagram account @kalejunkie, where she draws on her Armenian heritage for healthy meal inspiration. In Love to Eat, she showcases whole-food recipes and teaches readers how to tap into intuitive eating—that is, listening to your body's cues, discovering a more flexible relationship with your diet, and finding food freedom. Expect recipes like Armenian Stuffed Bell Pepper Dolmas and Life-Changing Chocolate Chip Tahini Cookies.