Personalize Your Kit with These Stylish Smoking Accessories
When was the last time you upgraded your smoking tools?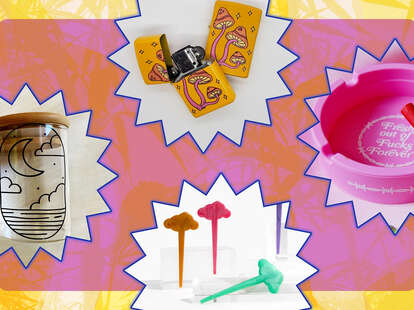 Design by Maitane Romagosa for Thrillist
If your smoking kit screams '90s stoner dude, it may be time. If your pipe shares is from your college days, it's probably time. Even if you're an active, enthusiastic cannabis consumer, it's time to take advantage of the blossoming accessory space and enjoy modern pieces that more accurately reflect your current needs and aesthetics.
For this hand-curated list of interesting indie smoking accessories, we looked to Etsy's cannabis section, where a diverse product roster mirrors an increasingly heterogeneous population of stoners. There is an accessory to match a broad spectrum of aesthetics: super kawaii, retro, functional, maximalist feminist, or minimalist herbalist.
Most of the following businesses are female owned, many of them donate a percentage of their profits to nonprofit organizations, and all of them prioritize good business practices and have a focus on sustainability. Shopping conscientiously is here to stay, and by being a little more deliberate with our dollars, we can make a big difference for the small businesses we want to see thrive. May this list of the best smoking accessories on Etsy enhance and inspire your next smoking session.
After working for seven years on a weed farm, Mia Calotta decided to take her relationship with weed to the next level with AShopOfThings: a carefully organized head shop that oozes cuteness she co-founded with a friend. AShopOfThings is tailored for the "gal like who wants to live her life with cute curated accessories, where no detail of her lifestyle goes overlooked"—a vision reflected in this easy-to-clean, non-melting silicone ashtray. A portion of all sales is donated to the Last Prisoner Project.
This two-inch grinder is a huge steal. For the same price as your average head shop grinder, you can create a fully customized product. On its own, it is a minimalist matte black grinder with magnetic closures for maximum odor control, uber sharp teeth, and of course, a chamber for catching kief. Customizations are elegantly engraved in a contrasting pale gray and make for a creative gift to any fellow stoner.
Reahanna Parker is a designer and artist in Austin who creates all of her products from end to end herself. With a mission to create meaningful products that "spark joy, emotion and energy into your life," her shop, NakedEyeStudioTX, is a great destination for accessories made with extreme care to fine detail and aesthetics. This is reflected in her one of a kind vibrant, whimsical lighter—designed to be the center of attention every time you light one up.
Charles McElroy created Gldleaf to respond to the need for products for "the wider cannabis community that are helpful, interesting and mature." Driven by education, science, and curiosity, Goldleaf's cannabis notebooks are each carefully designed with a different user in mind—the taster, the grower, the patient—and are developed with help from industry professionals and medical experts. Regardless of how you define your relationship with the plant, Gldleaf has a notebook to complement and guide your cannabis experience.
Disappointed by the existing products on the market, Marel Ravdin put her background in jewelry design to use with BurnerBabe—a shop selling some of the most aesthetically pleasing papers out there. These king-size papers are 100% vegan and printed on rice paper, designed to be enjoyed at your next celebration, whether it be a milestone, or just a meaningful moment in your day-to-day life. A portion of all BurnerBabe's sales is donated to Floret Coalition and the Last Prisoners Project.
BudGirlsClub's sleek, minimalist, to-the-point products are designed for the modern rebel. In an era where cannabis consumption is still highly stigmatized in many parts of the country, especially for those who identify as women, BudGirlClub's WOC founders wanted to "give you a place to embrace this 'badness.'" This airtight doob tube fits neatly in your purse and pockets and keeps the Eau De Cannabis on the down low, all the while protecting your joint in high renegade style.
Natasha Denaxas and Montese Overton established Sativa & Sage Co because they were tired of seeing cannabis accessories that were grungy, dull, or marketed exclusively for men. They aspire to develop products for everyone who enjoys vibrant colors and lively prints, such as this metal rolling tray with a magnetic, holographic lid. It is built to serve as a catch-all and do-all—roll a joint, stash your spare herb, and take it on the go.
STASHEDSANITY started with a mission: storing cannabis as medicine for anxiety and pain relief, but only while also managing the smell the plant produced. The solution? Durable borosilicate glass jars topped with a bamboo lid and rubber seal for an airtight lock, featuring designs from fellow Etsy artists. With this duo in particular, you could use the sunrise jar for storing more energizing bud and the moonscape jar for storing more sedating strains.
Designed to empower the user, Katie Kurlyandchik of Shop Janeys creates products that "help people feel like they're celebrating their relationship with cannabis, as opposed to feeling shame perpetuated by the negative stigma attached to consuming the plant." Equal parts daydreamy and functional, this vibrant tamping stick is a solid replacement for whichever bobby pin, pencil, or paper clip you've been haphazardly abusing.
Kavya Shah is a computer science student who is passionate about studying languages, Web3, and of course, cannabis. With her spare time, she enjoys rock climbing and traveling
.