Prospect Heights, Brooklyn, NY

| Courtesy of Chuko Ramen
Prospect Heights, Brooklyn, NY

| Courtesy of Chuko Ramen
In big-ass cities, sometimes a neighborhood's greatness gets overshadowed by, um, greater-ness. That's natural, but also a drag... especially when you're looking at a city that's been declared one of America's great food metropolises. Sometimes, it's an overlooked enclave that's been around longer than hype itself, or a family-focused area where hipsters and food writers fear to tread. But for whatever reason, there are great neighborhoods in food cities throughout America that simply live in the shadows of more celebrated pockets.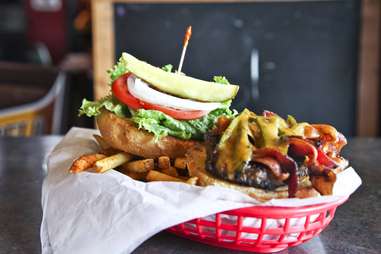 Burnet Road
Austin, Texas
The deal: The North Central area is neither hip nor lacking in strip malls, which automatically keeps it off the radar in ultra-cool Austin. Yet the area of Burnet Road between Woodrow and Justin Lane -- a major thoroughfare for those trying to avoid the Hades-like experience that is Austin traffic -- is home to a vast crop of incredible meals that range from burgers you can buy with couch change to places lorded over by chefs specializing in multi-course, sustainable, handcrafted culinary experiences. A detour from traffic that also includes great food without throngs of Austin's hip? This keeps getting better. Just don't tell!
The moves: Everyone loves Pinthouse Pizza, where you can take a screaming baby during Geeks Who Drink trivia while you flex Star Trek knowledge over pies and pints. Or hop down to Billy's on Burnet to watch the game in a legit dive bar that serves up Lone Star with one of the city's most overlooked burgers. Mosey on down to The Peached Tortilla's brick-and-mortar for bánh mì tacos and a habanero-/basil-infused margarita, then -- beyond the auspicious hot-tub store -- hit The Aristocrat Lounge, where a retro-inspired frozen cocktail list pairs up with any of veteran chef Ray Tatum's daily specials at his truck Three Little Pigs just outside (think fried pork ribs w/ chili and twice-cooked pork belly with rice noodles).
Just a few hundred feet away is new pizzeria Bufalina Due (sister restaurant to Bufalina) with Neapolitan-style pizza fired in a 900-degree, wood-burning Italian oven (get the Fresca with prosciutto, arugula, mozzarella, and a squeeze of lemon juice). Then there's chef Bryce Gilmore's new Barley Swine, the centerpiece of which is a 10-course chef's tasting menu with culinary endeavors like pig skin noodles and koji rice pudding. Finish off your Burnet Road crawl with ice cream from Lick, where locally inspired flavors include Hill Country honey & vanilla bean or something weirder like goat cheese, thyme & honey, in case you briefly forgot you were in Austin. -- Anastacia Uriegas, contributor
East Boston
Boston, Massachusetts
The deal: Once just an Italian enclave for those who could no longer afford the North End, Eastie is now a kaleidoscope of great cuisines thanks to an extremely diverse population that ranges from South and Central Americans to East Asians to people originally from Winthrop. And yet it still remains relatively under the radar due to its location right off the highway from Logan. Go there now, before all the people from the North End migrate there again.
The moves: If you're alive and from Boston, you know about Santarpio's, the old-school crown jewel of Eastie pizza. Well, still go there and get a sausage pie, and don't bother asking for a menu. For Aussie meat pies and good Aussie beers, check out KO Pies. Colombian and Peruvian specialties (especially chicken) from Rincon Limeno, El Penol, or Pollos A La Brasa El Chalan are a must. Angela's Cafe for incredible Mexican and Taqueria Jalisco for tacos. Oh, and if you're looking for the old-school Italian, hit up Rino's Place for red sauce Italian (beware the long wait on weekends though) or get a chicken cutlet sub from Meridian Food Market. -- Kevin Alexander, national writer-at-large
Bridgeport
Chicago, Illinois
The deal: The South Side perpetually gets short shrift when it comes to conversations about drinking and dining in Chicago, so it would feel like a misstep to go anywhere else when seeking the most overlooked 'hood when it comes to filling your face. And yes, since the White Sox play here, one could acknowledge the parallels when it comes to the attention paid to the city's respective baseball teams, but that'd be oversimplifying and doing a disservice to everything else happening in Bridgeport, which has seen an uptick in vibrant new establishments in recent years. When you add in an abundance of beloved neighborhood mainstays, you get a neighborhood that fittingly captures the best of what it means to eat well in Chicago.
The moves: Perhaps no establishment captures the intersection between old and new in the neighborhood quite as well as Maria's Packaged Goods & Community Bar, a longtime bar-liquor store hybrid taken over by the sons of the family matriarch, who renamed it in her honor and gave it a craft beer-centric overhaul without sacrificing the dive bar soul. It's recently added a food component in the form of Kimski, which brings Korean and Polish cuisines together in a nod to the family's heritage -- who couldn't use a little kimchee on their Polish sausage? The Duck Inn brings in diners from all over for serious cocktails and high-end tavern food from Kevin Hickey, who previously impressed at the Four Seasons' Allium. The $35, four-course prix fixe at eclectic Asian eatery Han 202 remains a steal, and Nana has become a brunch powerhouse (don't miss the addictive, spicy shrimp & fried oyster po-boy).
But enough fancy newness! The breaded steak sandwich at Ricobene's is one of Chicago's great less-heralded achievements in caloric indulgence, or at least it was until Anthony Bourdain scarfed one down on his last visit. Bridgeport Bakery was making line-worthy donuts decades before they were a thing. Morrie O'Malley's serves a properly executed Chicago dog, but then, so do plenty of other places. And Schaller's Pump is still turning out butt steaks and beers just like it has since 1881, proving that even if what it means to eat and drink well in Bridgeport has evolved, it's certainly nothing new. -- Matt Lynch, executive editor
Memorial
Houston, Texas
The deal: When you've got 600 square mies of city, there are bound to be overlooked gems. That said, there are some nooks and crannies that have managed to get infinite amounts of love (we're looking at you, Montrose), and others that seem to have slipped through the cracks entirely, which is kind of fitting, given the city's pothole situation. No one seems to have slipped by more than Memorial -- even we left the once-sleepy suburb off our best eating neighborhood rankings. That's probably because Houstonians live in a land where everyone's a little weary of leaving the loop. But with hot restaurants sprouting with equal vigor as those inside 610, this westside stretch proves you should probably stop being so wary.
The moves: It's hard to put a finger on what exactly started Memorial's culinary evolution, but what isn't hard is figuring out where to eat. This neighborhood was taking down Pizaro's Neapolitan-style pies even before Montrose was. It also has long-standing resident Bistro Provence, cozy as ever with its French onion soup gratinée and filet de boeuf au poivre; and on the complete opposite end of the spectrum, fat-ringed smoked brisket and ribs at The Brisket House.
Eventually CITYCENTRE got up and running and the Memorial City Mall got some Botox, only upping the 'hood's game with things like KUU's dramatically plated Japanese inspirations and Sal y Pimienta's South American beef, a grilled alternative for BBQ-fatigued carnivores. Today, a crew of neophytes usher in next-level satisfaction, with juice-dripping tavern burgers at The General Public, rootbeer-glazed chops and Gulf Coast mac at State Fare, and South African piri piri chicken at Peli Peli Kitchen. Sound like something you may like? All it takes is a ride. Just beware the pot holes. -- Brooke Viggiano, contributor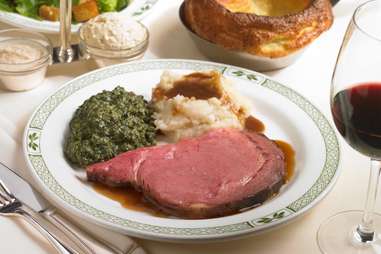 Atwater Village
Los Angeles, California
The deal: You've likely seen a couple of the local favorites on "best of" lists, but when was the last time you heard someone say, "Hey, let's tear up Atwater Village on Saturday night"? Maybe it's because this sliver of a neighborhood -- cut off from much of LA by a barely there river and cornered by the 5 and the 2 -- largely caters to longtime locals, young families, and hipsters who prefer walking to a great farmers market over the latest speakeasy-style bar. For most diners, these aren't buzzy destinations like you might find in neighboring stalwart Silver Lake, up-and-coming Frogtown, or even on-trend Highland Park. That's kind of the draw.
The moves: Perhaps you've just finished a rousing nine-hole game at the Los Feliz Golf Course, in which case you could grab the damn fine Bacon Bourbonator burger and bread pudding at Scottish gastropub The Morrison, or a platter of curries on the cheap across the street at India Sweets & Spices. Further down the road, you'll want to stop in for prime rib, haggis, and a flight of Scotch at the 94-year-old legend The Tam O'Shanter. Then mosey southeast through the neighborhood over to Glendale Blvd where you'll find crafty twists on comfort classics at Thank You For Coming, a collectively run experimental art/education/restaurant space (get the Turkish breakfast bowl).
If it's still on the early side, you'll want to hightail it over to Anthony Bourdain-approved hole-in-the-wall Tacos Villa Corona for the steak and papas burrito. If you're out for date night, you'll want to hit All'Acqua to share a bottle of vino over oxtail ragu gnocchi and wood-fired pizza, or dine on rustic French fare at Canelé. Or for a more casual affair, hit up Village Tavern for Mexican BBQ and a huge beer lineup, El Buen Gusto for pupusas, or Dune for the insanely delicious falafel. This village will never go hungry. -- Danny Jensen, Los Angeles editor
MiMo District
Miami, Florida
The deal: There's a good reason people who've lived in Miami a while react with a level of disgust usually reserved for decaf coffee when you tell them you're going to have dinner on Northeast ANYTHING Street. Driving over here from I-95 takes you through some areas that harken back to Miami's seediest days. And while the neon and Deco hotels haven't been rehabbed to the extent of the ones in South Beach, the restaurants popping up in -- and between -- those hotels are some of the best new ones in the city. Rents here are a little cheaper (for now) and young chefs can try ideas that wouldn't be cost-effective elsewhere. Just for the love of God never, EVER refer to it as "The Upper East Side."
The moves: Rolling up Biscayne Blvd from midtown the first spot you'll see is Blue Collar, the elevated comfort-food staple that's also the most established joint in the neighborhood (get the Big Ragout Sandwich -- hollowed-out crusty bread jammed with tender shredded brisket, veal, and pork shoulder, red sauce, Parm, and provolone). It's also tough to get a seat, so if you can't, continue on north to Phuc Yea, the new Vietnamese-Cajun restaurant from a chef-owner couple who've killed the Miami food scene for a while (and who have successfully mated the po-boy with bánh mì). For pizza, go authentic Italian-style at Ironside or real-deal Brooklyn at Paulie Gee's. For a little more in-depth Italian, Ni.Do. Caffé is unassuming, and has an outdoor area surrounded by hedges so you don't even notice the busy street.
Want grilled cheese in a funky craft beer garden? Miami's favorite food truck, Ms. Cheezious, has a brick-and-mortar here where Cigar City beer and Frito pie melts live in glorious harmony. The Vagabond is a chic spot inside one of the few rehabbed hotels with a great bar where you'll actually enjoy eating grasshoppers (served as a bar snack with peanuts and cilantro… trust us here), or just go down NE 79th St and you can get the city's best empanadas at the Half Moon window. -- Matt Meltzer, staff writer
Leonidas
New Orleans
The deal: "I came to visit, ate a few meals, and decided to just not leave" is a not-uncommon response from New Orleans transplants when asked why they moved. When a city's food scene has enough power to persuade people to uproot their lives in favor of 120%, it's a pretty good guess that the whole city is culinarily rich. And it is. Yet, the Leonidas neighborhood -- that swath of blocks tucked uptown behind S Carrollton -- still gets quietly overlooked from the fervent rush of the city's dining crowd.
The moves: Since '86, Frank and Marna Brigtsen have been filling their tiny cottage on Dante St with some of the city's best Creole and Cajun food. James Beard Award-winning Brigtsen's is warm and comfortable, and the deep carpet is constantly imbued with delicate spices and sharp seafood; it's essentially the essence of a grandparents' home, if your stereotypical grandparents subbed out chocolate chip cookies for seafood platters laden with shrimp cornbread and oysters Rockefeller. For brunch, Dante's Kitchen has been drawing in crowds long before brunch was a thing to do in Uptown, plus its Gulf fish cooked in a falafel crust has been changing the seafood game in NOLA since the resto's opening 15 years ago.
Half a decade ago, Oak on, well, Oak seamlessly delivered an upscale wine bar setting to a delightfully eclectic street, while Breads on Oak is now anchoring the other end of the street and changing the way a bread-obsessed city enjoys the carb. And while the Carrollton stretch of the 'hood is obviously more on display (I love you Camellia Grill) than the rest, restaurants like Nathanial Zimet's Boucherie sit tucked beneath the oak branches, flying inexplicably and humbly under the radar. -- Liz Childers, senior Cities director
Prospect Heights
New York, New York
The deal: In a city as diverse and teeming with good eats as NYC, the complaint is rarely that you can't get a great version of a particular food in town, but that you can't get it within a five-block radius. New Yorkers are a demanding bunch. And yet, when it comes to Brooklyn, it's Williamsburg, that ever-skewered epicenter of urban cool, that tends to dominate the culinary conversation. Neither hipster hangout like the 'Burg, nor historic brownstone beauty like Park Slope, Prospect Heights is something of an in-between neighborhood. With industrial strips abutting tree-lined streets, it's not exactly known for destination dining. But in recent times, Prospect Heights has sneakily become one of the city's most exciting places to eat, with standout Thai, Mexican, New American, and Japanese restaurants fortified by two fantastic cocktail bars.
The moves: Ten years ago, the only restaurants of note were the beloved Tom's Restaurant -- better known for its kitsch and warm touches (like serving coffee to people lined up outside) than its food -- and farm-to-table pizza pioneer Franny's, which may very well have been responsible for unleashing the kale salad on America. While technically now in Park Slope after its move across Flatbush Ave -- it's close enough! -- Franny's still serves up the city's best damn clam pie, along with deftly executed seasonal plates. And a slew of new major-leaguers have also set up shop: excellent ramen-ya Chuko from three Morimoto alums, beloved ice cream shop Ample Hills Creamery, and, just recently, Mexican hole-in-the-wall El Atoradero decamped from the Bronx, bringing its famed carnitas in tow.
The Thai restaurant Look by Plant Love House, a spinoff of a Queens favorite, goes beyond the takeout standards, with lesser-knowns like boat noodle soup, while the Intagrammable Tygershark, a hybrid Korean seafood restaurant and surf-shop cafe, adds a bit of eclectic cool. And buzzy newcomer Olmsted, run by two vets of the two-Michelin-starred Atera, has been drawing gastronaut interlopers who lounge in the outdoor garden before retiring to a stylish dining room lined with a living plant wall for imaginative plates like onion chawanmushi with bottarga or an heirloom tomato schnitzel. The next avenue over on Washington, one of the city's first great classic cocktail bars, the white subway tile-lined Weather Up, now has company up the street, with the very fine Tooker Alley boasting a "history of the martini" menu. With all your great eating options, you might not need a drink, but that doesn't mean you shouldn't have one... or three. -- Mari Uyehara, executive Food & Drink editor
Northeast Philadelphia
Philadelphia, Pennsylvania
The deal: If you're not from Northeast Philadelphia, chances are you've never been to Northeast Philadelphia. And that, well, that's perfectly understandable… to outsiders, the area looks like little more than strip malls, sweatpants, and the Ghost of Sizzlers Past, a reputation that very few insiders would find offensive. That said, ya'll are missing out on some seriously great Philadelphian food. A sprinkling of new hotspots, long-kept secrets, and generations-in-the-making legends make the humble Northeast a must for anyone who wants a true taste of the city that goes beyond the obvious steak spots.
The moves: Nestled inside a strip mall (told ya!), The Blue Duck immediately turned heads when it opened its doors two years ago with a menu of stepped-up comfort food that's usually not spotted in the wilds outside Center City. Come for the infamous duck-fat fries, stay for chicken and waffles, and don't forget to make a reservation (yep, they exist in the Northeast these days). Over on Frankford Ave, quirky mainstay Grey Lodge Pub has been pouring legit pints decades before your friends christened themselves "craft beer enthusiasts." If you're brave enough to take a date to the Northeast, local fave Macaroni's does Italian right with house-made pasta and an outdoor kitchen complete with a wood-burning pizza oven.
The Northeast is also home of the buttercake, a transcendent, unholy union of sponge cake and pudding-like bliss that proves this part of Philly gives zero fucks about your diet. Start at Mayfair Bakery, make your way over to Haegele's, and be sure to leave room for Danish Bakers. You'll know it's time to leave when the sweatpants start looking good. -- Monica Weymouth, contributor
Sellwood-Moreland
Portland, Oregon
The deal: In a city where pretty much every neighborhood has been "the next big food 'hood" (Division is sooooooo two years ago… have you been to St. Johns yet?!), Sellwood-Moreland's often left out of the conversation. Maybe it's because it's easy to forget that the little gem is even part of the city since you have to traverse the wilds of Milwaukee Ave to get there (and usually just blow past for a steak at the Acropolis strip club). But greatness has long held court in the little neighborhood that seems like a small town stapled to the city. It's a breezily walkable departure from the bustle of the city, as if Norman Rockwell's America set up shop next to the hipsters and started serving incredible food without making a fuss.
The moves: Top-tier, no-frills sushi joint Saburo's has had folks standing in the rain for an hour since long lines at no-reservation spots was the norm, but it's also the anchor for perhaps the city's most vibrant East Asian scene outside of Roseway's Little Saigon. Newly minted dumpling king Wei Wei brings much-needed Taiwanese dumplings to the City of Roses, while Jade hits both French and Vietnamese cuisine in a teahouse that showcases how truly great macarons and rich pho complement one another. The crew from lauded steakhouse Laurelhurst Market has transformed Reverend's BBQ into one of the best-kept smoker secrets in Portland (get the curry-spiked fried chicken with your Carolina pulled pork) and celebrated/underrated chef Anthony Cafiero of defunct gastronomy spot Racion has found comfort making one of the city's best pot pies at underground speakeasy Bible Club, one of Portland's best new bars.
Need a great gastropub for cocktail/food pairings? You'll find it in Relish, where the daily happy hour includes a pork belly burger and an outstanding pear gimlet. A sandwich that rivals local legend Lardo? Hit Feastworks for the fennel-rubbed pork bomb or the corned beef & Gruyere. And, of course, there are cart clusters that give Downtown's pods a run for their money -- yes, we're recommending getting $4 hand rolls at the Zenbu sushi cart and bacon/goat cheese/strawberry jelly burgers at PDX Sliders, a weird combination that helped the cart make National Geographic's best burgers in America list, which is… a strange place for a burger list. But also deserved. -- Andy Kryza, senior Food & Drink editor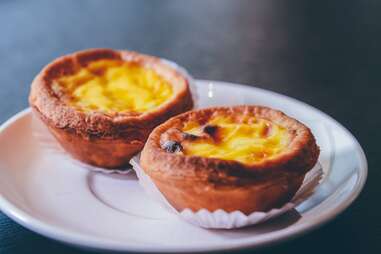 The Richmond
San Francisco, California
The deal: So many neighborhoods in SF are so very hyped for eating. The Mission. Hayes Valley. The Tenderloin. North Beach. But the best eating 'hood in the entire city also happens to be relatively under-hyped. Possibly because it sits out by the Pacific, past Golden Gate Park, and doesn't get any tourists. Or possibly because people wrongly only associate it with East Asian food. Whatever the reason, let's all just be happy that you can go to the Richmond and eat like a king without waiting in infinity lines like a peasant.
The moves: If you want dumplings, head to Wing Lee and Shanghai Dumpling King. Maybe some Michelin-starred sushi? Wako is your joint. Delicious Burmese tea-leaf salads? You can hit Burma Superstar or avoid the lines at B Star. Dim sum? Good Luck Dim Sum and Dragon Beaux. If you're craving a sandwich, you have no choice but to hit Arguello Super Market's roasted turkey version (it's the best in the city). Underrated pizza places exist like Fiorella and Pizzetta 211. The best margarita in AMERICA at Tommy's. Desserts at Marla Bakery. It goes on and on… -- Kevin Alexander, national writer-at-large
White Center
Seattle, Washington
The deal: It might seem like a cop-out to call out a place that even the New York Times has realized is the Emerald City's unsung neighborhood, but it somehow managed to miss nearly everything that makes White Center great (hint: it's not the pizza). Technically just south of Seattle's borders in unincorporated King County, White Center's a haven of diverse flavors and relative affordability in Seattle's sea of often overpriced and gentrified neighborhoods. Only in White Center can you find the kind of streetside grilling you'd encounter in Hanoi just a block from a Mexican butcher shop. It's the kind of place where adult video storefronts face off against Asian-Cajun seafood houses and you can stumble out of a dive bar and into a Cambodian restaurant. In short, it's glorious.
The moves: Perhaps the most well-known stalwart of the 'hood is the Salvadorean Bakery, where everyone knows to go for their pupusa fix (get the chicharron and the cheesy chicken) or to pick up a tres leches cake, but that's just the start. Pho and bánh mì outlets pepper the area, with 88 Restaurant the best of the former and Huong Xua the latter. Carniceria El Paisano operates not one, but two must-eat places in the 'hood: a kitchen and roaster where you can get chicken by the quarter-pound and some of the best salsa in town, and a butcher shop around the corner where you'll snag the city's best tamales.
For the spiciest meal in Seattle, head to Crawfish House for a Vietnam-meets-Louisiana feast and get your crab/crawdad boil cranked up beyond the menu's five-star spice index (but we don't advise going over 15). Cool it off with donuts at Golden House Bakery & Deli, or find your fried deliciousness in Native American form at newcomer Momma Bear's Fry Bread. Then, who knows… maybe that adult video store. -- Naomi Tomky, contributor
Petworth
Washington, DC
The deal: It's almost like the residents of Petworth have been trying to hide their perfect little neighborhood from the rest of us. But it's such a freakin' idyllic place that we can't even be mad at them. If you're not a newlywed or a new parent searching for a safe and quiet spot, then you're probably not going to Petworth unprompted. But you should be. Petworth hasn't been on the food & drink radar long enough to get flat-out mobbed by scenesters on the hunt for the next hotspot, but it's only a matter of time before they mingle with your kids over some high-end Japanese fare.
The moves: The neighborhood lost a few favorites this year (RIP Chez Billy and Crane & Turtle), but there's no lack of newcomers to fill the void. Timber Pizza Company is basking in rave reviews for charred pies paired, interestingly, with roasted-pork empanadas, while Little Coco's is making itself at home in the neighborhood as the go-to pizza and pasta joint for those looking to pair casual and trendy. The team from Hank's Oyster Bar retrofitted an old church into The Twisted Horn, preaching the holy trinity of craft cocktails, hand-pulled mozzarella, and biscuit waffles.
Meanwhile, two DC natives transformed a row house into the sprawling Homestead, where lamb bacon sliders with tzatziki and goopy raclette cheese platters meet East Coast traditions like lump crabcakes. New places are popping up on the regular, too -- next month will see the arrival of Japanese concept Himitsu and Ten Tigers Parlour, a Victorian-era bar with pan-Asian fare. Which is to say, don't expect this area to be underrated much longer. -- Lani Furbank, contributor
Sign up here for our daily Thrillist email, and get your fix of the best in food/drink/fun.