Once Upon a Time... in Oscars Candyland
I'm going to let you in on a secret: this story went extra on us. We were going to show you how to create a candy platter (remember our charcuterie and cheese board?) for your Oscars viewing party -- because nothing goes better with movie-watching than candy. Cute, right? But then we brought in astronomically inventive food stylist Victoria Granof to collaborate with us. And because both the movies and candy are about fantasy, and because hello, this is Thrillist at the helm, it quickly became obvious that we were going bigger with this one.
Just as a director creates their own world within the frame of a movie, Granof created entire worlds built of candy inspired by four of 2020's Oscar nominees -- candyscapes, if you will. Thrillist photographer Cole Saladino captured the full glory. And then Esther Zuckerman, Thrillist entertainment's resident Oscars expert, who has been obsessively covering this year's race all season (listen to her and fellow senior writer Dan Jackson break down their predictions on our podcast) added commentary about each of the movies Cole photographed.
Look, who else but our team of fearless weirdos here at Thrillist is audacious enough to pull off something like this? On with the show.
'Marriage Story'

| Food styling by Victoria Granof; Photo by Cole Saladino/Thrillist
No, this spread of crushed candy hearts is not for Valentine's Day. It's in honor of Noah Baumbach's Marriage Story, a movie about divorce. In the film, Adam Driver and Scarlett Johansson star as Charlie and Nicole, a couple going through the painful process of separating, made only more painful by geographic distance and the meddling of lawyers. So, yes, our choice of sweet might be a bit bitter, but what makes this drama wonderful is how love is ever-present even amid this breakup.
With best actress, best actor, best supporting actress, and best screenplay nominations, Marriage Story looks like a strong contender. The film won raves at the festivals for its even telling of a couple's unraveling union. The dual portrait structure shows each spouse re-examining their lives and desires within a system seemingly designed to make people fall out of love. It's worth noting, however, that Baumbach was not nominated for best director.
'1917'

| Food styling by Victoria Granof; Photo by Cole Saladino/Thrillist
Sam Mendes' 1917 is an intense depiction of two British soldiers who are sent on an impossible mission during World War I. The director and cinematographer Roger Deakins (both Oscar nominees) shoot the action as if it were in one-take, tracking their heroes through trenches and fields. A battle scene is recreated here with little gummy soldiers on antique burlap, surrounded by burnt brown sugar "sand" and scattered cannons.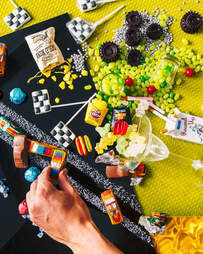 'Ford v Ferrari' and 'Once Upon a Time... In Hollywood'

| Food styling by Victoria Granof; Photo by Cole Saladino/Thrillist
Journey back in time to mid-Century America in both Ford v Ferrari and Once Upon a Time...in Hollywood. The first is the true story of Carroll Shelby (Matt Damon), Ken Miles (Christian Bale), and the grueling 1966 Le Mans in which the American motor company showed up the Italian reigning champs. The second is Quentin Tarantino's alt-history of 1969 Los Angeles, which rewrites the Manson Murders. So we've got chocolate cars, candy cigarettes, and even some margarita flavored goodies (thanks, Jelly Belly, for the jelly beans!). Rick Dalton would be seen drinking nothing else.
Considering the Ford v Ferrari lead actors, director James Mangold, and the screenwriters were all passed over for nominees we're a little surprised this got a nod for best picture. But who knows, this so-called dad flick could come up from behind. On the other hand, Hollywood loves a story about itself, so how can it resist Tarantino's critical and box office success, Once Upon a Time… in Hollywood?  
All right, that was fun. We did only four of the nine nominees, so we hope you're inspired to create your own insane, over-the-top, this-time-I-went-too-far candyscapes for the others. Play with it. Go wild. It's candy. You literally cannot make mistakes with candy.
Sign up here for our daily Thrillist email, get Eatmail for more food coverage, and subscribe here for our YouTube channel to get your fix of the best in food/drink/fun.