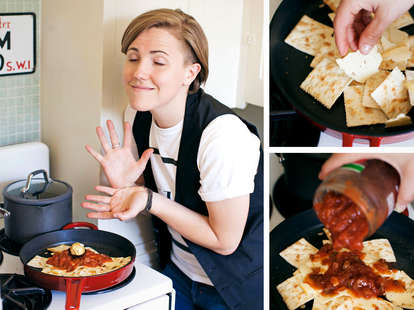 Hannah Hart has made a career out of doing what most people do on the weekends anyways -- stumble into a kitchen, throw whatever's left in the cabinets onto the stove, and praying what comes out is edible. And, finally, she's taken all her accumulated wisdom about eating and drinking (gleaned from multiple episodes of My Drunk Kitchen, we're guessing) and put it into a book, which hit bookshelves earlier this week. If you're too lazy to go to a bookstore, you can buy it here.
To help celebrate the release of her book, she's shared with us a recipe for her Saltine Nachos, which you can see below. Bon appetit!
Saltine Nachos Recipe
"Invention, it must be humbly admitted, does not consist in creating out of void but out of chaos."
- Mary Shelley
You know how you set a goal for yourself but sometimes you feel that you don't have the resources to achieve it? Well, if you don't think you can get there with what you've got... fear not! You can still aim to do your best and that will be one step closer, don't you think? For instance, let's say you want nachos, but you don't have any tortilla chips... well, that's okay! Sometimes the nachos you want for your life won't be made of tortilla chips. You can try saltines instead. Don't give up, just make do.
Cocktail
Martini. Because that sounds capable and sh*t.
Ingredients
- A bag of saltine crackers (if stale, that's okay too, no judging)
- Salsa
- Cheese
- Martini olives? Because that's what you're drinking?
- I think the red things are pimentos.
Instructions
No judging. Just progress. That's the theme of this meal. You want nachos, and dammit you might not have the traditional ingredients, but you've got the first steps: drive, determination, an appetite for success, a thirst for conquest. Maybe you don't have salsa? No problem. Just use pasta sauce. If anybody turns their nose up at your creation, just turn away from them and keep your eye on the prize. Seriously. Because if you put it in the oven it might be burning.
Life Lesson
In adulthood, you will still have to overcome difficulty, but you will have increased your ability to problem-solve.
Lee Breslouer writes about food and drink for Thrillist, and hasn't had a saltine since 1997. Follow him @LeeBreslouer even though he never posts recipes.