Nachos Will Not Save Your Relationship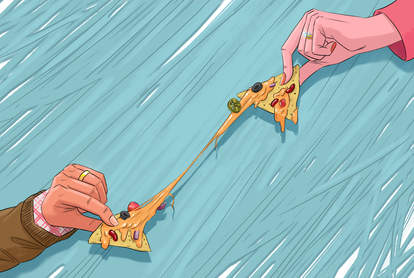 You could say my entire childhood was one long master class in nachos. Growing up in California, I remember sharing plasticky cheese sauce nachos with my stinky brother at Pee Wee football games, the first time I wheedled mom into allowing me to order the enormous Nachos BellGrande® instead of the puny Nachos Supreme® at the Taco Bell on fast food row, and the time a cool babysitter showed me I could make microwave nachos by combining the stale bag of tortilla chips from the bottom of the pantry with the forgotten shredded cheese hiding in the deli drawer. In high school, a youth group friend showed me it was also a-okay to eat the expired salsa tucked in the refrigerator door if you scraped the mold off the top.
Once I got to college, I upped my nachos game and started making them from scratch to woo my boyfriend into marriage with my cooking skills. It began with shredding cheese by hand (instead of using the bagged stuff) and adding taco meat I'd made by combining hamburger and a seasoning packet. But later, it progressed to so much more. I learned how to make beef barbacoa and fresh pico de gallo, adding homemade black beans and sliced green onions. Then I added the pièce de résistance to my repertoire: tortilla chips from scratch.
Nachos were no longer a thrown-together snack made of forgotten processed foods, but a two-day cooking extravaganza, culminating in a heaping pile of crunchy-salty-cheesy love on a plate. I loved the way my boyfriend's friends would scarf down my food and comment on how lucky he was to have a girlfriend who could concoct nachos this good.
In 2004, we moved from California to the Washington DC area, bought a home together, and became engaged. We seemed to be off to a perfect start.
There I was, trying to use nachos to get love.
Flash forward to Super Bowl 2013. We're married now and my husband's favorite team, the San Francisco 49ers, is playing. But it's not a happy marriage and it hasn't been for a long time... maybe ever. My father-in-law had died of sudden illness while we were away on our honeymoon, and mine nearly died in a car accident, so our married life got off to a rocky start we never recovered from.
Yet over our years together food had become my love language. Although it's just the two of us at home, I know he's excited about his team playing in the big game. So I'm standing in the kitchen of our home, just feet from where he proposed to me on our deck under the night sky, feeling sad, alone, and hoping the nachos I'm making will reconnect us. That's right, I'm a grown woman who owns her own business and holds a master's degree, but there I was anyway, trying to use nachos to get love.
Even if the snack can't solve relationship issues, they've taught me something important about myself.
Have you ever noticed the more out of control your life feels, the more you will try to seize power any way you can? When I served him the nachos I spent two days making, guess what my husband did? He ate them like they were ordinary nachos and not something I was counting on to win back his love and save us from divorce. He enjoyed the nachos, even thanked me for them, but that didn't change the way he felt about me. Two years later I would arrive home from yoga class to divorce papers taped to my front door and my husband already engaged to another woman.
Now, let me pull you aside here and tell you something important. First of all, I may have felt devastated when my marriage ended, but I'm now much happier on my own than I ever dreamed I could be. Secondly, I'm now one-hundred percent certain nachos cannot save a relationship. Turns out, neither can tacos, homemade muffins, cheesecake, meatloaf or the most perfect broiled chicken breast you have ever tasted in your life. Trust me, I tried them all, and this isn't anywhere close to an exhaustive list of my culinary overtures.
Looking back, it seems crazy I'd let myself get to such a desperate place I believed nachos had a shot at saving my marriage. But even if the classic Super Bowl snack can't solve relationship issues, they've taught me something important about myself. When I'm stressed, I like to cook. Making the perfect plate of nachos is a way of nurturing myself. Expressing my creativity through cooking helps to calm and center me. I like to think of it as meditation with a side of chips and cheese. Nachos have been a touchstone of happiness for me through life's ups and downs and I'm sure that will continue wherever life takes me next. They still fill my mind with happy memories of childhood. And you can bet I'll be smiling and digging into a plate of my gourmet best, made just for me, this year as the 49ers take on the Chiefs.
Sign up here for our daily Thrillist email, get Eatmail for more food coverage, and subscribe here for our YouTube channel to get your fix of the best in food/drink/fun.