The 10 most insane burgers of 2014 (so far)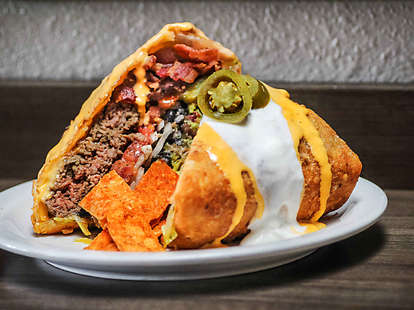 Because we come across too many amazing burgers to commemorate them just once a year, we've rounded up our favorite beefy beauties from the last few months. If this is what 2014 has bestowed on us so far, we feel pretty good about the rest of the burger calendar year.
Beef + jalapeño slices + jalapeño poppers + taco sauce = a burger born out of a Willie Nelson fever dream.
The NY sensation was mercifully expanded to the masses for a limited run courtesy of Goldbely back in May. We hope you've received your shipment by now, or else you're in for some truly gnarly meat.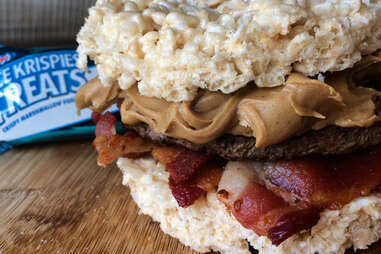 Not a fan of brioche? Then give yourself the ultimate treat: a burger with Rice Krispies Treats for buns. It's also got a ton of PB and bacon, just to keep your taste buds on their toes.
Any helping of seasoned chicken, yellow onion, green bell peppers, queso, and lime is cool by us. But put it between a bun and you have a Tex-Mex innovation for the ages.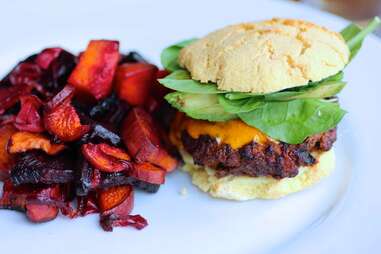 Yes, that's a burger made with a grain-free bun of almond and coconut flour, with a grass-fed beef patty and a side of baked sweet potato fries. Fit for any CrossFitter.
Much like the real Marisa Tomei, this pork belly-and-strawberry harissa beauty stands significantly taller than Joe Pesci, with or without heels.
Because you should never have to wait in line for a burger and a funnel cake and a ride on the Tilt-A-Whirl (and especially not in that order), Culinary Bro-Down put together this one-stop frankenfood. Enjoy with the bearded lady.
These guys might slightly resemble White Castle sliders, but the onion soup-braised beef tongue patty, green onion slices, grilled pork belly, rice vinegar pickles, hoisin mayo, and steamed bao buns put them a cut above Harold and Kumar's favorites.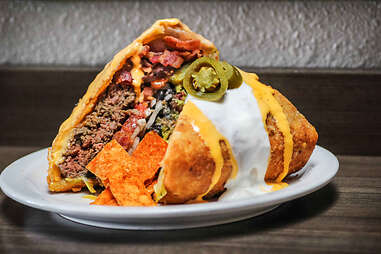 We blindly support anything Slater's 50/50 does, but perhaps their most stunning achievement came this past May, when they ran a bracket of their greatest burger hits. It included this hot mess (in a good way!), the Supreme Nacho Burger.
Even though they're Canadians, the Epic Meal Time team graciously put together this 1ft-tall, 18in-wide monster in tribute to 'Merica for the 4th of July. It mashed together everything from ribs to a deep-dish pizza, and made the Statue of Liberty shed a single, rusty tear.
And if you need even more burger recommendations, you should check out our list of the 33 best ones in the country.
Kristin Hunt is a food/drink staff writer for Thrillist, and doesn't know which of these she wants to eat first. Follow her to indecision at @kristin_hunt.