Waffles are so beloved in this world that the Belgians have basically claimed them for their own. Pancakes must be mad jealous. And because tomorrow is National Waffle Day, we're not just going to press some batter in our waffle iron and call it a day -- we're seeking out these wonderfully weird variations.
Trust us: once you've had waffle nachos, you'll never go back to regular ones.
Recommended Video
This Avocado Is Stuffed With Barbecue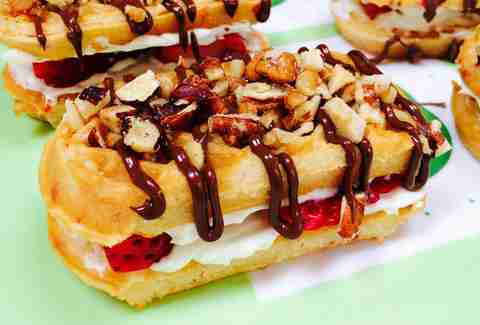 These so-called wafflers are stashing cheesecake filling and berries in the middle, and chopped nuts and melted chocolate on top. They're also fresh outta the freezer, because, much like Snickers, these suckers are better frozen.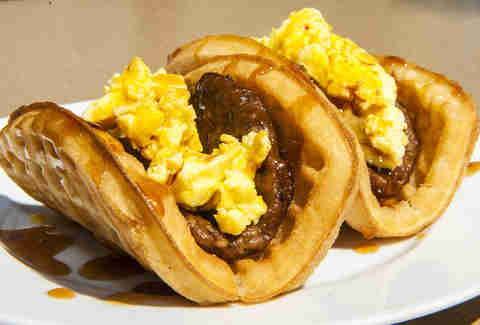 The delicacy that heralded the beginning of Taco Bell's banging breakfast menu, the waffle taco remains a solid 9am drive-thru decision.
Waffle Monte Cristo
Honestly, bread was getting a little full of itself, so Take a Megabite took that foodstuff down a peg by replacing it with waffles on this incredible Monte Cristo sandwich.
Continuing the important work started by Popeye's, the reliably great Host the Toast made these nugs with waffle batter, and dipped them all in a maple honey sauce. Great news for everyone... although we're not sure why Heinz is ignoring our requests for a mass-market version of that crucial condiment.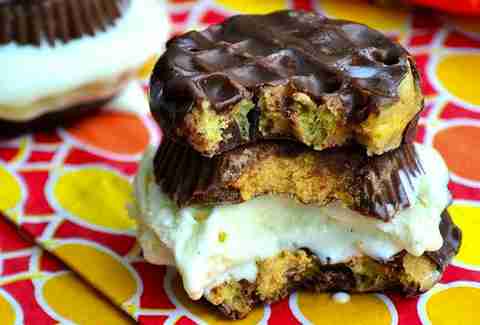 Reese's Waffle Ice Cream Sandwich
What do you do when you've got Eggo Minis, Reese's peanut butter cups, chocolate, ice cream, and an endless imagination on your hands? You craft this ice cream sandwich, which might've just edged out the Choco Taco as our go-to frozen treat.
Chicken and Waffle Sliders
Served at Brooklyn's Pork Slope, these mini versions of your beloved chicken and waffles come with their own spicy maple syrup. And also bacon and cheese, because that chef is no dummy.
This may just be a creatively-ironed slice of pizza, but it is ingenious, and deserves your goddamn respect.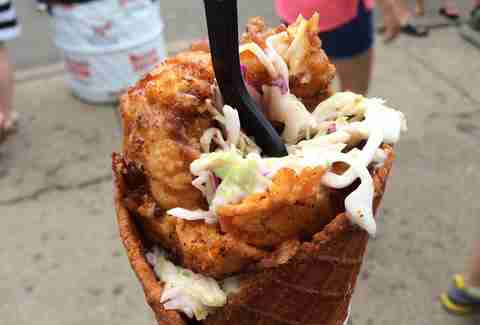 The Wisconsin State Fair put all other fairs on notice when it dropped this waffle cone stuffed with fried chicken, coleslaw, and beer-candied bacon. Frankly, we're surprised people in Wisconsin have managed to eat anything else since.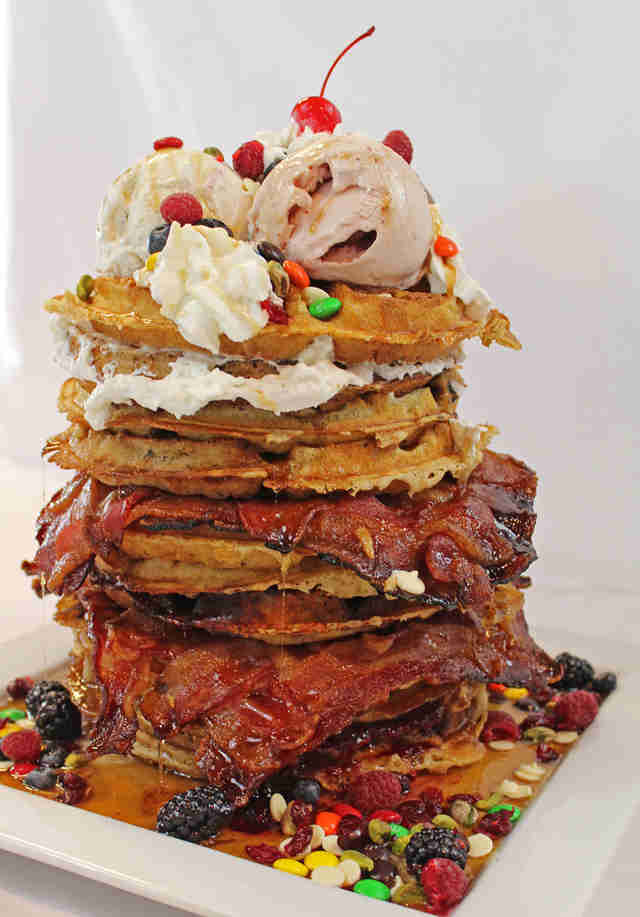 Waffles + bacon + candy + ice cream = a tower that's way tastier than that lame one in Pisa. People should be lining up to take their photo next to this.
Waffle Breakfast Nachos
You scrolled through this whole article for those nachos we promised at the beginning, and here they are. Gaze upon their splendor, then go make them with this recipe.
Kristin Hunt is a food/drink staff writer for Thrillist, and thinks she should really invest in a waffle iron. Follow her at @kristin_hunt.