Chenae Bullock

| Courtesy of TILT Holdings
Chenae Bullock

| Courtesy of TILT Holdings
From South Dakota to Nevada, Native tribes are getting into the mainstream cannabis game, and they're doing it on their own time. As sovereign nations, these tribes have the right to conduct cannabis business in states that have legalized cannabis, even if the state government has not yet brought their cannabis system online. This is federally possible following a 2014 Department of Justice memo that allows recognized tribes with responsible cannabis businesses to operate without prosecution.
Although, if we're being real, cannabis has been grown on these lands for a long time. Long before there was a federal government deciding what plants could or couldn't be grown in this country.
"Cannabis has been a gateway to Indian country for a lot of people, for a long time," says Chenae Bullock, a Shinnecock Indian Nation tribal member and descendant of the Montauk tribe on Long Island, New York. "We've had cannabis laws since before this country was a country. What's different now is the incentive for businesses to want to work with tribes on cannabis."
Bullock is currently developing her Nation's cannabis business in the Hamptons as managing director of Little Beach Harvest, a medical cannabis operation established by and located on lands of the Shinnecock Nation. LBH recently announced a major partnership with prominent multi-state operator TILT Holdings that will allow them to scale operations while maintaining control of them. In a particularly cruel turn of legislative red tape, tribes can't access social equity programs that stem from the state government's cannabis laws, so this kind of partnership with a larger company that respects tribal sovereignty is a gamechanger.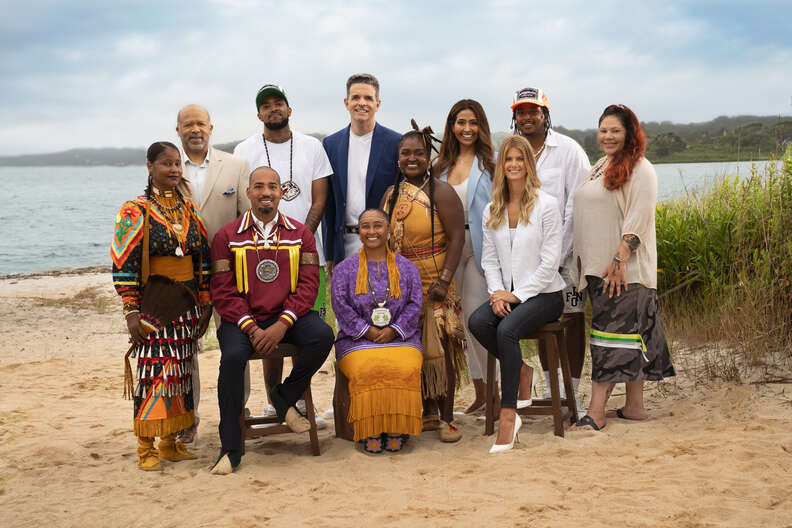 Raised with the teachings and lifestyles of Shinnecock Nation elders, Bullock has always considered cannabis part of her life. Her grandfather grew cannabis on the family homestead, and her grandmother cooked with it. Many of the elders she spent time with were the activists of the past century, not only introducing her to plant medicine but to the importance of cultural preservation and maintaining honored traditions.
"My mom always made sure I spent time with the elders first when I was young—staying with them, helping them around the house, learning from them and hearing their stories," Bullock remembers. "As I got older and started to find my own voice, I started speaking out more about the desecration of our ancestral burial sites and seeking out the people behind efforts like establishing the National Day of Mourning. Watching these elders age and pass on, it's compelled me to pick up that torch."
The timing of this call to action could not be better. Right now, multiple states have passed cannabis legislation, but are mired in delays getting licenses issued and shops open for business. This gives the Shinnecock Nation, in addition to other New York-area tribes entering this legal gray area, a head start kicking off retail sales and building relationships with the community. To Bullock, however, this opportune timing is bigger than getting a head start on sales.
"In most businesses, there's this competitive energy," Bullock says. "A lot of times that competitiveness is rooted in a colonist mindset. I like to aim for doing what is best for the Shinnecock Nation. Whatever New York state is doing is what they're doing. We handle things as the People of the Stony Shore, the way we've done things since time immemorial."
"We've had cannabis laws since before this country was a country. What's different now is the incentive for businesses to want to work with tribes on cannabis."
Bullock's group has established its own Cannabis Regulatory Division with Shinnecock board members that are already working on issuing licenses for growing and sales. She is still proud of her people to be where they are at this point in time, and she sees this advantageous window as a chance to somewhat balance the scales for Native commerce.
"The first commerce in the state of New York began on the shores with our people's whaling businesses, our fur trade, our wampums," Bullock explains. "What happened was we were left out of that market when wealth began being built. There is an opportunity right now to be able to catch up in regards to commerce, through cannabis."
While TILT will assist in getting operations going, the tribe will be reflected in every way. Members who are experienced and interested in cannabis cultivation will inform production processes, and the grow itself will hire tribe-owned construction businesses whenever possible. This is about stimulating the tribal economy in general and partnering with tribal ancillary businesses. There's a grander vision of the retail destination, where people can visit Shinnecock land, peruse Shinnecock-curated products, and relax and converse in the wellness lounge.
"It comes back to inherent responsibility," Bullock says. "It's not even about my family or just Shinnecock. It's about inclusion of Indigenous voices and leadership in an industry that we've already been doing on our lands for decades. It's about implementing real change at a crucial time in this new industry and preserving this ancient plant medicine that could really heal the world in many ways."
Lauren Yoshiko is a freelance writer and editor based in Portland, Oregon. She writes
The Broccoli Report
, a bi-weekly newsletter for creative cannabis entrepreneurs.