Only in NOLA: Tailgating With Gumbo, Boudin, and Charbroiled Oysters
Boudin and jambalaya from Dave & Lady Di Glaude's Tailgate

| L. Kasimu Harris
Boudin and jambalaya from Dave & Lady Di Glaude's Tailgate

| L. Kasimu Harris
The best tailgating in New Orleans happens next to the Mercedes-Benz Superdome, under the I-10 Claiborne and U.S. Highway 90 overpasses, where an exit ramp runs between them. Gumbo is served there. Yes, gumbo.
The Superdome is on Poydras Ave., and the tailgating starts about three blocks away and intensifies as you get closer. I meander to various parking lots filled with cars, RVs and people, where I can see a plethora of grilling from the sidewalk, a norm for New Orleans.
But, going deeper into the party there's a delegation from Mississippi boiling water for a junk pot that includes turkey necks, sausage, pig feet, chicken and cabbage. It's 9:30 a.m., and in another parking lot, I eat a cheeseburger and grilled shrimps for breakfast. Beers and Bourbon are offered, but I'm working.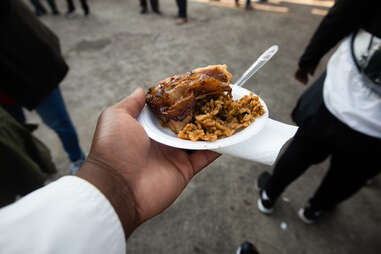 In the Superdome's parking lot, Dave & Lady Di Glaude's Tailgate have a DJ, an open bar, and they're serving baked chicken, jambalaya and boudin: rice-filled ground pork, with onions, and seasonings, wrapped in a casing and usually steamed. Both Saints and San Francisco 49er fans feast on boiled seafood, cajun sausages and fried catfish with macaroni and cheese, and drinks are poured. That's normal for folks from New Orleans. But several social groups from Violet, La., about eight miles outside the city, take their tailgating menus to extraordinary places. The Violet Tailgaters, Party Boys and Black Pot Catering occupy the area under overpasses, but you can hear their DJs from a block away.
Tailgating in most NFL cities is done in parking lots--much different from tailgating on the majority of college campuses, with their acres of land to accommodate droves of fans. Despite being a lifelong Saints fan who's attended games since the 1990s, I didn't tailgate in New Orleans until 2013. For most of my life, the Saints were bad and I loved them anyway.
I first tailgated in undergrad at Middle Tennessee State University. When I graduated in 2004 tailgating was still nascent, but I could always count on some fried catfish during homecoming. For graduate school, I went to Ole Miss, where its venerable tailgating area The Grove is consistently ranked as the best in America.
The Grove is ten acres of picturesque green space that packs in 100,000 fans beneath various tents adorned with chandeliers and silver-plated candelabras, lace and tablecloths. I remember the experience more than what I ate, but I do still long for the delicious stewed rabbit dish I once had, prepared by some fans from Louisiana.
In New Orleans, on the other hand, tailgating isn't beautiful. The stadium is downtown, across from City Hall, in an area filled with high-rise office buildings, condos, hotels and parking lots. But what the city lacks in green space, its fans more than compensate for with their dark brown roux and golden fried deliciousness.
"It really blows people's minds, like you're really cooking gumbo out here," Kenny "Squirrel," Rhodes told me one Sunday morning when I arrived at his party. He and his crew, mostly from his Violet, La. business Black Pot Catering, started cooking at 7 a.m. that morning. Rhodes made the gumbo from scratch in a 30-gallon cast iron black pot that included chicken, andouille sausage, and green onions. For noon games, they start cooking at 7 a.m and finish breaking down by 5:30 p.m. Rhodes, a season ticket holder, said the games got too expensive. So six years ago, he and his crew decided to still go to the Superdome, but skip the game.
"People can't afford the games," Rhodes told me. "And people can't afford to enjoy themselves, so we just provide everything so that they can." From toddlers to grandparents, friends, families, fraternity brothers, strangers like me, a law enforcement officer and even a delivery woman parked her truck to get a plate.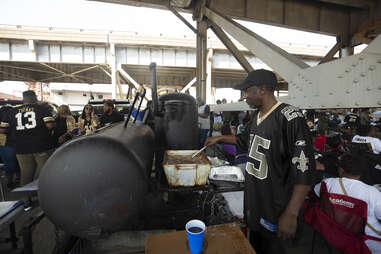 Typically Black Pot Catering keeps the menu fresh, even though they consistently get requests for repeat items. On Sunday, Kenny Rhodes' cousin Tremayne shook the batter off of oysters that he dropped into the fryer. He had already done several batches of chicken wings. Then, around half time, he cleaned the membrane off of a rack of ribs, cut them up, seasoned them, and battered them before dropping them into the fryer. They served the ribs with a spicy citrus glaze. This was in addition to the seafood pasta with shrimp, crawfish, crab meat, smoked sausage, andouille sausage, penne pasta in an alfredo sauce, and the red beans and rice that were already on the table.
Nearby, Troy Douglas from the Party Boys prepped chargrilled oysters with granulated onion and garlic powders, minced garlic and garlic butter spread. They were already shucked, so he put then in some muffin tins, and took more food off the grill. It was a row of tables lined up, a large flat screen TV played the game and the DJ played hip-hop during the commercials. The boiled turkey necks they were serving were tender, spicy, and steaming hot.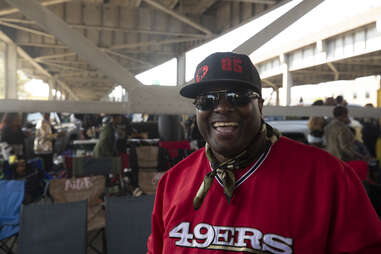 Still under the overpass, across an exit road, the Violet Tailgaters held court. They begin in 2002 with seven people and have since grown to 20. They had a custom-made grill where they fry chicken on the back. Derrick Campbell usually mans the grill, but as a 49ers fan, he had taken the day off. The wives usually make the sides, which were arranged on four tables shaped in an L. "But we only have one person make the beans," Campbell told me. And that's Eugene "Pops" Maurice. "If he ain't here, we don't have beans." On Sunday, Maurice made butter beans with sausage served over rice.
Families ate together, friends kibitzed and drank, the DJ blasted music after each touchdown. The Saints scored early and often but still fell to the 49ers 48-46. The last regular-season home game is on Monday Night against the Indianapolis Colts. Rhodes and the rest of the crews from Violet will be there. And with 10-3 record, the Saints are in a position to host a playoff game.
Rhodes said, "As long as we're winning, we're going to be out here cooking."
Sign up here for our daily Thrillist email, get Eatmail for more food coverage, and subscribe here for our YouTube channel to get your fix of the best in food/drink/fun.
L. Kasimu Harris is a New Orleans-based storyteller, whose writing has appeared in local and national publications, including Best Food Writing 2016. As a photographer, he's participated in more than 20 group and three solo exhibitions. Find him on Twitter and on Instagram.