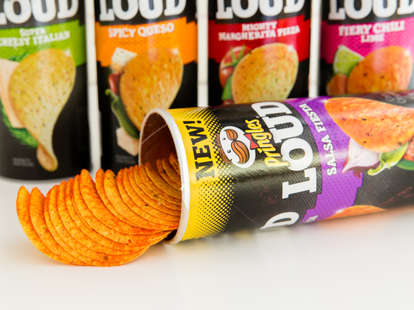 If Pringles is known for anything -- other than making it super hard to get those last crisps at the bottom of the can, but whatever -- it's for its insane array of flavors. Seriously, the company has more than 100 flavors sold in 140 countries. Today, five more flavors were added to Julius Pringles' already bountiful roster.
Pringles' new LOUD crisps (the uppercase letters mean you have to scream every time you say it) are here with bold new flavors that are literally louder when you bite into them. So please, don't snack around sleeping babies. Or actually, do -- they'll understand when they're older.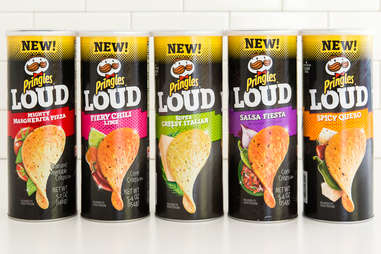 We were able to taste-test the new flavors and here are our thoughts:
Spicy Queso: My personal favorite. The flavor of this corn-based crisp immediately appealed to me, but also reminded me of something: Taco Bell. It tasted exactly like the spicy/cheesy fillings Taco Bell has become so beloved for -- despite not being "officially" linked up with the fast-food Tex-Mex leviathan. Still, high praise for a little chip.
Fiery Chili Lime: These specific crisps are made of corn, and have a spicy tomato base with a big ol' kick of chili lime on top. They taste like lime tortilla chips dipped in salsa. Not a bad look.
Mighty Margherita Pizza: Pizza is my personal favorite Pringles flavor, so I was mainly concerned with how this Old World Neapolitan take would live up to its predecessor. And it didn't disappoint. You have that classic Pringles Pizza taste, with a little hint of basil. This does grandma's pie justice, so no one will be hit with a rolling pin at Pringles HQ.
Super Cheesy Italian: Possibly the "LOUDEST" out of all the LOUD flavors, this chip basically attempts to create the most intense bite of cheesy, Parmesan-y flavor ever created in crisp-form. It does the trick, but might actually be too cheesy for snackers with sensitive palates. So, be warned.
Salsa Fiesta: Essentially, these taste like the corn-based crisps, completely submerged in some spicy salsa. Probably one of the hotter crisps Pringles has to offer. Again, not a bad thing.
Overall this is definitely the most potent array of flavors Pringles has ever produced... and more importantly, they're all pretty damn good (especially the Spicy Queso, but you already know that). You'll be able to differentiate the new flavors by their sleek black packaging, and the extremely loud **crunch** emanating from nearby snackers' faces.
They're all available today. Get at it. Bring earplugs.
Sign up here for our daily Thrillist email, and get your fix of the best in food/drink/fun.
Wil Fulton is a staff writer for Thrillist. He actually blames Gwyneth Paltrow for most of the world's problems. Follow him @wilfulton.