Taste Test: We Tried Starbucks' new Sandwiches and Wraps
All photos by Laura Murray/Thrillist
When Starbucks comes up in conversation, it's usually in the context of Flat Whites, Pumpkin Spice Lattes, or comically misspelled names on cups -- brisket and chicken sandwiches, however, not so much.
In an effort to expand its offerings, the coffee giant has rolled out some new "Grab-and-Go" wraps, sandwiches, and snacks in time for summer, and we picked 'em up to see how they taste firsthand.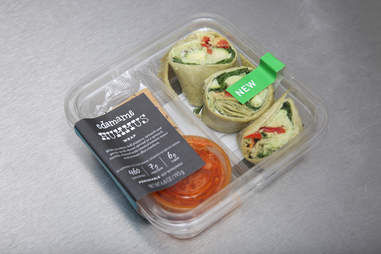 Edamame Hummus Wrap
I'm not the biggest hummus lover around, but the flavors of the edamame hummus and garlic-herb cheese blended together nicely, while the sweet bell peppers and crisp zucchini provide a pleasantly clashing crunch. Eating it all together is important, too, as the sesame-flax crackers give much needed saltiness lacking in the wrap itself. The roasted tomato sauce was super vinegary, though -- not exactly what you'd expect/hope for in a tomato sauce, so I ended up skipping it.
Thai-Style Peanut Chicken Wrap
The chile-lime veggie slaw tastes super fresh, and tossing back a grape with each bite gives the whole wrap a nice pop of juicy sweetness. Our box definitely had more slaw than chicken, so your mileage will probably vary when it comes to those 11g of protein. However, that peanut-coconut sauce really kicks things up a notch, and it actually gives a surprising and pleasant kick of spice on the back end -- not much coconut flavor in there, though.
Chicken Artichoke Panini
I didn't consider myself a fan of artichokes, but the combination of sun-dried tomato pesto and provolone cheese mixed so well with the grilled chicken that I forgot all about it. With all those juicy flavors jockeying for position on the inside, the crusty flatbread on the outside helped give the whole sandwich a solid, balanced feel, with a satisfying crunch following each bite.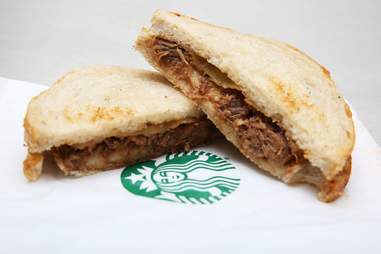 BBQ Beef Brisket on Sourdough
Finally, the main attraction: yes, Starbucks has a barbecue brisket sandwich on offer, and it's a lot tastier than your cynical nature might lead you to expect. The brisket in our sandwich was tender, lean, and juicy, and blended well with the beer-braised onions and Sonoma Jack cheese -- the latter of which could've been a bit meltier for our taste.
The toasted sourdough, meanwhile, gave the whole sandwich just the right ratio of crunchiness to chewiness, and soaked up the juices from the brisket nicely.
 
Conclusion
As stated earlier, while it might be tempting to shrug off Starbucks' forays into more elaborate food items as a shrewd corporate move, the reality is the sandwiches and wraps are actually way more balanced and flavorful than you might be prepared to admit. Give 'em a shot, although you might not want to look at the nutritional values first.

Gianni Jaccoma is a staff writer for Thrillist, and he'd prefer not to think about how much sodium he just ingested. Follow his brisket-breath tweets @gjaccoma, and send your news tips to news@thrillist.com