We tried Tic Tac's patriotic new Summer Ice Pop flavor
All photos by <a href="http://www.twitter.com/dinfontay" target="_blank">Dave Infante</a>
Tic Tacs have been around since the Summer (or at least, one of the seasons) of '69, so it's only fitting that the mintmasters elected to drop a new limited-edition flavor set in anticipation of this year's warm weather. Meet Summer Ice Pop Tic Tacs: a triad of seasonal pills designed to catapult you, taste-buds first, back to the halcyon Summer days of your childhood.
We got our hands on these vernal mints to put 'em through their taste-paces. Here's what you need to know.
Look & Feel
Classic Tic Tacs: Available in stark-white, seafoam green, and approximately 15 other colors, the original pill flavors are nothing short of resplendent.
Summer Ice Pop Tic Tacs: Given their name, these things are clearly an homage to the glorious childhood tradition of desperately chasing ice cream trucks down the block in the heat of August. But beyond that label lies a field of red, white, and blue, so these Tic Tacs are basically the pocket-friendly version of an American flag. That's serious festive firepower.
Advantage: Summer Ice Pop Tic Tacs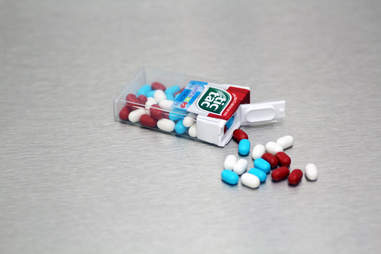 Price & Calorie Count
Classic Tic Tacs: $1.29; 1.9 calories per pill
Summer Ice Pop Tic Tacs: $1.29; 1.9 calories per pill
Advantage: Tie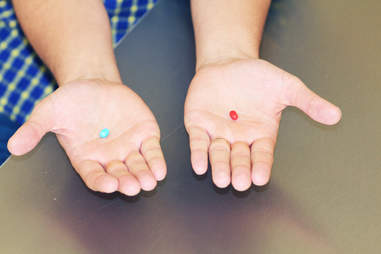 Classic Tic Tacs: Technically, this is totally possible if you buy multiple packs.
Summer Ice Pop Tic Tacs: Blissful ignorance, unseen reality -- it's all right there in the same package. Much wow, very convenience.
Advantage: Summer Ice Pop Tic Tacs
Tasting Notes
To ensure a knowledgeable but unbiased palate, we tapped Jesse, Thrillist Media Group's integrated marketing editor and a diehard Tic Tac enthusiast. "Prisons use cigarettes, but NYC grade schools used Tic Tacs... pockets of them," he says by way of explanation. "I'm pretty sure I could eat an entire box of orange any day." But how would Jesse's OG taste in Tacs receive the Summer Ice Pop varietals?
White
Official flavor: Lime
Jesse says: "It's got like, a limey thing going on here, but without that hard burn you normally associate with [white Tic Tacs] that makes it seem like they're destroying all the bacteria in your mouth. When you crush it up, you get a more intense version of a green freeze-pop flavor."
Blue
Official flavor: Berry
Jesse says: "It starts off like a blue freeze-pop, but then it becomes something totally different. This flavor definitely does not exist in nature -- not that that's bad. It's almost got a sour thing going on."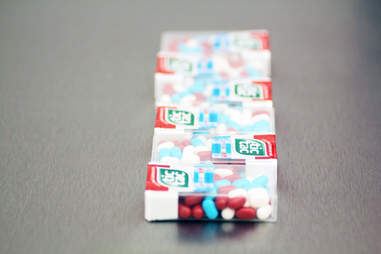 Red
Official flavor: Cherry (not Exotic Cherry, which is a whole other Tic Tac flavor)
Jesse says: I don't know if my palate has been ruined by the previous two, but I can barely taste anything. Shoot, I don't even know what you call this. Hey, try this Dave [motions to guy next to him]. What does this taste like?
Dave: "I think there's a little cherry in there. Yup, if you crush it up it's cherry."
How they stack up vs. the old guard
White (Peppermint): "That original deliciousness, man. Before Altoids burned your ass off through your mouth, these were there with that gentle, cool breeze. At some point, it doesn't even feel like the flavor is coming from the pill -- it just feels like your mouth is radiating mint."
Advantage:Classic Peppermint
Blue (Powermint): "Definitely more powerful than the standard mint."
Advantage: Summer Ice Pop's Berry flavor
Red (Wild Cherry or Cinnamon Spice; we tested the latter): "Once you get past that initial layer of sweetness, it reminds you of choking to death from trying to swallow a spoonful of cinnamon. I have tried to do that, and it's terrifying. [But this flavor] never gets so strong that you actually regret having one."
Advantage: Summer Ice Pop's Cherry flavor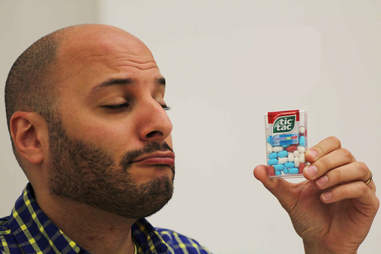 Takeaways
The Summer Ice Pop Tic Tacs hold their own next to their well-established breath-freshening brethren. Taste aside, their biggest strength is actually the color scheme: with Fourth of July just months away, it's never too early to put some America in your mouth.
Dave Infante is a senior writer for Thrillist. His breath has never been fresher. Follow him on Twitter: @dinfontay.