The Best Snacks and Drinks to Buy at a Nigerian Grocery Store
Instant noodles, crunchy fried dough, and malt drinks are at the top of the list.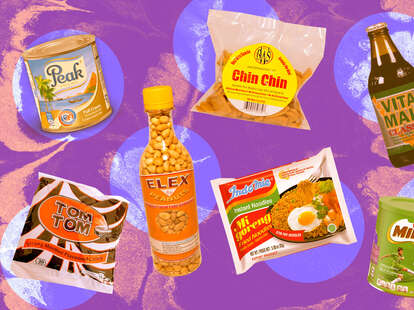 Design by Grace Han for Thrillist)
Design by Grace Han for Thrillist)
Texas is home to a large portion of the United States' Nigerian community. I was raised in Dallas, where I was fortunate enough to have grown up around many other first- and second-generation Nigerians. As a kid, one of my favorite activities was accompanying my mom to the Nigerian grocery store. Major grocery chains like Albertsons, Kroger, and Tom Thumbs abound in Dallas, but they paled in comparison to a place where the shelves overflowed with goods like crayfish, pounded yam flour, and egusi seeds.
While the name of the store has long become a distant memory, I can still vividly recall the childhood excitement of perusing through the aisles and, of course, begging my mom for item after item. I was enthralled by the fact that the bottles of Sprite and Orange Fanta were always glass, never plastic. At the register, there were small baggies filled with fried snacks or kola nuts.
While the store I grew up visiting in Dallas was owned by Nigerians, it also contained products that are more prevalent in other West African countries, like shito, a Ghanaian pepper sauce. I've spent the majority of my adult life living between New York City and Los Angeles, and in both cities, I've had West African food stores to provide me not only with necessary staples, but also with a sense of familiarity.
There are few things as comforting and nostalgic for me as enjoying the snacks of my childhood. If you're new to the world of Nigerian or West African grocery stores, here's a list of some of the popular snacks and beverages I grew up with.
Our favorite Nigerian snacks and drinks
Indomie Noodles
Indomie is a brand of instant noodles from the largest noodle producer in the world, Indonesia based, Indofood. While Top Ramen reigns supreme in the United States, Indomie is by far the most popular brand of instant noodles consumed in Nigeria. In the 1980s, Indofood partnered with Dufil Prima Foods, a Nigerian food company, and opened a factory in Nigeria. The rest was history. Indomie still continues to be exceedingly popular in Nigeria, and amongst diaspora Nigerians throughout the world. I'll take a bowl of Indomie with a fried egg on top any day.
Chin Chin
One of the most common items that I would find near the register as a kid was chin chin, since it's an incredibly popular snack in West Africa. They are small bites of really crunchy fried dough that have just the perfect amount of sweetness. Most recipes call for evaporated milk and nutmeg, so they have a richness to them that will have you reaching for handful after handful.
Vitamalt
Growing up, at Nigerian parties the 21-plus crowd would indulge in adult beverages, and us kids would knock back a bottle or two of Vitamalt, a non-alcoholic malt drink. Similarly to dark beers, Vitamalt has a nutty taste, but it's much sweeter. There are plenty of other brands of non-alcoholic malt beverages, but Vitamalt is the most classic, and in my opinion, it's definitely the best tasting.
Milo
While my classmates in school were used to Nesquik powdered chocolate, at home we used Milo, which is a malted chocolate powder made by Nestle. Though it's originally an Australian product, it is popular in many parts of Asia and Africa. Like other drinks made from chocolate powder, you mix it with either hot water, hot milk, or a combination of the two. Milo is made by evaporating the water from a syrup containing malted wheat or barley, which is vacuum sealed until it becomes small granules.
Tom Tom
While it's unclear how these black-and-white hard candies from the 1970s got their name, Tom Tom is by far the most popular candy in Nigeria. A product of Cadbury, they've got a minty, menthol flavor, which makes them especially popular when one feels a bit of a cold coming on. There are also less common flavors like Strawberry, Freshlime, and Honey & Lemon. Tom Tom is personally not my cup of tea, but the signature swirled black-and-white packaging is hard to miss.
Peak Milk
I don't think I have a single memory of my mom drinking milk from the carton or jug. Instead, Peak Milk, which is a powdered milk, has always been her go to—particularly in her tea or coffee. Peak Milk is originally from Holland, but it has also been manufactured in Nigeria since the 1950s. The milk also comes in a liquid, but the powdered form is a great option for traveling as it doesn't require any refrigeration, and a few tablespoons of powdered milk can also do wonders in a loaf of freshly baked bread.
Roasted Groundnuts
Roasted groundnuts are a snack that can be found everywhere in Nigeria, and they absolutely put the roasted peanuts in the U.S. to shame. You start by washing and briefly soaking raw peanuts and then you allow them to air dry in the sun. Once they've dried, you heat a pot either on the stove or over a flame and add sand or garri (ground cassava) and then the peanuts. The sand and garri retain heat and help the peanuts to roast faster to avoid burning. After they're roasted, the peanuts are cooled, the skins are rubbed off, and they are bottled in an airtight container. One of the best duos in the world is roasted groundnuts paired with a banana.
Where to shop for Nigerian groceries
There are no major Nigerian grocery store chains yet, but if you're near a major city—like Houston, Dallas, Atlanta, Boston, New York, or Los Angeles—the odds are that you can find a Nigerian or West African grocery store locally. Most West African grocery stores sell items that cater to customers from a variety of West African countries, as many of the foods and ingredients we use are the same.
In Brooklyn, I frequent Keita West African Market on the border of Bushwick and Bed-Stuy. If you head further north to Harlem and the Bronx, there are a plethora of West Africa- owned grocery stores like Royal African & Caribbean Foods (ROYAC), as a significant portion of the city's West African population are located in Harlem or the Bronx.
When I lived in Los Angeles for a few years, I was a regular at African Obichi Market in Mid-City, and in the Boston area, there's Destiny African Market. Of course, in the digital era, there are also online options. ROYAC and Gold Coast Super Market in the Bronx have online stores you can order from, as well as Darmol African Market in Richmond, Texas. Where there's a will for Nigerian snacks, there's definitely a way.
Nicole Rufus is a food writer and master's student in Food Studies at NYU. You can find her in her kitchen testing new recipes and playing around with West African ingredients.