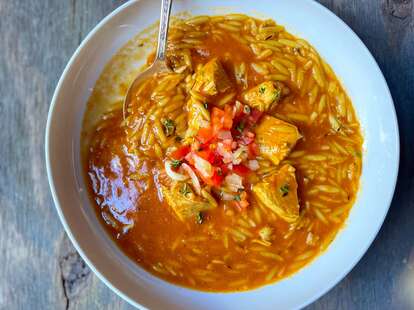 Jollof orzo soup

| Photo courtesy of Egunsi Foods
Jollof orzo soup

| Photo courtesy of Egunsi Foods
When 'Yemisi Awosan and her family moved from West Africa at just 15 years old, she quickly discovered that Nigeria was very much a mystery to her new classmates in Boston. Awosan recalls often fielding questions from her curious peers, like whether she owned lions for pets or if people in her home country wore clothing.
"When you tell people you're from Nigeria, they think Africa is one giant country," Awosan recalls. As a teenager, these comments were a source of frustration for Awosan, but her father would often remind her to use them as teaching moments. "All they see on TV is that Africa is a jungle, but you're here to shift their perspective," she recalls him telling her.
That shift in perspective is core to the mission of Egunsi Foods, a line of ready-to-eat West African dishes that Awosan founded in 2017. Today, her product line includes Obe Ata (West African Tomato) Soup, Gbegiri (Brown-Eyed Peas) Soup, Egunsi (Melon Seed) Soup, and Ata Din Din (Red Pepper) Sauce.
Awosan remembers that people's ignorance growing up actually became a fuel for her. When she got to college, she began to use food as a way of sharing her culture with those who weren't familiar with it. "I started realizing that I was narrating the culture through the food that I grew up with because that was the easiest way for me to do it," she says.
In many ways, cooking felt like a natural next step because it was something she already spent so much time doing. She considered going to culinary school, but the cost was too prohibitive. Instead, she began featuring West African-inspired menus at catering gigs for corporate events.
"A lot of people loved it, and they were like, 'Where can I get this besides from you coming to our offices?" she recalls. Catering validated the fact that there was a market for Nigerian food, and Awosan wanted to spread her culture far and wide. "My end goal was that I wanted to be able to deliver the food to the masses, but also keep it as classic as possible," she says. "I started with the soups because I love soup. When you look at Nigerian and West African culture, we're all about soups. For us, soups are the centerpiece of everything that we eat."
"All they see on TV is that Africa is a jungle, but you're here to shift their perspective."
Awosan argues that what West Africans refer to as soups are actually really stews. In her mind, "soup should be defined more by the end use of it versus the viscosity of it," meaning that a soup is a soup because it doesn't need another vessel—you eat it as is. But in West African cuisines, soups are usually accompanied by swallows like pounded yam, which for Awosan makes them stews. She wanted to translate the classic flavors of West African stews into actual soups.
Awosan used her savings to launch Egunsi Foods, and she needed to find a way to get into the consumer-packaged goods industry without going bankrupt. That meant starting with small batches. One of the most popular soups has been the Obe Ata, which includes tomato, red peppers, and a touch of habanero pepper.
"Obe ata is classic," Awosan says. "Every family cooks it differently, every region within West Africa cooks it differently. It's the mother sauce basically. Everyone thinks of bechamel and things like that, but that's our mother sauce. You can use it to make pretty much everything else."
Obe ata is also used in jollof rice, which inspired her Jollof Orzo Soup recipe. "When I think of jollof rice, I went back and forth," she says. "Is it about the rice or the broth? For me, I think it's about the broth and the combination of vegetables that goes into it."
In creating the soup, she used orzo instead of rice. Awosan says. "Rice in soup can be mushy, but orzo keeps its shape and releases the starch must faster," she says. "Then what I really focused on was making sure that the flavor of the broth and the vegetable mix was right and including curry and thyme, which are so prevalent in jollof rice. And then I did a little relish of onions and tomato to give it a bit of oomph for crunchiness."
This warm, comforting soup is the perfect dish as we enter the homestretch of the winter months. Awosan recommends pairing the soup with a gingery beverage or something with floral notes like bissap.
Jollof Orzo Soup Recipe
Yield: 8 Servings
Chicken Stock
Ingredients:
• 2 pound chicken, quarter and breast on the bone
• 3½ cups of water
• 2 celery stalks
• ½ medium carrot sticks
• 2 ounces fresh Italian parsley
• 10 sprigs of fresh thyme
• 2 sprigs rosemary
• ½ whole garlic
• 1 medium onion
• 2 teaspoons sea salt
• 1 teaspoon whole black peppercorn
Roasted Vegetable Purée
Ingredients:
• 6 medium plum tomato
• 1 large red pepper
• 1 medium onion
• 1 medium habanero
• 1 tablespoon oil
• 6 sprigs fresh thyme
• ¼ teaspoon dry thyme
• 1 teaspoon curry
• ¼ teaspoon salt
Jollof Orzo Soup
Ingredients:
• 6 cups homemade or store bought chicken stock
• ½ cup roasted vegetable purée
• 1 tablespoon Jamaican curry
• ½ teaspoon dry thyme
• 2 teaspoons tomato paste
• 2 tablespoon butter
• 6 ounces orzo
• 1 pound cooked chicken, cubed
• Salt to taste if needed
Garnish:
• ½ small onion, diced
• 1 medium plum tomato, diced
• 4 sprigs of fresh thyme
• Pinch of salt
Directions:
1. In a big pot, add chicken, chopped onion, carrot, celery, along with parsley, black peppercorn, halved garlic, thyme, rosemary and water. Bring to a boil, once boil reduce heat, make sure to skim off grimes that float to the top with a slotted spoon.
2. Add salt and cook for 30-45 minutes or until the chicken breast reaches 155°F. Take out chicken from the pot and carve out the meat, discard the bones and the aromatics. Strain stock with a fine mesh sieve, set aside.
3. Cut chicken breast into about an inch cube, set aside.
4. Chop red pepper, onion and tomato, slide habanero, fresh thyme, curry, salt, and drizzle with oil. Roast at 375°F for 30 minutes and blend.
5. In a pot, add 6 cups of chicken or vegetable stock, blended roasted vegetables, tomato paste, curry, dry thyme, and butter. Let seasoned stock come to a boil, then add orzo, salt as needed and let it cook for 8 minutes. Add in cubed chicken and let cook for another 2 minutes.
6. Garnished with diced tomato and onion, bon appetit!
Notes:
• To speed up the process, store bought chicken stock can be used.
• Roasted vegetables can be swapped out for Egunsi Foods Obe Ata (West African Tomato) soup
• If you want more heat, add ½ minced habanero pepper
Nicole Rufus is a food writer and master's student in Food Studies at NYU. You can find her in her kitchen testing new recipes and playing around with West African ingredients.