Bacon sloppy joes, fried cow balls, and seven other crazy things to eat at baseball stadiums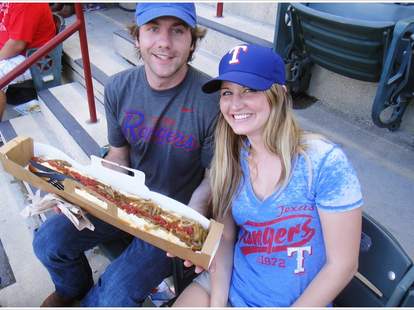 Now the most out-of-shape person in the ballpark doesn't have to be your favorite team's manager. Or pitching coach. Or DH. Or right fielder with chronic knee issues and a beer gut. It can be you! Just eat these delicious, gut-busting dishes found at ballparks around the country
The Only Burger That Comes With A Commemorative Pass, Turner FieldThe burgers at Holeman & Finch are so popular, the Braves now offer a ticket package that includes a guaranteed burger and a front-of-the-line pass on Commemorative ticket stock to get the double-patty cheeseburger on pain de mie buns.
Food Network Eats, Target FieldFood Network put their brand name in front of two dishes offered at the Twins field: a bacon sloppy joe (made with ground beef and slab bacon chunks), and Buffalo mac & cheese with spicy Buffalo chicken, all topped by blue cheese breadcrumbs. Together, they're only $16.50. Heartburn is free. After all, this is America.
Tailgate on a Plate, Chase FieldThe third most interesting thing in Arizona behind the Grand Canyon and the pink underwear prisoners are forced to wear is the array of meat tubes at Extreme Loaded Dogs where the Diamondbacks play, like one topped with BBQ'd meat and beans
Rocky Mountain Oysters, Coors FieldAttend a Rockies game and order the famed Colorado dish that has nothing to do with actual oysters, and everything to do with fried bull testicles. As Dante Bichette says, "Wait, seriously, these things are cow balls?
Sonoran Dog, PETCO ParkThis all-beef hot dog is wrapped in bacon and is given a South-of-the-border kick with pinto beans/onions/peppers/tomatillo salsa. The only thing not-sweet about this dog is that you have to watch the Padres play while eating it
Anything From Primanti Bros, PNC ParkThe Pitts-burgher cheesesteak in the Pirates' park is served on huge slices of bread, then stuffed with fries, cole slaw, tomatoes, and onions for health reasons. Also, Andy Van Slyke once caught Bobby Bonilla eating one in the bullpen during the 7th inning stretch. You can't Google it because of legal stuff, but it happened
Beltre Buster, Rangers BallparkProving everything truly is bigger in Texas, the Rangers upped the ante each season in terms of crazy gluttonous eats, with the 2ft-long Boomstick hot dog last year, and now 1lb of beef covered in a half-pound of bacon and a half-pound of grilled onions and jack cheese, all served on a giant pretzel bun
Legitimately Interesting-Sounding Vegan Food, Safeco FieldSeattle's full of dirty, dirty hippies, and this becomes glaringly obvious when browsing food options at the Mariners' park. Cop the vinegar-glazed portabellas with pickled cucumber/green chili/a spicy sambal mayo, or fermented red pepper paste/radish/spicy cabbage/kimchi mayo atop a Korean eggplant
Wild Pitch Sangria, Citi FieldOK, so it's not technically food, but where else are you going to find a white wine, brandy, and peach puree sangria at a baseball stadium? Stop by El Verano Cantina and drink a few. It beats watching the Mets play
Photos by DallasFour.blogspot.com, TwinCities.com, RadiusedCorner.blogspot.com, DallasNews.com, Delish.com, King5.com