Pancakes: the breakfast food that conveniently puts you right back to sleep after eating it. Whatever -- you didn't want to be awake anyways! But let's say you'd like to go hiking, or to the gym, or do something physical with your body other than aggressively hammer the controller while playing GTA V? That's where FlapJacked can help, with as much as 17g of protein per stack of pancakes, and actually good-for-you ingredients. It might be the best thing to happen to breakfast. But what does it taste like?
Recommended Video
This Nacho Mountain Destroys All Other Nachos
Let's see what these pancakes are made of, literally. The cinnamon apple pancakes were our favorite, and they have but a few main ingredients: whole oat flour, buttermilk, apples, quinoa flour, and whey protein isolate. Wheyt a minute! They dumped a bunch of protein powder in a pancake?! Nope, that'd be gross. This isn't chalky.
But what the hell does it taste like? The buttermilk pancakes taste just like wheat pancakes. That's the bad news. Good news is you wouldn't be able to tell they were packed with protein if you didn't know. And they're super easy to prepare. Another bonus: all-purpose flour won't be all over your girlfriend who usually makes pancakes for you kitchen counter when you're done.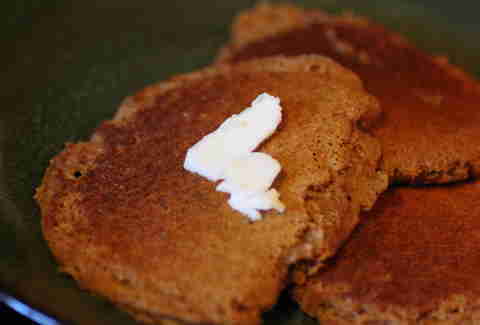 They don't actually need butter on them to be edible; it just tastes damn good when they do. But you don't eat protein pancakes because they taste awesome, you eat them hoping they don't taste too much like garbage, and then reap the benefits of the extra protein with no carb crash. I had one and a half big ole flapjacks and was pleasantly filled until lunch. Final verdict: not as good tasting as a "real" pancake, but a great morning option for anyone pre- or post-workout.