Trois Mec

| Dustin Downing / Thrillist
Trois Mec

| Dustin Downing / Thrillist
Here's Why It's Never Been a Better Time to Be a Non-Drinker
When I was a kid, my drink of choice at any restaurant, was a Shirley Temple. Not only was it pink -- a much more fun color than water -- it also had a number of fun additional components. There was the super sweet grenadine syrup, the equally sugary ginger ale, a maraschino cherry -- maybe two if the bartender was nice. It was reliably delightful.
I've never outgrown my appetite for virgin drinks, but there came a time in early adulthood, somewhere between being able to vote and turning 21, when I realized it was no longer socially acceptable, maybe even a little creepy, to order a Shirley Temple. So what's a thirsty person to do? I've been "of age" now for a while, but even so, I don't want alcohol every time I go out. Until recently, the options for people like me were scarce and mostly limited to water, iced tea, and soda. My go-to has been seltzer, or, lately, because apparently it's cool, seltzer with bitters and a twist.
A few years ago, however, tiny corners of real estate on restaurant menus started to emerge devoted to "soft" drinks. These were the opposite of "hard" liquor, but much better than your average big corporation cola. Those drinks tended to fall into the homemade soda or lemonade categories, fancied up with cheffy touches like infused simple syrups or fresh juices or herbs. Though they seemed a little expensive for glorified water, it was nice to finally see options.
Recently, the trend has accelerated, with full-fledged non-alcoholic (or NA, in industry parlance) drink lists and menu pairings at restaurants of note. Sure there are plenty of sodas still kicking around, but they sit next to drinks with as much complexity as cocktails. Whether you're dining at a place that's casual, fancy, or something in-between, it's never been a better time to be a non-drinker.
The cocktail industry is actually partially responsible for this uptick in seriously good non-alcoholic drinks. The craft cocktail movement of the early aughts, in which drinkers came to expect carefully constructed, costly drinks, painstakingly made using fresh juices and top-shelf ingredients laid the groundwork for a public that now craves high-quality libations, and will pay for them. "It would be hard to be like, we created these craft cocktails without alcohol in it, before people would buy the craft cocktail itself," says Josh Relkin, head bartender at Proxi in Chicago, a street food-inspired restaurant with an extensive NA menu.
What constitutes a good virgin drink here extends far beyond the mass-produced elements of a Shirley Temple. For instance, Relkin makes his own tepache, a fermented Mexican pineapple beverage, which he brews from the rinds and cores of fruit that the kitchen would have otherwise discarded, along with yeast, sugar, Chinese five-spice, cinnamon, and cloves. The drink is a collaboration between the bar and the kitchen, an integral aspect of Proxi's NA program, as well as many of the more ambitious non-alcoholic programs across the country.
"I started as a sommelier, so doing wine pairings was really familiar for me," says Molly Kelley, chief operating officer of chef Ludo Lefebvre's restaurants in Los Angeles, and co-creator of the non-alcoholic beverage program at Trois Mec, his tasting-menu restaurant. "Making non-alcoholic drinks was challenging in a really good way. You're starting from scratch with essentially everything, starting with fresh ingredients and a fresh recipe every time."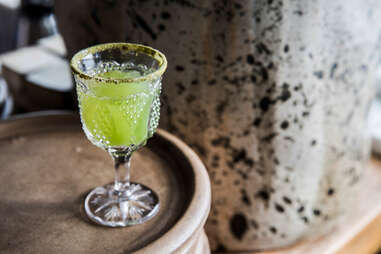 According to Kelley, there's a certain freedom in not having to take booze into account when making a drink. But restaurants are also having fun attempting to replicate its flavor. At Atera in New York City, a faux Negroni is part of the Temperance Pairing Program. The drink features juniper and quinine bark to evoke gin's floral quality and the bitterness of Campari, respectively, while beet juice tints the drink red, and aromatics round out the flavor.
At Trois Mec, Kelley has fashioned a "nebbiolo" to go with duck, using pomegranate juice, unsweetened cranberry juice, a bit of simple syrup, and a splash of orange juice. "The orange juice creates that lifted, bright, acidic quality, while cranberry and pomegranate bring out a lot of the tannins," says Kelley, who also adds nutmeg at the end. "It's not an exact copy of nebbiolo, but it's so tart, has all the tannin you want in a wine, and has the same elements that play well in a wine pairing."
There's even a doppelganger for beer. And no, it's not just a bottle of O'Doul's. Proxi features a kombucha (which can have an insignificant amount of alcohol) that is made with hops on tap. Created by a local brewery called Arize, the restaurant's chef, Andrew Zimmerman, is crazy about it. "Chef is not really a big drinker anymore," says Relkin. "He says 'This kombucha is so much better than the non-alcoholic beers I can get. It reminds me of beer, but it's so much more interesting.'"
The demand for more alcohol-free drink options has led to the creation of companies like Seedlip. The UK-based company makes booze-free botanical distillates that mimic gin and can be used just like the popular spirit. Both Proxi and Trois Mec feature their products in mixed drinks combining it with juices and house-made tinctures to form drinks that emulate cocktails in both appearance and taste.
While in many ways these high-end non-alcoholic drinks were created out of customer demand, there is also a demand for them coming from inside the house. The restaurant industry has a long and complicated history with alcohol abuse and the challenge of sobriety in an industry known for its hard partying has also led to a growing interest in not-boring virgin drinks.
Jen Keyser, the beverage director of Holy Roller in Austin, says that the comfort food diner's robust alcohol-free beverage menu, which includes seasonal vinegar-based shrubs and mocktails that sport names like Energy and Spicy, was inspired by the restaurant owner and her husband, who are both in recovery: "It's kind of cool because he can come to the bar and eat dinner and drink shrub sodas. It's like the good old days for him." Keyser says that it is really nice to be able to offer people that aren't drinking something that isn't just a "Coke or Sprite."
Sign up here for our daily Thrillist email and subscribe here for our YouTube channel to get your fix of the best in food/drink/fun.