Portland Chef Nong Poonsukwattana Loves the City's Entrepreneurial Spirit
A love letter to Portland by the chef who put Thai-style chicken and rice on the map.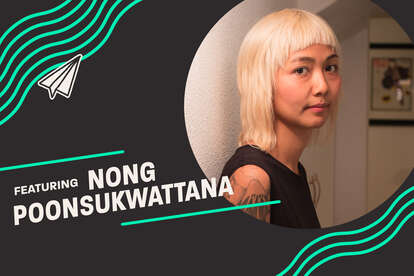 Photo: Dina Avila; Illustration: Maitane Romagosa/Thrillist
Nong Poonsukwattana is the James Beard nominated founder and owner of Nong's Khao Man Gai in Portland, Oregon. As told to Kat Thompson.
Portland has given me everything. It's been my home for so long. Our amazing community values female entrepreneurs. Sure, it's competitive, but it is a supportive space that keeps you on your toes. We have so many badass female business owners in our city, from the women at Olio E Osso to Red Duck Foods, Salt & Straw, Kozha Numbers, Upper Left Roasters, and Fieldwork Flowers just to name a few. The slower pace of life -- along with being so close to nature, fresh air, and fresh produce -- allows us to work on our crafts.
I had a sad childhood growing up in Thailand. My identity felt tied to my parents, but things turned around when I moved here. In Portland, I could stand on my own. I started my own food cart called Nong's Khao Man Gai on my own, making khao man gai, (chicken and rice) inspired by my native home. In Thailand, when you get to any food court, there's so many options to pick from that you're constantly asking yourself, What should I eat today? And when you can't make a decision, you opt for khao man gai. It's always available and everyone enjoys it, so starting a food truck that served it to locals in Portland became a no-brainer for me because no one in the city had done it before. Thank God it worked.
Before I even started, I wanted to make grilled chicken and sticky rice, but Pok Pok had already specialized in it. I wanted to be different, so my main inspiration came from the food courts in Bangkok. When I first started out eleven years ago, the food cart was tiny -- so tiny that all I could fit inside it were two burners, one rice cooker, a rice warmer, hand sinks, and a triple sink. And inside that miniature space, khao man gai became my life.
Ever since COVID-19 and the shelter in place began, it has been very, very challenging for us all. When I first got the order to shut down, I felt like I was hit by an 18-wheeler. I had been following the news since December and implemented rules to adjust to the situation: Whenever our staff came back from traveling, I had them get clearance from their doctors to be able to work again. I stopped accepting cash. I started transitioning to working from home and the operations side of the business remotely. I felt prepared, but I wasn't. No one was because nobody had all the answers. In the beginning, I saw sales drop at 10%. Ten percent became, 20, then 30, and now we're at 90. I had to lay off 35 staff members.
Then came the decision of closing or remaining open. I felt like closing was the easiest answer; though I knew I could afford that, not all of my remaining team could. That fueled my decision to stay open. By not closing the door all the way, but leaving it a little bit open, it allowed the customers to come and help. And they do! I have loyal customers who have returned over the course of eleven years since we first opened. Some even come by to purchase four bottles of sauce and tip 50 bucks for the staff. The margin is zero, of course, but we're just cruising. I can keep the business going and pay for my staff's living wages and save their health insurance.
The challenge is to be positive every single day, but I think that with every disaster, there's opportunity. The number one thing is to find the silver lining every day and try not to stress.
For me, it's the growing success of my bottled Nong Sauce, which is inspired by my mom's recipe. It has fermented soybeans, soy sauce, ginger, garlic, and chilis. Throughout this whole journey, I've put all my energy into the restaurant, and now I can put energy into the sauce. It keeps me going.
When this pandemic ends, I want to take my son to the zoo and the playground and then drive to our favorite park and hike at Latourell Falls. I want to have breakfast at Coquine or Ha LV and then go eat sushi at our favorite restaurant, Murata or Mexican food from ¿Por Qué No? and Güero.
I'll bike to work and get groceries from New Seasons Market, stock up on Thai ingredients at Uwajimaya, head to Providore Fine Foods for Italian products, and turn to ABC Seafoods and Flying Fish Company for fresh seafood.
When this is all over, I think people will be happy, smiling, and more kind.
Hang in there, Portland.
Sign up here for our daily Thrillist email, get Eatmail for more food coverage, and subscribe here for our YouTube channel to get your fix of the best in food/drink/fun.