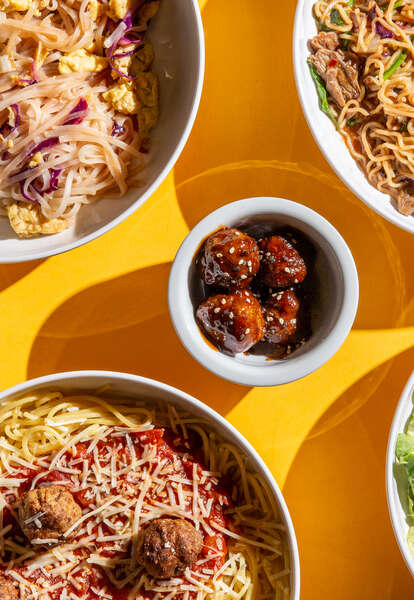 Photo by Cole Saladino for Thrillist
Noodles & Company

| Cole Saladino/Thrillist
What to Order at Noodles & Company
The fast casual joint specializes in noodles of all shapes and flavors.
Editor's Note: Welcome to Too Fast Too Casual, a new review series where our National Writer-at-Large Kevin Alexander takes a close look at both classic and up-and-coming fast-casual chains. The rising fast-casual trend is defining how Americans eat today, and in this series we'll look at the food, history, decor, and branding of fast-casual chains to see what these restaurants are really trying to do, and where this is all going. Read Kevin's previous reviews of Dickey's Barbecue Pit, Five Guys, Panda Express, Jersey Mike's, Panera Bread, Lemonade, Blaze Pizza, and Chipotle, and check back in every other week for a fresh takes on more chains.
When you sit outside at the Noodles & Company in Concord, CA, you can take cover under giant, four-sided red umbrellas. Three of the sides offer a different region: "American;" "Asian;" "Mediterranean" while the final side ties them together: "Your World Kitchen."
The idea is an ambitious and risky one. In this day and age of refined niches and authenticity arguments, can a fast casual joint make noodle dishes from all across the world, and do it well?
What is Noodles & Company trying to do?
Started in Colorado in 1995 by a former marketing executive, Noodles essentially attempts to serve noodle dishes from all over the world (though most tend to skew Italian, Asian, or ostensibly American), accompanied by a few non-noodle-based salads, soups, and appetizers. They currently have somewhere north of 400 locations in America. The Northern California restaurants I visited had the aesthetic of a newly-renovated airport food court—gun metal grey chairs, recessed lighting, the occasional pleather-lined booth or faux-reclaimed wood ornamental wall, and one of those fancy Coca Cola soda machines that gives you like 300,000 different combinations of soda and looks like a space-age washing machine. In other words, it stayed well within the fast-casual lane.
The Best Noodle Dishes:
The Mac and Cheese category is by far the belle of the ball in the Noodles world. The standard macaroni noodles used in nearly all the Macs holds up well, and in the Wisconsin Mac & Cheese, the cheese sauce isn't so dense and thick and overly rich as to ruin your night if you have more than three bites. The best of the bunch, though, was the Buffalo Mac. The green onions combined with the Frank's RedHot sauce give it a sufficient acid boost, and the heat and tangy onion crunch give it a balance missing from the standard.
The New-ish: Caulifloodles
In reviewing Noodles & Company I did my usual unannounced visits to the closest restaurant and ordered a total 14 noodles dishes, plus sides (plus a rice krispie treat). But it just so happens they were about to reveal a new noodle, so I got an early preview at a PR event. Enter: The "caulifloodle."
First of all, I'd like to pause one moment so everyone can appreciate the name, caulifloodle. I'm not sure if they named it with a sense of irony or not, but either way: I'M. HERE. FOR. THIS.
Anyway, caulifloodles are the newest Noodles innovation. I got a secret tasting of two new dishes pre-launch while I was in New York. These cauliflower-infused noodles have a full serving of vegetables per regular size order, and honestly (keep in mind, though, I was tasting them under better than normal conditions) they were hard to distinguish from wheat pasta. I especially liked the Cauliflower Rigatoni in the Light Onion Cream Sauce. The MontAmore cheese they finished it with had a fascinating texture and more pungency than typical finishing cheeses. The cream sauce was light enough to not immediately make you want to lie down and take a nap. It was definitely one of the better dishes I had at Noodles and a good omen for the future.
Other things that are pretty good:
I weirdly liked the Steak Stroganoff. Now, the actual steak was not tender, and mostly dry, but the mushroom sherry cream sauce and black pepper, and those wavy egg noodles, reminded me of my youth. Honestly, I think the only other time I've had anything like this was at my grandparent's house in the late 1980s while watching Alf, and I have to say: I am here for it as well.
Also, two of the three soups (the chicken noodle and the Thai chicken) were both perfectly good. The hints of coconut and kick of spice in the back of your throat from the Thai chicken was genuinely surprising, and the chicken noodle was definitely a step above the grocery store packaged aisle fare I normally eat when I have a cold.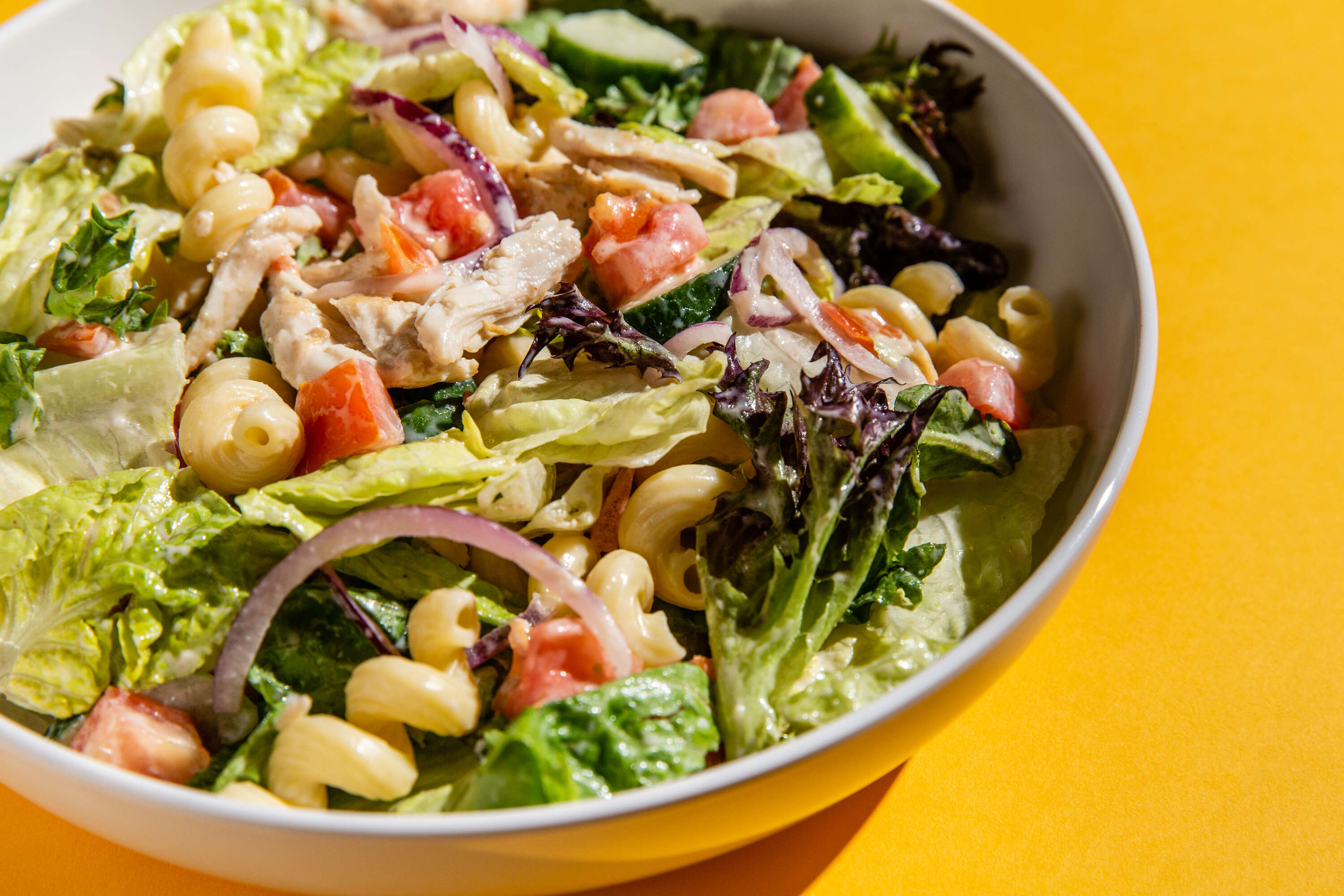 Thoughts on Zoodles:
Despite the inherently clever name, Zoodles cannot trick you into thinking they're anything other than zucchini cut in such a manner as to resemble pasta. I got the Zucchini and Asparagus with Lemon Sauce, and I tried the Zucchetti with Garlic and Wine Sauce, and both of them reminded me of side dishes prepared in the late '90s at nicer restaurants doing "New American" food. They're not bad, per se, but they're very clearly just a side of vegetables in a warm citrusy sauce, which, again, is a flavor profile that was all the rage back when I worked in the Natick Mall doing post-Christmas returns at the Abercrombie during my college break.
Not Great Noodle Dishes, AKA What To Avoid:
On a whole, the worst dishes at Noodles were in the Asian category. I can get into specifics, how the Pad Thai essentially had a full omelette sitting in the middle and the outer noodles had hardened to the point where you'd have to suck on them before they became soft enough to bite through, but, look, I'm not here just to cast aspersions.
There were issues in other categories, too. The Penne Rosado also felt like a '90s flashback. The spinach sat halfway between wilted and fresh, there were only occasional tomatoes, and maybe a single mushroom, and the smell was dead-on for a Stouffer's pizza right when you took it out of the toaster oven.
The meatballs, which I sampled as an Asian appetizer, and in the Spaghetti and Meatballs, had a tightness to them, the way Spaghetti O's meatballs did. And though I loved Spaghetti O's, that nostalgia does not play as well in a restaurant that isn't the pretend one I built in my mom's closet.
Final Verdict:
As you may've noticed, many of my critiques referenced a past era. And that is exactly what Noodles & Company feels like. It was created in the mid-90s and in some cases, it genuinely feels like a time capsule to those heady days when you could actually decide to build a restaurant that does Italian, American, Mediterranean and Asian noodle dishes all at once. But we are clearly in a different time, and you can pick amongst any of those categories and find competitors dedicating their entire business model to creating the most delicious versions of each. We have mac & cheese restaurants now. Asian noodle shops are no longer rare.
Noodles has some good dishes and the moves they're making with the caulifloodles clearly show that they're aware of the changing landscape, but I wish that they would focus on what they do best, instead of trying to pull more flavors and regions in under their tent. After all, you can always get new umbrellas.
Kevin Alexander is Thrillist's former National Writer-at-Large, Food. His book on the unique mix of people, places, and circumstances that led to the last decade of eating/drinking in America, BURN THE ICE: The American Culinary Revolution and Its End, was published in July by Penguin Press. He is a 2017 James Beard Foundation Award winner.