Now Chipotle's Secret "Quesarito" Will Cost $3.50 Extra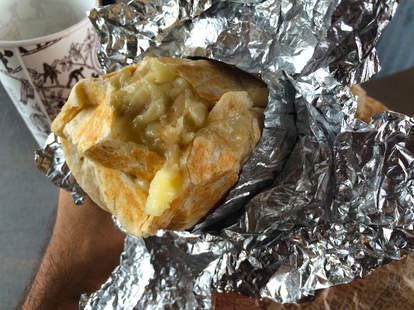 Want to order from Chipotle's secret menu? Now it's gonna cost you.
The days of enjoying the unspoken "quesarito," or a burrito wrapped in a freaking cheese quesadilla, for the same price as a not-insane burrito, are reportedly over. You'll have to fork over an extra $3.50 for the foil-clad heavyweight beast, according to a memo to Chipotle employees posted on Twitter. You'll also have to stand off to the side during the additional assembly time, apparently. 
 
Chipotle said the up-charge will ensure that everyone pays the same price for the monstrosity, which is still not on the official menu.
"In the case of the quesarito, people were ordering them with enough frequency, and we'd see confusion among customers from time to time because they could be charged differently when they order it," Chris Arnold, Chipotle's communications director, told Entrepreneur. Right. It had nothing to do with people cheating the system for extra food.
But knowing Chipotle fans, a few extra bucks probably won't stop them.
Tony Merevick is Cities News Editor at Thrillist and thinks crazy food hybrids are always worth it. Send news tips to news@thrillist.com and follow him on Twitter @tonymerevick.