15 Ways to Avoid a Sad Office Lunch
Arina P Habich/Shutterstock
Sure, we all mean to be good adult human beings and bring our lunch to work every day. But sometimes staring down at a salad of limp lettuce and dry baby carrots is too much when your boss is breathing down your neck and Joel from accounting is being a jerk. So, Seamless it is. Again. And that shit adds up.
The key to beating the urge to blow your hard-earned cash on a non-depressing lunch is to bring one you actually want to eat, not some half-assed bullshit you're dreading to eat. Save your dough for the fun stuff outside of work, like a nice trip to the South of France or a night out at the opera... just kidding, you know you're going to blow it at the bar. Either way, here are the moves for making your office lunches awesome.
1. Make Sunday your bitch
The work week gets hectic fast, between working on that bod at the gym and attempting to have a social life. Use Sunday to plan out some damn delicious meals and pick up some groceries. Put on that Netflix series you've been meaning to binge watch while you cook up soups, stews, chilis, meatloaf, lasagna, and other microwavable meals. Remember this: any food that requires slow cooking either on the stove, slow cooker, or in the oven usually heats up really well.
2. Pre-washed greens are your friends
The only thing more irritating that washing and drying lettuce is plunking down $14 (and an hour -- was that really an hour?! -- in line) on a freaking salad. A 5oz bag of triple-washed greens typically costs $3-4, and you can easily make two hearty salads from one. That comes out to a mere $2 per serving! Most supermarkets stock at least one kind, if not several. For a heartier green that will last through the week, baby kale is great. Get creative and mix up several types like arugula, baby romaine, and spinach. You'll feel like your own Sweetgreen.
3. Frozen shrimp = classy af meals in seconds
Pre-cooked frozen shrimp are a great item to keep stocked in your freezer. Grab a handful the morning of and by lunch time they will be defrosted yet still cold. Toss them atop a salad or enjoy them plain with some cocktail sauce. You can also defrost the shrimp the day before, cut 'em up and toss them with a little mayo, lemon and chives for shrimp salad, which is great on toast or over greens.
4. Crunch time
Know how every sushi roll is made better by adding "crunch" to it? Same rule applies to your soups and salads. Store pecans or almonds, sunflower seeds, sesame seeds, bread crumbs, or nori in your desk drawer. When lunch rolls around, you can transform that pile of greens or soup into something with a little more flava.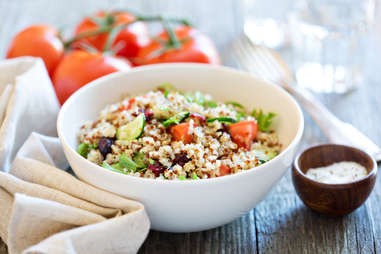 5. Make a baller grain salad
Grains are great. They're healthy, filling, easy to cook, are delicious hot or cold, and last throughout the week -- oh, and did I mention cheap? They're so cheap. Cook up a cup of quinoa, farro, or wheat berries and let cool. Then toss it with some olive oil, aged balsamic vinegar, and a lil' salt and peppa. This salad gets better with time so you can bring a batch of it to work and then use different mix-ins each day, like feta cheese, roasted peppers, and scallions; or grilled chicken, arugula, and walnuts.
6. Start a lunch club
Tired of only relying on yourself for your meals? Organize a group lunch with some friendly coworkers once a week. Just bring in a few extra portions of that famous chili you've been working on, swap with it your new lunch buds, and, voila, diversity in your diet.
7. Anytime 30-second tunafish salad
Keep a pouch of tuna, dried cranberries, and a packet of mayo in your desk drawer. Mix the three together with a little black pepper for a quick and tasty tuna salad in a pinch (the cranberries really make it pop). For a hot-meal maneuver: schmear the tuna salad on some bread, top with a slice of swiss, pop it in the toaster, and you have one delicious tuna melt. Just don't forget the foil on the tray.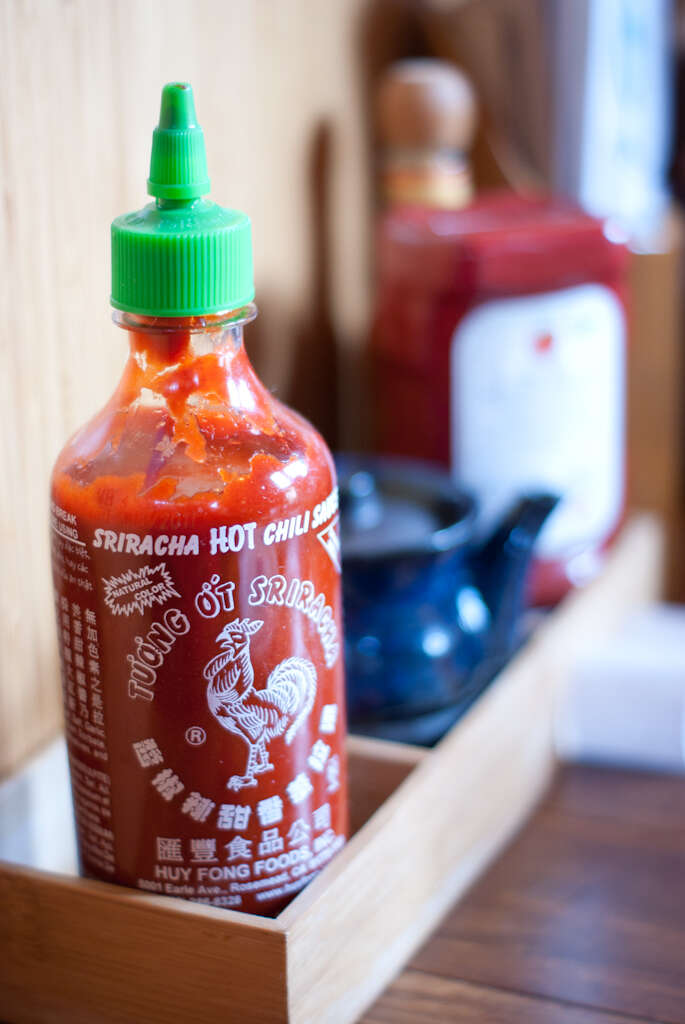 8. Add some spice
Take Sriracha: You can mix it with mayonnaise for an extra awesome sandwich spread or ketchup for spicy topping for leftover meatloaf. For the slightly more adventurous, try piri piri (spicy Portuguese pepper sauce), yuzu kosho (a Japanese citrus hot sauce), or gochujang chili sauce (fermented Korean hot chili paste). They could all make anything delicious.
9. Sex up canned soup with ravioli
Make canned soup into a full-fledged warming meal by adding little cheese- or meat-filled pouches of happiness. Toss in a few frozen ravioli or tortellini with your soup in a bowl, be it tomato, chicken noodle or mushroom, and cover it with a damp paper towel. Then pop it in the microwave and heat on high for two to three minutes. Top it all off with some shredded Parmesan or cheddar cheese for a super-satisfying soup.
10. Invest in a freezable lunch bag
Is your office refrigerator gross, overcrowded... or prone to theft (you know who you are, sandwich stealers!)? Make your own mini fridge. Pop this freezable lunch bag in the freezer at night and it will become a "cooler" by the next morning. It'll stay cold up to twelve hours so you don't even need to refrigerate your food when you get into the office.
11. Become a microwave ramen master
Take your regular instant ramen packet, add boiling water (either from a kettle or a coffee machine), crack in an egg, and microwave it for about one minute. Top it off with some toasted seaweed snacks and you'll have a kick-ass bowl of ramen for lunch.
12. DIY dim sum
The glories of dim sum no longer have to be reserved for the weekend. Buy a big bag of dumplings, portion out between six to eight pieces per baggy, and store them in your freezer. Grab a bag before work and at lunchtime fill a bowl with hot water so they fully cover the dumplings. Cover the bowl and microwave on high for three to four minutes. The dumplings will be ready when they are floating in the water. Drain and serve with soy sauce or something spicy.
13. Repurpose a rotisserie chicken
Eating the same food for lunch as you did the night before can be depressing. But simple foods like a rotisserie chicken can be made new again with some easy tweaks. Slice up leftover chicken and smother it in BBQ sauce and stuff it into potato buns for sliders or toss it with some pesto and noodles for a robust pasta salad. Full recipes here.
14. Think outside of the standard sandwich
Turkey, provolone, and mustard on whole wheat is a fine sandwich, but you can change it up. Get fancy and use robust breads such as a meaty seven grain or a rustic sourdough, which are not only delicious but tend to hold up better than your regular pre-sliced stuff. Spread on some fig jam. This combo is killer toasted.
15. Make mug omelets
No one ever said omelets were an exclusive breakfast food. (In fact the French only eat them for lunch, so alors ca va!) Spray or butter a mug, crack an egg or two inside, add a little milk or water, salt, some cheese, and whatever cooked veggies you have lying around and mix well. Microwave on high, uncovered, for one minute. Enjoy with some buttered toast for a lovely meal.
Sign up here for our daily Thrillist email, and get your fix of the best in food/drink/fun.
Julianne Feder is a contributing writer for Thrillist. She often gets impatient and eats her dumplings partially frozen. Follow her @TheGastroNerd or watch her to get more nerdy food insights and find out how make the most out of your lunch.