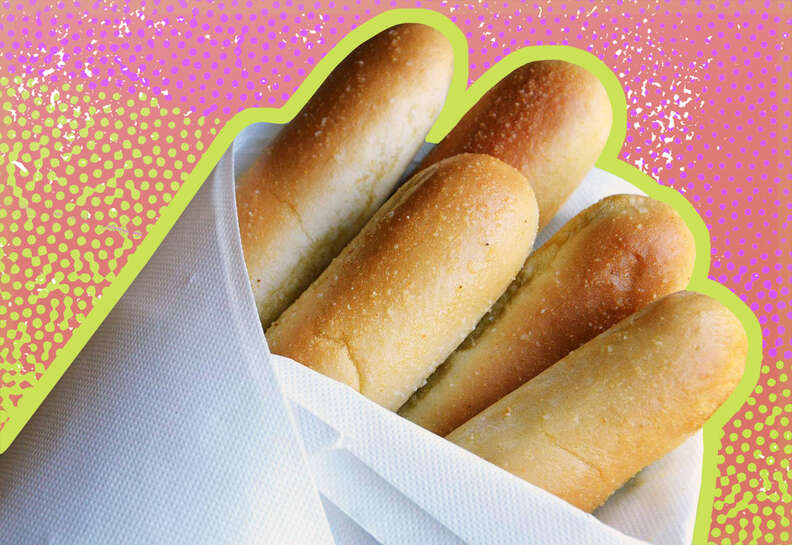 Cole Saladino/Thrillist
Cole Saladino/Thrillist
Why Olive Garden Serves Unlimited Breadsticks
There are few American dining experiences more universally loved than tearing into a basket of Olive Garden breadsticks. Ask almost anyone and they know the drill at Olive Garden: Walk in, sit down, and impatiently wait for that little brown wicker basket filled with buttery breadsticks to arrive at the table. Once it's there, your eventual entree becomes a secondary concern to the addictive carb batons that your fellow guests pass around the table like relay racers. Of course, the best part isn't the taste -- it's the fact that they're unlimited during the entire visit.
Because of the chain's laissez faire attitude towards the appetizer, breadsticks didn't just steal the country's heart but they helped position the foodstuff as a quintessential American side item. Olive Garden's breadsticks also played a significant role in propelling the company into the upper-echelon of American sit-down chains, joining Applebee's and Buffalo Wild Wings as national dining titans. Simply put, they changed the game.
In 1982, Olive Garden opened its first restaurant in Orlando, Florida, as a part of the General Mills empire, and since day one, the chain has been serving unlimited breadsticks. The chain's stated reason for serving unlimited breadsticks, alongside soup and salad, was to embody "the spirit of Italian generosity," which seems appropriate for a chain whose tagline is "when you're here, you're family." A spokesman for Olive Garden tells Thrillist that the beloved dish is based off of the Italian filone, a long, baguette-like Italian bread. Unlike its Italian brethren, the breadsticks are brushed with margarine (surprising right?) and dusted with garlic-salt.
The Italian-American chain serves over 529 million breadsticks a year, which works out to around 1.6 breadsticks for every US resident. And while Starboard, an activist hedge fund that once controlled Olive Garden's parent company, tried to curtail the unlimited breadstick policy in 2014, calling it wasteful, the chain refused to give in.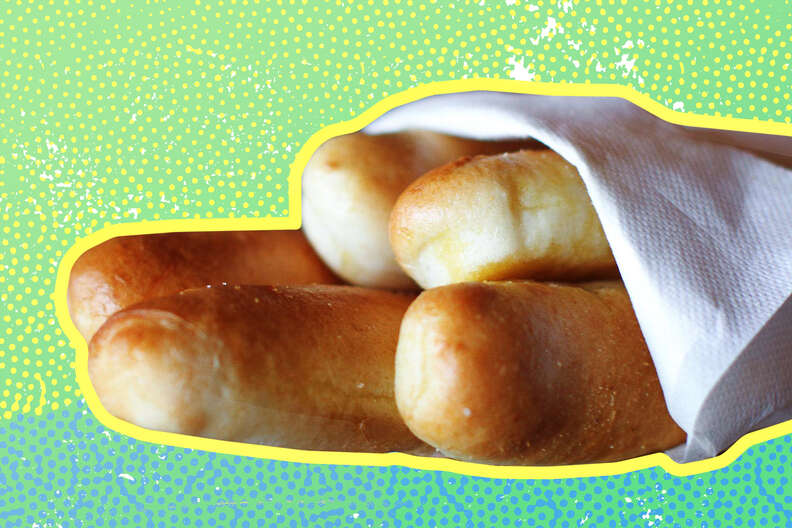 So how did breadsticks end up on the Olive Garden menu in the first place? Most other Italian-American chains tend to just drop bread baskets with a side of butter on tables. While origin stories about the original breadstick differ, the Olive Garden breadstick can trace its lineage through two Italian foods: grissini and taralli.
Grissini is commonly thought to be the original breadstick, invented in the Piedmont in the late 17th century. According to Italian breadstick manufacturer EKO, one of the more fascinating tales about its invention claims an Italian doctor invented grissini in 1675 in order to "nourish the future king Vittorio Amedeo II, who was sick and unable to digest the soft part of the bread." While grissini allegedly had royal roots, the proletariat eventually adopted it in Torino. A peasant food, it was cheap and easy to transport while working the fields.
However, author and food historian Julia della Croce points out that a breadstick-like food from southern Italy called taralli, a fried and flaky hardtack snack that's typically pretzel-shaped, might be more of a direct ancestor to the American breadstick. When the majority of Italian immigrants came to the U.S. between the end of the 19th century and the early 20th century, many of them were from southern Italy, a region whose diet was heavily dependent upon wheat. With them, they brought foods like pizza, opening places like pizzerias to help feed their newly expanding communities.
"Where you have pizza you're going to have grissini [and taralli] because there's always leftover dough," she says. "I think the American pizzeria helped popularize breadsticks. The Southern Italian people, who [came from] the impoverished regions, were very familiar with breadsticks in the form of taralli and they'd take whatever they had and make them into breadsticks."
"They're just fucking delicious."
Of course, at this point in the breadstick's history it's important to note that the food Italians made upon arriving in American ceased to be truly Italian. The diet of the poor blossomed into one built on the excesses of the U.S., where immigrants could find gargantuan amounts of ingredients that were unthinkable in the old country. Enter red sauce, meatballs, hearty pastas, pizza, breadsticks, and other nonna-approved dishes that created the foundation of Italian-American cuisine. It's within this framework that the Olive Garden breadstick became the perfect American foodstuff: adopted from immigrants but streamlined to satisfy the tastes of the melting pot and the pocketbooks of American big business.
Olive Garden's own history, when unspooled alongside American dining trends, bears this out. In the early 1980s, Italian-American food, now wholly accepted by the American public, turned away from classic red sauce joints and towards "Tuscan-style" restaurants that emphasized, as John Mariani wrote for Saveur, a more authentically Italian fare: "The basic argument was that what real Italians ate -- a diet abundant in vegetables, seafood, grains, and olive oil -- was far more healthful than the meaty, rich, fried, cheese-laden, red sauce-drowned food of Italian-Americans. Quick sauteed greens and farro were in; chicken parmesan and meatballs were out." Olive Garden adopted this Tuscan branding, even if it didn't quite adopt the food, and began to dot the interstates and metropolitan regions of American cities as the 1980s and 1990s unfolded.
Just like most of its menu, the breadsticks are not "authentically" Italian. A spokesperson for Olive Garden likes to cite the use of bread as a popular and common appetizer in Italy as justification for the chain's practices. That's not quite true, according to Della Croce: "They are sometimes served with prosciutto, or prosciutto may be wrapped around them, but are also eaten as a snack or tucked into the breadbasket at the table -- they are not specifically appetizers."
But does authenticity really matter when you're staring down a basket of steaming hot breadsticks? Kenneth Scott, the chef-de-cuisine at newly opened Cleveland delicatessen Larder, best sums up the appetizer's legacy. A fanatic since his mom first took him to the Olive Garden a mall in Virginia Beach, Virginia, he gets at the heart of the breadsticks' importance. "They're just fucking delicious," he explains. "Those things are like glorified hot dog buns smothered in garlic and parmesan cheese. Who doesn't love garlic and butter on bread?" Scott's got a point: There's nothing more American than that.
Sign up here for our daily Thrillist email and subscribe here for our YouTube channel to get your fix of the best in food/drink/fun.
Ryan Joseph is a freelance writer and Ohio native who thinks your Cincinnati chili hot take is trash.